Getting started tip
Jonny Bealby, founder of our leading supplier Wild Frontiers, gives his walking vacation advice:
"Pick the right walking vacation. What I find is that most walkers don't usually want to just put one foot in front of another for 14 days, they want to experience other things as well. So our vacations are not just about walking – it is a main feature, but you will also get to see cultural highlights, so that when you are walking you get a much greater sense of where you are. If you are an ardent dyed-in-the-wool walker and that is all you are interested in, that is fine. But if you have a broader interest and walking is part of what you want to do, but not the sole raison d'être, then you need to be careful about the walking vacation you choose."
Packing tips
Melanie McAnaw walking vacation expert from our supplier, Headwater:
"I always carry a small amount of talcum powder. It might sound strange but it's good for reducing friction and redness if you find yourself with any blisters, chaffing or heat rash. It can also help your feet stay dry and keep your thighs from chafing over long distances if you use a little before (and after) your walk. A small roll of adhesive bandage/plaster (and something to cut it with) can also be a lifesaver if you do feel yourself developing a blister. It can sometimes make the difference between a nice walk and a painful slog!"
Jonny Bealby, founder of our leading supplier Wild Frontiers:
"Bring waterproofs. Not just in your main luggage, but in your daypack on each day that you are walking. Even if there are blue skies in the morning, the weather changes quickly in the mountains, You also need two or three layers. In terms of boots, there are so many to choose from. I don't even have a proper pair of hiking boots, but use a pair of Caterpillars, which I have used for years and walked all over the place in them. And then they don't look bad when you are walking around Tblisi or wherever afterwards. But when I do a serious hike like K2, then I had to spend £150 on a serious pair of Meindls."
Emma Garrick from our supplier Exodus has good pointers when it comes to walking vacation advice: "Layers are the way to go as opposed to big jackets, certainly for lower altitude treks; I would bring a couple of lighter fleeces and long sleeved tops and layer up that way. Some people like to use walking poles and I think they're especially useful on long days of descent as it takes the weight off you knees, though it's generally people in their 40s and upwards who use them. It's always the case that you don't need everything you think you will; as a rule of thumb you'll probably need half of what you originally pack."
Our top Walking Vacation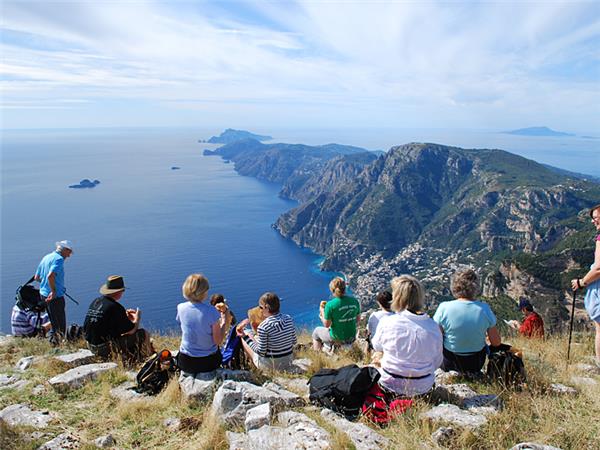 Walk in lemon groves and hillside villages
From
US $

1679

to

US $

2179
8 days
ex flights
Small group travel:
2023: 18 Nov, 23 Dec, 30 Dec
2024: 10 Feb, 17 Feb, 24 Feb, 2 Mar, 9 Mar, 16 Mar, 23 Mar, 30 Mar, 6 Apr, 13 Apr, 20 Apr, 27 Apr, 4 May, 11 May, 25 May, 1 Jun, 8 Jun, 15 Jun, 22 Jun, 29 Jun, 6 Jul, 13 Jul, 20 Jul, 27 Jul, 3 Aug, 10 Aug, 17 Aug, 24 Aug, 31 Aug, 7 Sep, 14 Sep, 21 Sep, 28 Sep, 5 Oct, 12 Oct, 19 Oct, 26 Oct, 2 Nov, 9 Nov, 16 Nov, 21 Dec, 28 Dec
If you'd like to chat about Walking or need help finding a vacation to suit you we're very happy to help.

HEALTH
If you or your children have any particular health needs, always tell your walking guide.
Make sure you all stay hydrated. It is hard to get kids to drink water sometimes, but they won't realise how much they need it when walking. Even if the sun isn't shining. Consider hydration backpacks, style Camelbak, so that they have water on them at all times.
On a hike in remote, wilderness areas, don't drink from the rivers. Even if they are glacial and gorgeous, they can be a source of bacteria. You can boil the water, but do so for five minutes in elevated areas. You can also filter using purification tablets such Biox Aqua drops. Note iodine tablets are now illegal in the EU.
Make sure you are up to date with routine vaccinations and if you are traveling far afield, visit your GP at least six weeks before travel to obtain any other vaccinations. The NHS website Fit for Travel gives detailed health information worldwide.
Be wary of touching animals while hiking, especially wild cats and dogs, as rabies is still prevalent in many countries.
Consult your doctor or travel clinic before remote walking vacations - they may be able to prescribe antibiotics and antidiarrhoeal medication to take with you, as well as recommending other items such as antihistamines, rehydration salts and medication for altitude sickness which you can take with you. And have a basic first aid kit too.
Treat altitude with respect. It does not matter how fit you are, or how many times you've been at high altitudes before – the symptoms are unpredictable, and the only real cure is descending. Always let your leader know if you are experiencing headaches or a significant shortening of breath.
If you are not traveling with a guide at high altitude, a good rule of thumb is that once you are above 3,000m do not increase the altitude at which you sleep by more than 300-500m a night. You can go up higher during the day, but each night go back down to lower level. Dehydration makes altitude sickness worse – you need to drink much more at high altitudes. Kids under three should not travel to high altitudes at all.
Even if it is cooling off, or indeed cold, in the mountains, the sun can still be very strong, so always wear sunscreen.
Inform yourself in advance about any dangers from wildlife. Or insects such as ticks which carry Lyme disease. Make sure you carry tweezers so that you can remove them and be sure to inspect your bodies carefully at the end of the day. Always apply a deterrent (a natural one is best for children such as lemon eucalyptus) and then suncream. Read this guide for top tick tips.
Never eat berries or plants that you spot on your hikes unless you have been thoroughly trained to identify them. Similarly, avoid contact with certain plants like Poison Ivy.
SAFETY
Walking vacations are a good opportunity to learn how to be scouts again. And great to share this with children too. Be prepared with maps, compass, rain gear, pocketknife, matches and a whistle. You can buy mini emergency kits on eBay for a tenner.
Write down the local emergency numbers before you set out, including mountain rescue, if relevant. And always tell someone where you are going. Make sure your mobile phone is charged too.
Wildlife awareness does not just apply to walking safaris in Africa. In many countries you need to be aware of animals such as bears, snakes and others. So, swot up on this before you hit the hills. Do not let your children wander too far ahead of you, so that you can keep a close eye.
Be wary of lightning storms and, if they do occur, get below the treeline and stay away from summits or isolated trees. Stay as low as you can.
One of the most common causes for mountain rescue is hypothermia usually brought about by exhaustion and injury. So make sure you have enough food and water, the right layers and a shelter. The Mountaineering Council of Scotland is a font of knowledge on all things.
If you are on a self-guided walking vacation, always check get a detailed weather forecast before you set out and if you are in the mountains, turn back if the weather turns bad. Or take shelter if in doubt. The World Meteorological Organisation is excellent.
Hiking in extreme heat can be dangerous and deaths do, tragically occur. In warm climates, walk early in the morning and late in the afternoon, cover up and drink lots. Consider adding rehydration powders to your water. Many walking companies don't offer trips in the height of summer anyway, for health and safety reasons.
Vacation reviews from our travelers
At Responsible Travel, we think the best people to advise our travelers are often... other travelers. They always return from our tours with packing tips, weather reports, ideas about what to do - and opinions about what not to.

We have selected some of the most useful walking travel tips that our guests have provided over the years to help you make the very most of your vacation - and the space inside your suitcase.

Travel light as there is a lot of packing and re-packing as you leave one place for the next. Have some Peruvian Sol in small denominations as change is very hard to find

– Keith Charters, walking on the Inca Trail
"If you want to get away from it all this the place for you. It would help if you have some basic Spanish or take a phrase book with you! Everyone was very friendly and helpful and the old man in the local supermarket even used Google Translate to help us work out what we were trying to ask for!" - Jackie Day on a self-guided walking vacation in Andalucia

"The walks look short, but involve a lot of up and down so are more challenging than they initially appear. But the views make them absolutely worthwhile…. Swimming in the sea below the ancient monastery at San Fruttuoso after a hot walk was just magical!" - Lynn Bowie on a walking vacation along the Italian Riviera

"Organise a group tip kitty at the beginning - it would save the problem of everyone trying to find 20 Dhm for the Souk guide, the mini bus driver etc. Have a tip kitty for the porters / cook / guides - and don't feel obliged to pay what is recommended, but what you feel is appropriate." - Simon Brown on Mount Toubkal trekking vacation

We travelled with kids aged 13 and 11. Be prepared for the effects of the altitude, although it doesn't stop you from doing everything, it does make you feel tired and headachy. Also, pray for good weather in July/August, we were lucky!

– Alan Levy on a walking vacation to Tibet's Everest Base Camp
"If you want to learn Spanish, go on some great hikes and be truly immersed in Spanish all week (both in school and in the local community) - then book it without hesitation! If you want the city atmosphere or you are a 100% sun seeker, then keep looking!" - Hazel Tyror on a hiking and learning Spanish walking vacation in the Picos de Europa

"While there are some neat things to see in Kathmandu, spend as little time as possible there. The pollution in the city made my eyes sting." - Brian Henning on a walking vacation in the Langtang Valley, Nepal