Small group walking travel guide
---
2 minute summary

Although walking can be a solitary experience, not everyone wants to go off exploring on their own. And joining a group of like-minded hikers takes the pressure off the organisation front. All you have to do is walk, and the rest is laid on for you. Small group walking tours cater not only for people who are happier walking in numbers, but those who really want a shortcut to the cultural and natural highlights of a walking destination. Our partners are experts at that. They know all the bridleways and byways, secret spots and idyllic views. And the cool thing is that, in a group, you get let in on all the secrets too.
What we rate & what we don't
---
RESPONSIBLETRAVEL.COM'S BEST & WORST
Underrated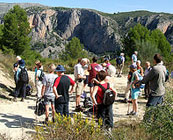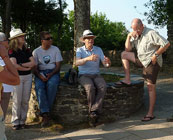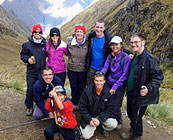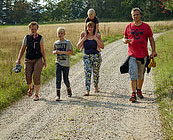 Logistics are in the bag
For those who don't want to spend ages poring over a map or worrying about missing a turning, small group walking vacations are bliss. You just need to turn up and follow the leader. Your itineraries have been created based on years of experience by our partners, meals are sorted and your tour leader will keep a close eye on everyone's health and safety throughout.
Group leaders
Imagine wandering into a remote locale and asking for the best person to show you around. On these vacations, you don't need to ask, or worry about their qualifications. They are local people, well trained in leading guided trekking tours, and totally passionate about sharing their country's natural beauty.
Camaraderie
Particularly on some of the more challenging treks, it's great to have a group of fellow walkers with you. First of all, the 'ups' seem easier when you have other hikers alongside and, when you start to lag, the camaraderie is always a boost. For trips in wild places you definitely want pals around the campfire or, for more cushy circuits, mates around a Merlot in the bar at the end of the day.
Family fun
Small group walking vacations are ideal for active families, as you don't have to worry about all the organisation, including the all-important food stops for those tired but hollow legs. You can take time to walk as a family without having the map reading domestics, and you can hang out with other likeminded families too, of course.
Rated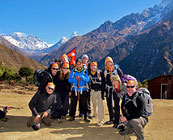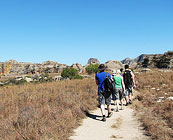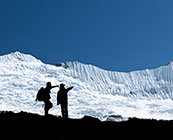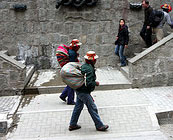 Big trekking experience
If you are going for one of the biggies like the Great Wall of China, Basecamp Everest or the Inca Trail, you can organise it yourself but it will take months. And a lot of good contacts. This is a trip of a lifetime for many, so traveling with a small group makes the big experience just so much easier, saving you time and money with the stress of all that decision making taken out of your hands. Leaving you to focus on getting fit for the trek.
Wild places
There are certain wild places which are nigh on impossible to reach without a group, unless you are David Attenborough, but even he has a team of advisors. Such as Madagascar, where parts of the island are so remote you might need to combine walking with kayaking in order to get to the otherwise inaccessible places. Or Patagonia which is so magnificent, it's just rude not to share it.
Years of expertise
On a small group walking vacation, you are following in the footsteps of many experts. Our responsible walking partners have spent years getting to know every hill and homestay, mountain and mountain guide, bar and backroad. They have seen what works and what doesn't, so that you only get the good bits.
No more lugging luggage
Most small group walking vacations take the ease out of luggage worries, as many have your bags transported from one accommodation to another, usually in a minibus or jeep. In some regions, such as Nepal and Peru, there are porters to help too, although this can carry with it certain issues, which you can read about in our responsible tourism section.
Overrated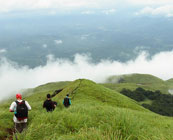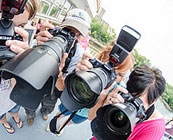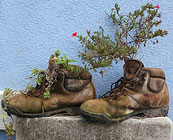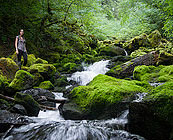 The beaten track
For every packed peak, there is nearly always another empty one nearby. Same goes for national parks. 70 percent of Japan, for example is mountainous, yet most people only think of Mount Fuji. Switched on hikers are heading south to explore Kerala's Western Ghats instead of the Himalayas, and worshippers of the Camino de Santiago are discovering heavenly spots along Portugal's Serra de Monchique's ancient paths.
Going camera crazy
Small group walking vacations lend themselves perfectly to exploring remote areas and the communities within them. And while it's natural to want to capture special moments and views with a photo, cultural sensitivity needs to be borne in mind. It's respectful to always ask people if you can take their photo, especially parents of children. Another advantage of having a guide, who can bridge the language gap when necessary.
Old walking gear
It's all very well being attached to the hiking boots your dad wore, and his dad before that. Or that daypack you have had for years, and stitched up again and again. But sometimes it is OK just to let them go, enshrine them if needs be, and acknowledge the benefits of high tech waterproof and breathable walking gear. With the exception of a fine old handed down hipflask of course.
Racing to the top
The clue is in the name 'Walking… Vacation'. They are not about getting to the top first, or rounding that distant headland before everyone else. They are for people who want to step into fresh natural landscapes, explore culture in remote places, and chill on the hills. Who needs the top? There'll be plenty of highs along the way.
What do small group walking vacations involve?
---
Your small group walking vacation usually begins at the airport or the train station, where you will be met by your tour leader(s) for the week. And also your fellow travelers, if you haven't met on the plane or train already. It is quite fun trying to work out who, on the journey, looks like they might be joining a group about to traipse up the Alps, Atlas or Andes. Small group tour sizes can range from two to 24 travelers, although the average is about 12.
On arrival, you'll be transported to your first accommodation and, in some locations, you might use public transport for this when that is considered more efficient. Large groups – more than 16– may not be able to use local transport, stay in smaller guesthouses, farmhouses or homestays, or eat in family-run restaurants. Which is why our vacations stay clear of coach-sized groups, because it's more enjoyable and has tangible benefits for local communities. Always check with your tour operator regarding the group size, as these do vary.
You will have been given a detailed itinerary before arrival, but usually the first evening is a good opportunity to hear more about this, meet your tour leaders properly and also your fellow travelers. Then just hand yourself over to your leaders for the next few days, enjoy the walking, find your own pace, and savour the landscapes. In no time you'll be sharing stories (and drinks at the end of the day usually) with a bunch of new friends.