Walking safaris travel guide
A twig cracks, a rustle in the undergrowth and a tingling runs up your spine, tuning every nerve. There's nothing quite like a walking safari, where every sense is heightened to notice the tiniest of sounds, faintest of smells and the smallest of creatures lurking in the bush.

A walking safari might not always reveal Africa's biggest animals, but along the way you become an intimate part of the wild, not just an observer. It's thrilling.

Walking safaris are all about the small details – a footprint in the dust, a smattering of spoor, a spider's web in the morning dew – which are thrown into sharp focus as you tread quietly and carefully through the undergrowth. You might stumble across elephants or spot rhino, if you're lucky, but walking safaris are not only about Africa's biggest beasts, they are a chance to enjoy spectacular hikes and gentle encounters with its birds, mini beasts and less ferocious wildlife.
What does a walking safari entail?
Bush walks
Quite simply, a walking safari is a wildlife focussed journey on foot through the wild African bush, well away from civilisation and usually in a group of between six and 12 people, with expert guides. You might be in Big Five territory, where you'll keep your eyes peeled for lion tracks and ears peeled for elephants crashing through the undergrowth, or you might simply be in a gorgeous nature reserve chock-full of bird-and bug-life. Walking safaris can take anything from two hours to several days, camping each night along the way. Shorter two to four hour walking safaris usually sit within a more conventional safari itinerary which features mostly game drives, and you typically set out early in the morning when wildlife is moving around, and to avoid the heat of the day.
A deeper connection with the wilderness
Step out from behind your camera lens and feel the might of the African bush. Game drives may get you closer to more wildlife, but a walking safari will stand your hair on end in ways that a vehicle can't quite muster. You'll be part of the bush, part of the living, breathing, wild world outside your jeep. Its spine-tingling.
Not the Big Five...
At least, not always. While you might get lucky and be able to quietly watch an elephant enjoy a morning munch, a walking safari is more about the experience of being on foot in the wilderness, observing the tiny details, than the Big Five prize. In fact, in some parks, the Big Five, or any big beasts, may not be present. Wherever you are, you'll learn how to track and identify animal footprints, discover which plants are edible and medicinal, see the bones of long dead animals and immerse yourself in the wild sounds of the bush.
Culture and community
Some walking safaris combine tourism, nature conservation management and cultural heritage. On a walking safari through the Maasai-owned Mara Naboisho Conservancy in Kenya, for example, you'll be accompanied by Maasai guides who share their knowledge, customs and beliefs as you walk. This generates a monthly income benefitting more than 10,000 individuals – a sustainable, stable living wage generated in harmony with the Masai Mara's wildlife.
Uneven terrain
Paths are not paved, or paths at all, so you'll want to be sure footed and able to move quickly if needed to enjoy a walking safari. While much of the walking isn't strenuous, you'll be following your guide through the undergrowth, ducking under branches, stepping over roots and – although you hope not – perhaps even needing to take swift shelter behind the nearest tree.
What about my family?
Minimum ages vary for walking safaris; dependent on your lodge or tour operator it may be 12 or even 16 years old. So, while you may be able to find family friendly game drives and accommodation, walking safaris are often a family no-no. In areas without dangerous big game, for example Malolotja or Mlilwane in Swaziland, age will be less of a consideration.
What to wear
Safari shirts are a dull, earthy colour for a reason and while you don't need to kit yourself out in head-to-toe specially bought gear (any comfortable long trousers and long sleeves will do), you should stick with natural, muted colours – browns, greens, tans – to avoid startling wildlife and keep you as inconspicuous as possible. Good, comfortable walking shoes are also essential – avoid open toes – although sturdy walking boots are not necessary for shorter walks.
Sarah Faith, writer at Responsible Travel, recalls a walking safari in Swaziland:
"I remember walking carefully towards two frankly enormous white rhinos through a thicket of acacia – every twig breaking as loud as thunder – half in awe, half desperately scanning the spindly branches for the best place to climb up should things go south."
Our Walking safaris Vacations
If you'd like to chat about Walking safaris or need help finding a vacation to suit you we're very happy to help.

Best time to go on a walking safari

As with any type of safari, spotting wildlife tends to be easier in the dry season, with thinner vegetation and animals congregating around remaining water sources.

When dry seasons occur, is entirely dependent on where you'll be walking. June to October sees the driest weather in South Africa's Kruger National Park, the same in Botswana, with July and August a particularly good time to explore the Okavango Delta. August to October brings the Great Migration to the Masai Mara in Kenya, although the November to December short rains (which rarely impact travel) offer a much quieter, lusher alternative with baby animals abound. In Tanzania you just need to avoid March, April and May when the rain is torrential, the rest of the year is sublime, although wildlife watching is arguably at its best during the July and August peak season. However, in southern Selous, the best option for walking safaris anyway, peak season is relative – it is rarely busy here.
More about Walking safaris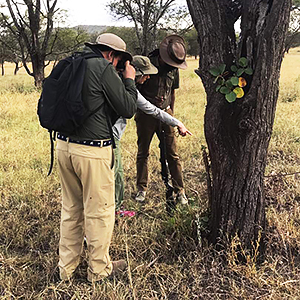 Our walking safari highlights & map unveil the best places to encounter African wildlife on foot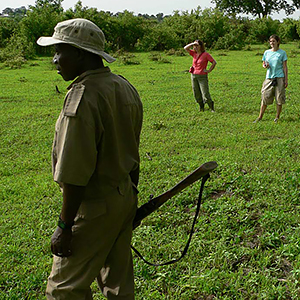 Will I be safe? It's a common question for all first-timers considering a walking safari.