Where to go on a walking safari
Walking safaris in Africa are as diverse as the continent's wildlife – you might be hiking through lion territory, or on a gentle meander through a bird-filled reserve. Wherever you travel, don't expect the big beasties to be your main focus. Walking safaris celebrate the smallest of details in the bush, things easily missed from a traditional safari jeep. Pioneered in Zambia's South Luangwa National Park, walking safaris are offered throughout Africa's wildlife rich areas, with expert local guides – often Maasai tribespeople in Kenya – and rangers accompanying you on an unforgettable exploration.
1. Botswana
Hyena calls and deep guttural lion roars float over the Okavango Delta in the early morning mists. Walking safaris to that backing track are spine-tingling and you should look out for elephants, giraffe and hippos as you hike. Walking in the Delta is a true wilderness experience – heading out from remote wild camps in areas that can only be reached on foot and by mokoro canoes.
2. Kenya
While walking safaris are not allowed within the Masai Mara itself, the community-owned private conservancies which border the National Reserve offer on foot excursions in the company of local Maasai guides who will share their culture and customs, as well as their wildlife tracking expertise. Not only do you benefit from an unforgettable safari experience, but every penny you spend goes back to the Maasai community.
3. South Africa
Walking safari options in South Africa are extensive and available in most of its national parks and private reserves, including Kruger and KwaZulu-Natal's Hluhluwe-iMfolozi. You can expect highly-qualified guides, overnight options and a good chance of spotting the Big Five on foot. Combine with hikes in the Drakensberg Mountains and the Anglo-Zulu battlefields for a safari through Zulu culture, as well as iconic wildlife.
4. Swaziland
The rolling hills of Malolotja, Swaziland's gently beautiful Highveld, are glorious on foot, with the chance to spot honey badgers, antelopes and leopard. You'll need to head to Hlane for up close encounters with rhino, giraffe and other big game while in Mlilwane you can see zebra, wildebeest, impala, nyala and warthog on foot. Swaziland is easily combined with exploring South Africa.
5. Tanzania
Selous, Tanzania's sleeping safari giant, is also one of the only places to enjoy a walking safari in a country renowned for its wildlife. For a park four-times the size of the Serengeti surprisingly intimate safaris are on offer, with animals concentrated around the Rufiji River. Walks with Maasai guides are also possible in the Greater Ngorongoro Conservation Area, although they don't take you into the crater itself.
6. Zambia
Zambia is Africa's undisputed walking safari capital, with the glorious South Luangwa National Park credited as being the birthplace of goose-bump inducing on-foot tracking. This vast park still feels unexplored – and little changed since David Livingstone arrived in the 19th Century – and walking safaris, pioneered in the 1950s reveal everything from the Big Five to bugs and birdlife, all in the company of expert, highly-trained guides.
Our Walking safaris Vacations
If you'd like to chat about Walking safaris or need help finding a vacation to suit you we're very happy to help.

Walking safaris travel advice
Petronilla Gichimu, from our walking safari specialists in Kenya, Basecamp Explorer:
What to expect
"The primary objective is to explore the little wonders of the wild including insects, birds and wildlife species in the bush. The small details that are often overlooked while on a game drive safari become more apparent from the slower pace and lower angle of being on foot. You will learn how to identify wildlife footprints and track them into the bush, watch dung beetles rolling across the ground, and stop and listen to the sounds of the plains game and birds singing in the trees. If you're lucky, you might get the chance to track big game on foot, but this isn't always the aim of a walking safari. It's about appreciating the finer details of the bush."
Overnight walking safaris
"Following a few hours of walking, the Maasai guide will choose a suitable place where you will gather under an acacia tree for a picnic lunch. After lunch, you retreat for a period of relaxation before resuming on their walk. The afternoon walk takes you to a campsite which can either be by the river's edge where the hippos are grunting or on the plains with unlimited views of the big game where specially designed mobile tents fitted with soft mattresses, a shared safari shower and a fireplace await . Camp out underneath the stars beside a campfire. Following a wholesome in-the-bush dinner, there will be storytelling and stargazing around the fireplaces."
Mike Richardson from our leading small group safari specialists Sunway Safaris:
Trusting your guide
"A first walking safari can be a cross between angst and exhilaration. So, trust in the guide is essential, not only for safety but for picking up information – stay attentive to the guide for important signals and sightings. The rest will take care of itself."
Packing advice
"Travel as light as possible, taking only the essentials: sturdy shoes/boots, sun hat, sun block, protection against the cold (for morning winter walks), lightweight backpack to shed layers as it warms up, water to drink (either as part of backpack or a water bottle slung over your shoulder). If you have a camera, make sure you can reach it with minimum fuss, noise and movement. Same for binoculars. If a choice between binos and camera, I would go binos."
Best place to take a walking safari
"Undoubtedly the Okavango Delta is my favourite walking safari (for wildlife). It is unbeatable – the mode of transport becomes progressively less invasive – 4x4 vehicle, down to a mokor canoe, gliding silently along the delta channels, immediately introduces you to the wilderness – the immense silence filled with rich wildlife sounds. The mokoro journey will end at some remote site within the delta where the wilderness is complete. You have arrived. Your mode of transport is now by foot and you are in the bush and part of the scene, part of the ecology."
Walking safaris tips from our travelers
At Responsible Travel, we think the best people to advise our travelers are often... other travelers. They always return from our tours with packing tips, weather reports, ideas about what to do - and opinions about what not to.

We have selected some of the most useful walking safaris travel advice that our guests have provided over the years to help you make the very most of your vacation - and the space inside your suitcase.

Develop a good relationship with your guide, they are invaluable at spotting wildlife and know where to look.

"Remember that this is Africa and everything does not work all the time. Be patient and positive and make friends along the way. " – Louis Carroll, on a Cape Town to Victoria Falls tour

"On this trip you should not forget your binoculars, a torch for walking at night and take clothes for hot and cold weather since early mornings and nights are really chilly but during the day it can get very hot." – Sara Marques, in Botswana

"Don't fret about 'safari wear'. You don't need walking boots, trainers are fine and you just want loose comfy clothes and protection from the sun." – Rosy Everitt, in Botswana

"There were many memorable moments. Camping in the Okovango Delta was amazing, and the walks around the delta meant that we could get really close to some animals without disturbing them." – Tim Gregory, on a Cape Town to Victoria Falls tour
More about Walking safaris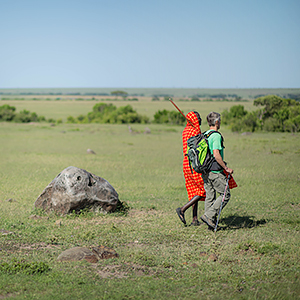 Walking safaris are a unique, spine-tingling way to explore the African bush.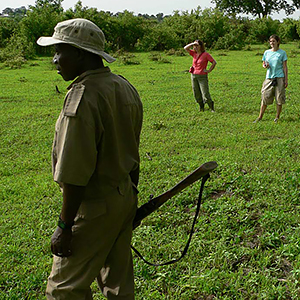 Will I be safe? It's a common question for all first-timers considering a walking safari.