Safari vacations travel guide
'Safari' means 'journey', and the word itself has travelled – first from the Arabic safar and safariya, through to the Swahili safari. This East African word has come to define the ultimate African vacation as we know it today, and conjures up images of khaki-clad travelers in the savannah, wielding binoculars and cameras, clambering in and out of dusty jeeps and settling down into robust tents, adorned with classic African artefacts.

To see ten thousand animals untamed and not branded with symbols of human commerce is... like finding a forest without roads or footpath... you know then... that the world once lived and grew without adding machines... and brick-walled streets and the tyranny of clocks.

- Beryl Markham, bush pilot & author
But safari today takes many forms. Southern Africa has adopted the word too - here, the savannah gives way to the wildlife of the desert and the Delta. Once a journey for hardened explorers mapping the dark continent and its curious creatures, safari now welcomes children, teenagers, the retired and the timid traveler - though the vast space of Sub-Saharan Africa still ensures stretches of wilderness, unexplored corners where the intrepid can feel like the journeyers of old.

Our safari travel guide will help you choose the right safari for you.
What we rate & what we don't
Walking safaris
A walking safari brings you up close to Africa – on its own terms. Your guide can show you how to track wildlife, and you'll discover the savannah and desert ecosystems. Meeting animals on foot commands a serious amount of respect! Senses are awakened, as is the focus on small details so often lost in a jeep; footprints, insects and curious plants all take on a significance of their own.
Wilderness camping
The ultimate way to safari, a bush camp plants you right in the middle of the wilderness – a temporary guest in the home of the wildlife. You'll slumber surrounded by the strange sounds and smells of the savannah, beneath the stars of the southern sky, before packing up without leaving a trace. There's no need to splash out on a top lodge to capture the essence of Africa.
Etosha National Park
Etosha translates roughly as 'Great White Place', thanks to the enormous Etosha Pan, a salt-crusted, dry lake bed that dominates the 22,900km2 national park. The 144 mammal species here include lions, elephants, black and white rhinos, and endemic black faced impala. In the dry season, these species jostle for space around the few remaining waterholes, creating a game viewing spectacle quite unlike any other.
Lesser known parks
Sights like the Great Migration attract many visitors, yet further north, Kenya's Rift Valley offers some of the continent's most astounding scenery – and rare black rhino. In Tanzania, Selous is far vaster than the Serengeti, yet receives just a handful of visitors. Track desert adapted elephant and rhino in the Namibian wilderness, or venture into Botswana's Kalahari – off the beaten track Africa is a true untapped treasure.
The Great Migration
The greatest journey of all, the image of millions of animals stampeding across the endless East African landscapes leaves people tingling. While the focus is on the annual Mara River crossing, the migration is a swirling circle of wildebeest and other plains creatures around the Serengeti, so in Tanzania your guide should be able to find them at any time of year.
Kruger National Park
The king of safari parks is on most Africa Bucket Lists. Fantastic for self-drive safaris, it's the Big Five for beginners. One of Africa's oldest, largest and most diverse national parks, Kruger has over 500 bird species and more mammals than any other park on the continent. Its luxury lodges, top-end safaris and campsites mean that Kruger really is open to all.
The Okavango Delta
Africa's largest inland delta fans out over 15,000km² across the Kalahari, creating an immense oasis for wildlife. Get a hippo's-eye-view of its fauna and flora in a dugout mokoro canoe, as you float past Africa's largest herds of elephant, plus giraffes, warthogs, zebra and lions. Take a bushwalk with local community guides for an insider's perspective.
Conservancies
The new face of African tourism pairs conservation and development through community managed land. There's often more wildlife here than in the great parks and game reserves, and looser regulations mean that nighttime game drives and walking safaris are also possible. What's more, your guide will be a local – with the fascinating knowledge, insights and anecdotes that come from living with the wildlife.
Super luxury lodges
A super luxury lodge will make you feel like royalty while on safari. However, being surrounded by grand pianos, Persian rugs and popping champagne corks will distance you from your real surroundings. Impressive as these desert 'palaces' may be, it's a real shame to miss out on connecting with Africa. What could you watch on your huge TV that could be more astounding than the African wilderness?
Walking with lions
A photo of yourself feeding a baby lion will wow friends back home – until you realise what might happen to the cub once your safari is over. Habituated animals can never be released into the wild, and when the cub gets too big to be safely handled it's not cost effective to keep. To put it bluntly – there's a good chance it'll end up on a canned hunting reserve. Read more about
canned hunting
.
Staying in touch
Modern technology is amazing. You can be in the middle of the African bush, while Skyping your mum and showing her around… But just because the technology exists, doesn't mean it has to be installed. A vacation is supposed to be a break from 'real life', and your safari could be the trip of a lifetime. Ditching the tablet means you really can make the most of every moment.
Expat guides
A local guide can make all the difference to your safari. Whether an indigenous Maasai or San guide – who can teach you the secrets of the savannah as well as tracking wildlife – or a qualified local villager looking to welcome travelers to his country, keeping it local is one of the most interesting ways to go on safari, and the most beneficial for local people and wildlife.
Our top Safari Vacation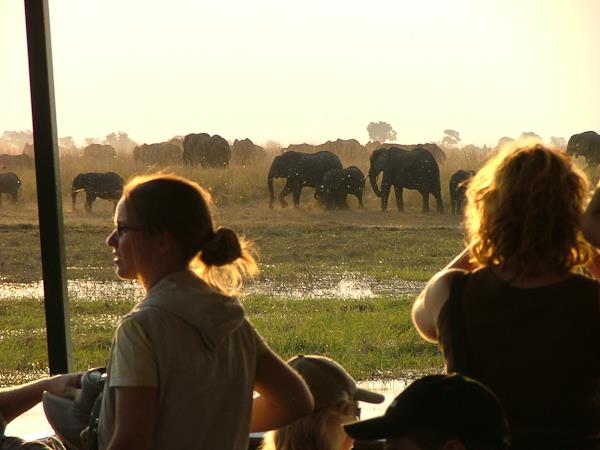 A lodge safari through Kruger, Zimbabwe & Botswana
From
US $

2860

to

US $

2975
16 days
ex flights
Small group travel:
2023: 18 Nov, 16 Dec
2024: 6 Jan, 13 Jan, 3 Feb, 24 Feb, 23 Mar, 6 Apr, 13 Apr, 4 May, 11 May, 18 May, 1 Jun, 8 Jun, 29 Jun, 6 Jul, 13 Jul, 20 Jul, 27 Jul, 10 Aug, 17 Aug, 24 Aug, 7 Sep, 21 Sep, 28 Sep, 12 Oct, 19 Oct, 26 Oct, 9 Nov, 16 Nov, 23 Nov, 14 Dec
If you'd like to chat about Safari or need help finding a vacation to suit you we're very happy to help.

A brief history of Safaris
The word 'safari' has its roots in Arabic, and Arab traders were some of the first outsiders to journey into this continent. It was caravans rather than jeeps on these early expeditions, as treacherous new trade routes transported goods – and slaves – between Africa and Asia throughout the 18th and 19th centuries.
The first 'safari' took place in 1836, when William Cornwallis Harris set out to observe wildlife in its natural surroundings – rather than simply shooting it, as he did on most of his expeditions. Shortly after, the word 'safari' was introduced into English by the explorer Sir Richard Burton. Cornwallis wrote about his exploits and created beautiful watercolour paintings of the creatures he observed (and shot) in Africa – ironically, these hunter's accounts were some of the most influential in promoting interest in Africa's wildlife.
Read more