Best time to go on safari
---
SEASONS & WILDLIFE
Once the rain replenishes the water sources, animals disperse. However, the rainy season may also bring migratory birds and baby antelope and wildebeest – which, in turn, attract predators. You'll also encounter fewer visitors at this time – and find great deals on lodges, camps and tours, though some accommodation in remote areas may close for the rainy season.

Some parks – such as Tanzania's self-contained Ngorongoro Crater – enjoy fantastic wildlife year-round, while sights such as the Great Migration and the flooding of the Okavango Delta are highly seasonal. Click on the interactive map below to discover the best time to go on a safari in your chosen destination.
This is the first section before read more link if second section specified.
This is the second section before read more link if second section specified.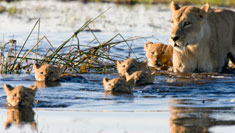 Botswana
Botswana's "green season" falls from November to March. Afternoon storms cool the desert heat and bring migratory birds and baby animals. The peak time for game viewing, however, is September-October, when the country is at its hottest and driest, and water at a premium. Unusually, this is when the Delta is at its highest – a lush counterpoint to the parched Kalahari.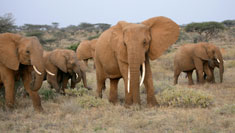 Kenya
The Great Migration crosses into the Masai Mara from June-Oct, when you'll need to book in advance, but if possible, avoid the Great Migration of tourists in July and August. The long rains from March-May can cause travel disruption in more remote areas, with some lodges closing. The short rains of Nov-Dec refresh the vegetation, bringing migratory birds and baby animals.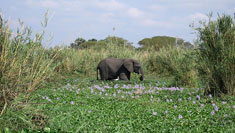 Malawi
Malawi's peak season is from May-mid November – the driest and coolest months. Come early in the season for greener landscapes and warmer weather. June-August are chilly at night though wildlife is abundant and visitor numbers at their highest. Come in Sep-Oct if possible, which are cosily warm but still dry, luring wildlife to waterholes.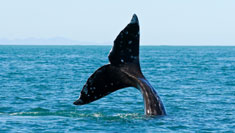 Namibia
This desert nation is at its most parched from May-early November, the best time for wildlife viewing in Etosha – but you'll need to book well in advance. June-August are very cold at night and unpleasantly dry, but wonderfully clear. May is warmer and less dusty – a lovely time to visit. Combine the Big Five with big whales, sighted off the coast from July-Nov.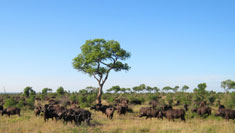 South Africa
Kruger's peak time is July-Sep, which are dry and pleasantly cool – you'll need extra layers at night. The risk of malaria is also at its lowest. Aug is the busiest – and priciest – month, book well ahead. The park can be visited all year, but Dec-Jan can be unbearably hot, though rain falls in short, sharp storms, meaning you can still explore. For Addo, chilly June-Sep are also the best months.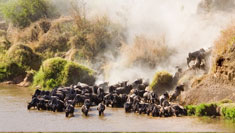 Tanzania
The long rains from March-May cause some lodges in the south and west to close. In the north, however, this can be a good time for deals – and fewer tourists. The Great Migration can be seen virtually year-round in the Serengeti, but the peak months are June-August, for the river crossing (and school vacations!). Jan-Feb are green and gorgeous, with baby wildebeest.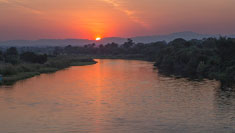 Zambia
Zambia is known for its walking safaris, and most walking bushcamps are open from June onwards, when the weather is at its driest. Luangwa, Mana Pools and Lower Zambezi are hot with clusters of wildlife in September and October, while the Nov-April rains can cut off areas of South Luangwa, particularly in Feb-March, when accommodation may close.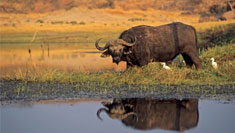 Zimbabwe
May to October is the key safari season here, particularly in Hwange National Park where the lack of rain draws wildlife to the waterholes. Nights are cold from June-August, so bring layers. Victoria Falls is easy to access at this time as well, though the flow trickles off from October. Earlier on in the season, the landscape is still pleasantly green.


What happens when on safari
---
RESPONSIBLE TRAVEL RECOMMENDS

Emma Gregg is an award-winning travel writer. She talks us through her best times to visit Namibia:
"The end of the dry season is excellent for wildlife watching in Etosha - it's so dry at this time that giraffes, elephants and zebras converge at the waterholes in impressive numbers. Namibia's landscapes look amazing in May, when the air is very clear, the temperatures are moderate and much of the vegetation is still green."
Bruce Taylor, founder of our supplier Sunway Safaris, describes his favourite time in Botswana: "I enjoy the green season, from December to April, because there's no dust. The beauty of the rains in Botswana is that they're generally late afternoon thunderstorms that come rolling through then pass on, so you can still have gloriously sunny days. The rain cools things down a bit, there are a lot of young animals around and all the migratory birds are in the Okavango – they're spectacular."

Rupert Calcott, from our supplier Exodus, tells us about the best time for a safari in his native South Africa:
"The colder months of July to September are a fantastic time for game viewing. As the country gets drier the animals are concentrated at waterholes, there's greater visibility; it's a really good time for wildlife. April to June are also wonderful because it's not too hot and there's less chance of rain, but we get fewer travelers."
Amanda Marks, from our supplier Tribes Travel, explains why the best time to visit Tanzania may not be when you think it is… "Most people think of the migration as from July to October, whereas in actual fact it moves constantly. You have it from December to March in the southern Serengeti – you can find the wildlife there quite easily. They tend to give birth at the beginning of the year, then move north and west, though they are more spread out so it's not such a spectacle. Then from July to October they are in the very north of the Serengeti."