Safety & practicalities on a walking safari
There's a sense of immense vulnerability on a walking safari that makes every fibre of your being feel alert and alive. You know what's out there – lions, rhino, elephants, buffalo, hippo – and yet here you are, in the heart of their territory. On foot. Every leaf rustling, every twig snapping sends a wave of goose bumps across your skin, and you wonder what on earth you'll do if you actually find the animals you're looking for. But then, you remember your expert local guides and guards – be they Maasai herdsman, Okavango Delta polers or highly-trained rangers – armed with an unending knowledge of the bush and the behaviour of its inhabitants (and often with a firearm), and who stand between you and any harm.

Undoubtedly there are risks in any walking safari – wild animals can be dangerous and unpredictable – but travel with a responsible tour operator which uses camps and lodges with highly-trained, experienced guides and these risks are kept to a minimum.

Petronilla Gichimu, from our Kenyan safari specialists Basecamp Explorer explains how guests are kept safe on a walking safari in the Mara Naboisho conservancy: "During your walking safari, you will be accompanied by an experienced and professional Maasai guide and two Maasai guards ahead through a rich wildlife area. Our Maasai guides go through rigorous training and are familiar with the bush and wildlife alike. The guide always gives guests a comprehensive safety briefing before they set out and guests should follow instructions to the letter to ensure they have a safe and enjoyable safari experience."
So what's a walking safari all about?
Mike Richardson, from our specialists Sunway Safaris:
"It is the connection with the wilderness - you enter an entirely different world. There is always something fascinating to be seen and to learn. Even being in a group, the natural silence allows you to be immersed into the environment as well as your own thoughts. In my opinion, it is the ultimate means to experience and appreciate African wildlife."

In KiSwahili, to safari simply means to travel, and a walking safari sees you exploring a game reserve on-foot. You might add on hikes through other spectacular scenery, too, such as the Drakensberg Mountains in South Africa and Swaziland's gorgeously hilly Malolotja Nature Reserve, perfectly complementing thrilling bush walks to stalk big game in the Greater Kruger National Park.
Walking safaris in Africa's plethora of game reserves are usually anything from two to four hours of walking, to two to four days (or more). A walking safari is usually an option alongside game drives, with one or two mornings spent on foot in the company of an expert guide and tracker, and the rest of your safari spent in a 4x4 jeep. In Botswana's Okavango Delta, mokoro (dug-out canoe) rides take you into parts of the wilderness that vehicles can't reach and on-foot exploration becomes your only option. In other areas, such as the Maasai-owned Mara Naboisho conservancy on the edge of the Masai Mara National Park in Kenya, you might be on foot for multiple days, staying in mobile tented camps overnight with your Maasai hosts, enjoying stories and dancing around the campfire each evening.

Walking safaris are all about the experience of being in the wilderness and understanding the fascinating ecology and natural dynamics of the area. Your guide will point out the small details, from termites to edible trees, describe footprints in the sandy soil, reveal which plants and herbs have traditional medicinal properties and bring your attention to glorious endemic birds. Consider big game sightings as a bonus, but not the only aim.
Our Walking safaris Vacations
If you'd like to chat about Walking safaris or need help finding a vacation to suit you we're very happy to help.

If you're entering an area of big game on foot then walking safaris will never be risk-free. However, it is very, very rare that any incidents occur on walking safaris, and that is testament to the training and knowledge of your expert guides.

While your guides will be constantly assessing wind direction, sun position (to ensure they always have a clear field of vision), wildlife behaviour and possible escape routes, you'll need to take responsibility for listening carefully to your guides' instructions to ensure your own safety. You'll be briefed before you set off on what to expect, how to behave during the safari and what to do should any animals become startled or aggressive. If your guide tells you to move, it's not the time to linger for that last elephant photo.

Petronilla Gichimu, from our walking safari specialists in Kenya, Basecamp Explorer, shares a personal, thrilling, account of a close encounter with lions on foot: "There was a time when I accompanied guests on a walking safari from Wilderness Camp. On the way, we stumbled upon a pride of resting lions. We saw it as a chance for us to stop and watch. The guests were so excited but scared at the same time. Suddenly the pride spotted a hyena hunting a young wildebeest and it attracted their attention. Unfortunately, as the young wildebeest tried to get away from the hyena it ran towards the bush where we were hiding. There were about four lions – two females and two males all in a mating mood. We were lucky since the lions were not interested in hunting at that time. As instructed by the guide we all just froze and stood completely still. The lions retreated to the bushes while the hyena ran away! We held our position and walked away slowly, safely to Camp."

Joanna Simmons, writer at Responsible Travel, took a vacation to Botswana that included camping in the Okavango Delta and walking safaris here: "You really do need to listen to your guides. Before we set out, our two guides explained how we needed to stay together and walk in single file, so that there was a guide at each end, and also because as animals would see us as one mass unit rather than a herd that can easily be split. Once out in the bush, we saw an elephant not too far off which was becoming slightly excited by our presence – flapping its ears. The guides told us to head for the trees, but half the group hung back to take pictures from the open grassland, which wound the elephant up even more. When they finally made it to the safety of the trees, he gently reprimanded them, with the lesson being, don't put taking photos over your safety and stick together at all time."
Where walking safaris are just a few hours long you'll start and finish your wilderness experience at your lodge. Dependent on where you are these range from the luxurious, with panoramic pools and terraces for an evening G&T, to more rustic tented camps.

Longer, multi-day walking safaris, particularly those with the Maasai in Kenya or in Zambia, will almost certainly see you spending a night or two under canvas. While these mobile tented camps offer basic facilities, they have your comfort in mind. You'll get a bit more than just a mattress on the floor, and the evenings spent around the campfire under the vast savannah stars, listening to stories from your Maasai hosts, interspersed by the distant sound of hyenas calling is unforgettable.

In Botswana's Okavango Delta, walking safaris take place in parts of the wilderness inaccessible to vehicles. Camps here are wild and basic – just you, your guides, a campfire and the unending thrill of the open African bush.
More about Walking safaris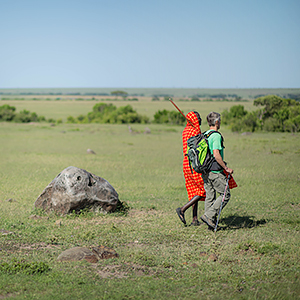 Walking safaris are a unique, spine-tingling way to explore the African bush.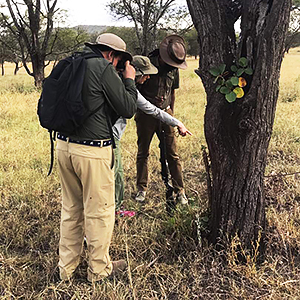 Our walking safari highlights & map unveil the best places to encounter African wildlife on foot