"A comfortable week of walking in Western Bhutan on a tailor made vacation which incorporates the spirituality of the region as well as stunning views."
Highlights
Paro | Rinpung Dzong | Thimphu | Tango Monastery | Punakha | Chorten Nebu Walk | Wangdiphodrang | Taksang-Tiger's Nest Climb |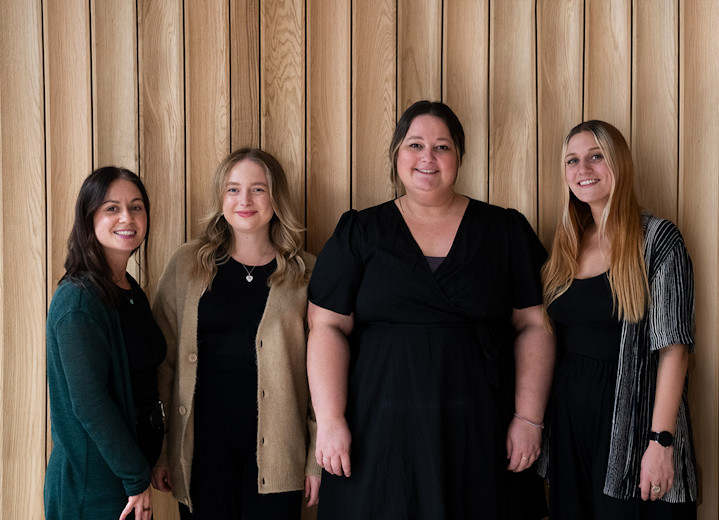 Departure information
This trip can be tailor made at a time to suit you and can be adapted to suit your interests, budget and requirements as necessary
Responsible tourism
Western Bhutan walking vacation
Carbon reduction
Your vacation will help support local people and conservation. We must also reduce CO2. Learn about the CO2 emissions of this vacation and how to reduce them.
Environment
Our role in promoting Responsible Tourism is small but meaningful and adds much to the preservation and promotion of our country's unique cultural heritage, environmental preservation, promotion of sustainable development and establishment of good governance which are the four main pillars of Gross National Happiness, the sole guiding development principle of our country.

It is our aim that visitors will appreciate Bhutan through its living culture and pristine environment and the people of Bhutan will in turn benefit from their interaction with our visitors.

Our walking tour programs are popular and have always been environmentally friendly. Our hiking trails fall within the Jigme Dorji National Park, the second largest protected area in Bhutan. Park fees generated from our walking trails received from each individual person on the hike goes to the Nature Recreation and Eco-tourism Division for the Department of Forestry to help manage and implement several conservation and livelihood development initiatives within and around the park.

The vehicle used for transfer points will also transport food and equipment. We request for our guests understanding since in this way we can avoid using a separate car to transport food and equipment thereby reducing the gas used and the emissions from the vehicles.

We avoid using plastics that only have a short-term use. If plastic is necessary, like plastic bags to keep clothes dry in for example, we buy bags that can be used again, by the next tourist.

Whenever possible, we don't buy any drinks in plastic bottles, opting instead for glass bottles or local paper packages. If buying plastic bottles can't be avoided, we make sure the bottles are handed back to us for recycling and correct disposal.

We do not have a place to recycle batteries, therefore, we request our guests to take back batteries so that it can be recycled if the facility is available to them back home.

We prefer to boil and cool water for drinking rather than buying lots of plastic water bottles that will only increase the amount of waste.
Community
We have a dedicated team of well trained and content local staff. Two guides, two drivers, one office manager, one office assistant, one cook and a camp assistant all of whom can perform their job at the office and in the field professionally and safely. We offer good salaries to our staff plus an exceptional new year bonus. All are staff have "personal accident insurance" against possible accidents at the office and in the field. We also have a Group Insurance scheme in place for staff medical/health emergencies. We have a retirement benefit scheme in the form of a Provident Fund account with the Royal Insurance corporation of Bhutan. We ensure that our staff our appropriately equipped for harsh weather conditions. We also make available a yearly clothing allowance because we require that everyone working on our tours is properly outfitted. Our guides and staff are the backbone of the organization and we could never run successful trips without their support.

We support our local organic producers by purchasing as much food for our tours as possible from the Centennial Farmer's market and local groceries. We also support local advocacy groups by donating time and money to their good causes, especially with programs related to youth development in the country.

Our guided tours follow strict cultural procedures. Our groups are briefed on suitable behavior prior to the tour departure. We want to preserve the culture of Bhutan that you've read about!

One example of our many community based and community led projects established through our walking tour programs –"Bhutan's Beautiful Landscape and Cultural Heritage"

We oversee the project progress, do the book keeping, quarterly reports and project completion reports. We also met with the community and established the needs, sought for funds from our guest travelers and work in collaboration with generosity in action who control the funds and work directly with the donors. We also have project visits from philanthropic ventures. Their program officer visits Bhutan on audit the projects. When such a visit is required we arrange for a free visit and take care of the logistics.

Chorten Nebu Monastic School
The Monastery of Chorten Nebu, built in the eighteenth century is a little known treasure, with its magnificent statue of Maitreya (the future Buddha) and fine images of the great lamas of the Drukpa Lineage. According to legend, this magical spot was once a dense forest inhabited by evil spirits. One day, the Divine Madman, Drukpa Kunley arrived here when all the demons were gathered together in meeting. He hurled a blazing log into the gathering and all the evil spirits were scorched to death. The great oak tree outside the monastery is said to have grown out of the blazing log that the Divine Madman threw and interestingly, its bark is still dark, burnt down. People use the bark to bring them good-luck talisman.

In 2005 the Monastery started housing poor orphans from the nearby village and founded a small Buddhist educational institution for these little monks, a place where the children can study both traditional Buddhist scriptures and texts, and also learning Western subjects such as English, math and science in order to be equipped to survive in the modern world, whether as a monk or a lay person.

Sustainability Needs:
- Small renovations to the monastery - a national heritage.
- Clean water supply and proper drainage facilities (completed -2008).
- Construction of proper toilets/bathrooms(completed -2008).
- Construction of a dormitory and bedding supplies to the children (completed- 2009).
- A permanent kitchen for the school (ongoing 2011).

Projects Completed:
Guest Toilet - New outside flush toilet with sink built adjacent to the field used by guest trekkers

New water supply sourced on hill above monastery and piped to new Guest Toilet, to the Monastery, to the Kitchen, to the outside Water Spot, and to the previously built Toilet Block (6 toilets, 5 showers and sink, now finally usable!)

Lessons Learned:
1. Community needs assessment through community meetings is very important before launching such projects.
2. Participatory approach is necessary, and ultimately saved substantially on the cost.
3. It was discovered that guest trekkers camping behind the school property could use the new outside school toilet, so the Bhutanese trek assistants do not need to dig toilet holes in the surrounding areas as quick latrines therefore making the environment unhealthy and dirty. While a good clean toilet with running water is made available to the guests, the school can generate a modest income by way of a small fee collected from guests and trekkers using the facility. This provides the means to buy soap and other toiletry items for the children.

Factors that led to the success of the Project:
Immediate financial support from guest travelers through Generosity in Action (fund maintained at the Philanthropic Ventures Foundation) that provides a structure for travelers to support local villages and people. Coordination with tour operators and tour leaders insure that donations are properly applied to the projects intended.

Community participation:
The school monks and staff were able to identify and prioritize their need for safe drinking water and proper clean toilets above every other basic need.

Expected Outcomes:
- Sanitary behavior changes in the children.
- Practice good hygiene to help control the spread of infectious diseases.
- Access to clean drinking water to reduce disease and improve children health.
- Student monks practice proper hygienic behavior in the school and then take these behaviors home to their families.
- Community involvement teaches the local people about why we need a proper toilet system and encourages the local people to self finance, construct and use proper toilets to improve community health.

Immediate Challenges:
Awareness building on issues of Hygiene and Sanitation

Possible solutions identified and implemented such as:
a) Hand washing with soap before meals and after visiting the toilets.
b) Keeping the environment clean, by stopping use of bushes as quick latrines.

Long Term Challenge:
The children to act as special agents of behavioral change in the community.

Carrying the initiative forward……
A permanent dormitory for the children.

To support the head lama and adult monks in maintaining discipline over the 25 young monks who slept in several separate small spaces in two buildings, it was requested that a room be renovated and supplied to allow all student monks to be housed in one room.

- 25 beds have been bought for our boys.
- New linen & pillows & blankets have been supplied.
- The rotten wooden planks have been removed and replaced by concrete.
- Metal cabinets have been installed in the dormitory.

We also have a program designed to offer education for girls in far reaching villages in Bhutan. A program simply called Girls Too.
3 Reviews of Western Bhutan walking vacation
---
Reviewed on 30 Mar 2019 by
Cindy Fung
1. What was the most memorable or exciting part of your vacation?

There were so many memorable parts. First, the scenery is as amazing as everyone said it would be. There's just something so peaceful and serene in the valleys, mountains, rivers and farmlands of Paro, Thimphu and Punakha. The hike up to the Paro Taktsang was incredible. Beautiful views all around. In fact, all our hikes had amazing views. I liked one of the hikes where we ended up overlooking all of Thimphu, and also the hike up to Khamsum Yulley Namgyal Chorten where we were greeted with a sweeping view of Punakha.

Secondly, the temple designs are very intricate and they are all unique in their own way. Even though we visited a lot of temples during this trip, we didn't get tired of them at all, they were all so interesting! We also appreciated our guide's in-depth explanations about buddhism (we are not religious), the various buddhas and the meanings behind the common items we come across (the holy water, the 7 bowls of water, the prayer wheels and prayer flags etc).

Lastly, we really liked the food there. The pink rice, the cheese and potatoes (kewa datsi), the cauliflower and cheese, some mysterious pork dish that was to die for etc - so simple yet so healthy and delicious. We also greatly enjoyed their amazing ginger tea and milk tea. I loved chewing doma (Bhutanese nut with lime paste and bitter leaf) too!


2. What tips would you give other travelers booking this vacation?

Do plan at least 3 months in advance since flights and hotel rooms are limited and you need to allow time for the wire transfer and visa clearance as well. On this note I would like to express my huge thanks to Kinley who graciously and patiently dealt with my change of dates (at least twice!) as well as my difficulties with the wire transfer.

We visited in mid-March and the weather was quite excellent for hiking. Also caught the Paro Tsechu (one of the popular festivals) during our stay and it was pretty fun to witness. The tour operator was great in giving advice on the different offerings of Bhutan during different months.

Definitely bring a good pair of hiking shoes/boots, hats, and sunscreen!


3. Did you feel that your vacation benefited local people, reduced environmental impacts or supported conservation?

Yes. We were connected directly to a local tour agency, had a local guide and driver, stayed at locally-owned (versus chain-owned) hotels plus a homestay and had all our lunches at local restaurants which all offered healthy, natural and locally-grown food. Since Bhutan adopts a "high value low impact" tourism policy to conserve their culture and protect their natural environment from mass tourism, and a part of our visa fees goes towards their government for free healthcare and education, I believe that in a small way our trip supported their government's tourism policy (which should be adopted by more countries).


4. Finally, how would you rate your vacation overall?

Loved it, it was a great experience and we were a bit sad to leave this wonderful country. For those who like hiking, this is a really nice hiking trip, not too strenuous and the trip was well-paced, we hiked every other day and had lots of time to relax in between. The itinerary itself is very flexible so we got to see a lot of things but it did not feel rushed at any point. Accommodations were comfortable and the staff were friendly and helpful. Our tour guide and driver were very nice too, it was a pleasure meeting them. Would love to visit again!
---
Reviewed on 09 Dec 2012 by
Pam Richardson
1. What was the most memorable or exciting part of your vacation?

Bhutan was just so beautiful. We travelled at the best time - end of November when the skies were blue and the nights not too cold. It enabled us to really appreciate Bhutan's scenery and natural beauty. The forested mountains and tumbling rivers were wonderful to experience - good for one's spirit. The apparent simplicity of life in Bhutan is admirable, and the Bhutanese people are really decent and hospitable to visitors. One feels very safe and at ease there.


2. What tips would you give other travelers booking this vacation?

November was a lovely time to travel.
Getting from one valley over into the next takes patience as roads are quite precarious and villages are remote from one another. Getting a real feel of this magnificent part of the world therefore has to be a key purpose for being there - one needs to relish the driving.
Even when not doing organised hikes, build into the day as much walking as possible. We would stop at the top of a mountain pass and then walk downwards for half and hour or so - just to stretch our legs and enjoy the scenery on foot - before being picked up again by our driver. A half-day hike from one monastery to another, and to other places of interest in the vicinity of a village, is such a nice way to explore - rather than driving from one place to another.


3. Did you feel that your vacation benefited local people, reduced environmental impacts or supported conservation?

Bhutan has so much to lose and it would be such a pity if visitors to the country helped this to happen. Tourism is (apparently) their 2nd largest contributor to the economy so there is no doubt our visit would have assisted in some way but one fears the country could become like much of the rest of the visited world. The country's leadership appears, however, to be strategic in its approach to managing this challenge. We relished the natural surrounds - it was wonderful for our appreciation of the world-as-it-should-be.


4. Finally, how would you rate your vacation overall?

Our trip was very well planned - structured without feeling rushed or impersonal. Our guide and driver were most reliable, caring and were good company. We loved our 9 days in Bhutan - we were able to gain insight into the country, its history and its current position in the world. We feel admiring of Bhutan and trust they chart their course forward with care and precision. It really is a special place and traveling there was a delight - slow paced, beautiful and inspiring. On my next visit I will build in an organised hike - within the distant mountains! They beckoned us.

---
Reviewed on 03 Nov 2012 by
Vicky Unwin
1. What was the most memorable or exciting part of your vacation?

The Jakar Festival in Bhumthang Valley.


2. What tips would you give other travelers booking this vacation?

Definitely get the flight back from Bhumthang to Paro if its running as otherwise the return journey is very long and on the same route as the outward, so you miss out on extra walks/activities that could be enjoyed in that time. Also there is no need to upgrade the hotels form the basic government ones, Aman option outrageous and rather scoffed at by the locals. Worth one upgrade at the very end to the fabulous Zhwi Ling hotel in Paro.


3. Did you feel that your vacation benefited local people, reduced environmental impacts or supported conservation?

Not sure of this apart form that by booking with a local tour operator, rather than using a UK travel agent, they get more of the little profit that is generated (as Bhutan has a set tourist price per day you can easily see how much is being creamed off the top!)


4. Finally, how would you rate your vacation overall?

Excellent; loved the Buddhist culture of peace and tranquillity and want to bring it home with me!
Read the operator's response here:
With regard to Vicky's trip benefiting local communities I'd like to let you know that as indicated by her we used local accommodation all through the trip bringing direct income to local accommodation providers. All meals we arranged at small but tasty and clean local restaurants that serve traditional Bhutanese meals blended to western taste. Vicky wrote to tell me that the group enjoyed the meals a lot since they all loved chillies. The Bumthang community is a far away from Thimphu the capital city. it is a remote destination but very beautiful and is also the spiritual heartland of our country. Therefore we brought Vicky and group to Bumthang although it meant enduring long road journeys. The group sacrificed luxury for an authentic Bhutanese experience and they loved It. At Paro we have five star luxury accommodation in the international como chain of hotels as well as the aman hotels but we encouraged the group to stay at the Zhiwaling hotel which is the only Bhutanese owned and run luxury hotel in Bhutan. This we recommended at the end of the trip after 8 days in local hotels that come neat and clean but with very basic facilities and has been appreciated by guests tremendously, for after all most people travel to Bhutan not for an international experience but more so for true Bhutanese experience.
---
Popular similar vacations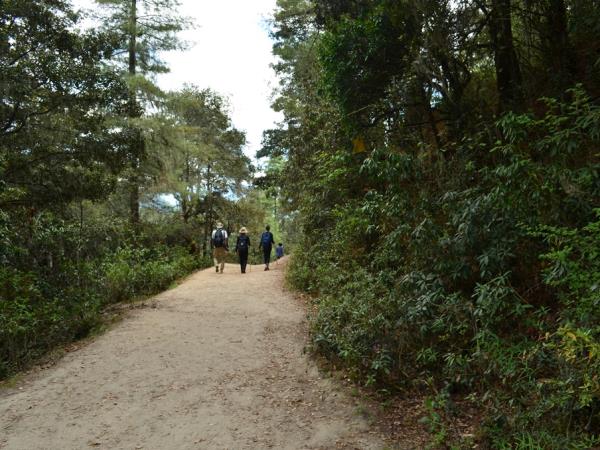 Bhutan hiking and walking tour through Himalayan Kingdom
From US $2687 - US $3238 11 days excluding flights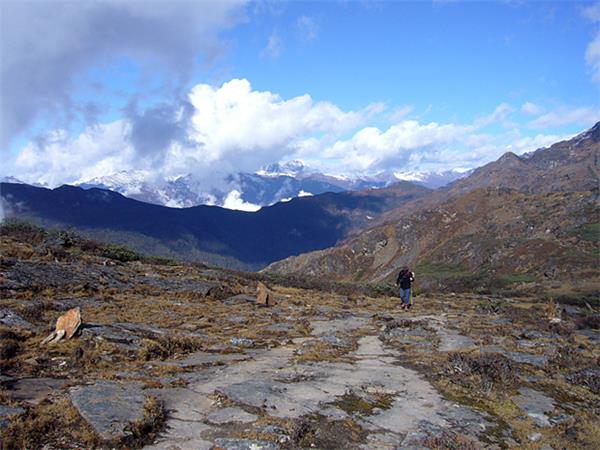 A spectacular trek combined with cultural highlights
From US $5149 - US $5579 12 days excluding flights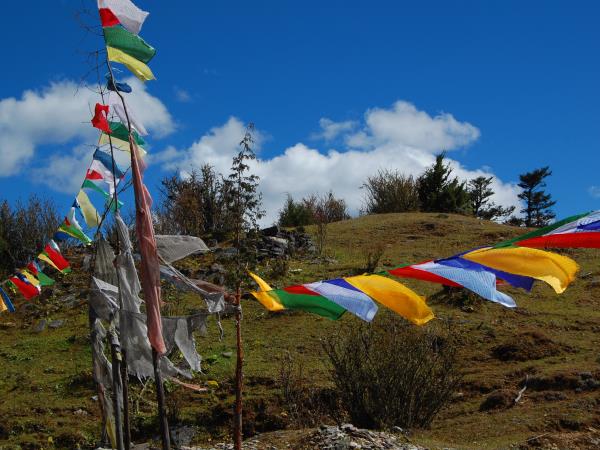 A trekking to a remote land often far from civilization
From US $2665 - US $3050 8 days excluding flights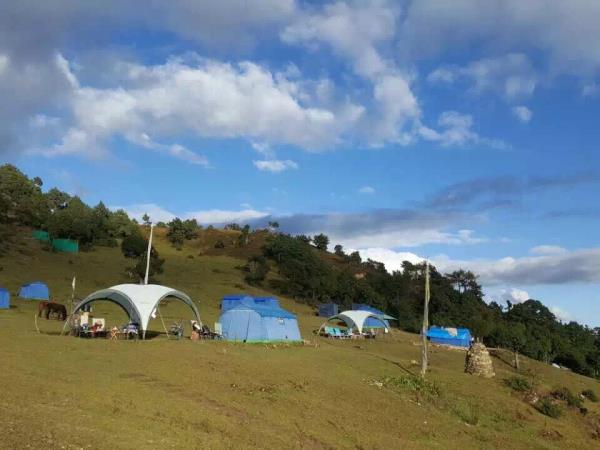 Biking Hiking and Culture
From US $3300 11 days excluding flights