Walking in Bhutan travel guide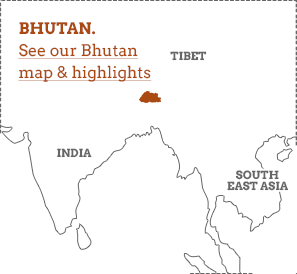 Walks to monasteries, such as Tango, Cheri and Taktsang are an opportunity to exit city streets and embark on an adventure, where meetings with monks and villagers are likely. Although Bhutan is home to the Himalayas, there are plenty of opportunities to hike at lower levels. The Bumthang and Phobjikha valleys have river trails, farming communities and fertile foothills alongside habitat for migrating black-necked cranes. Trekking trails lead through flowering rhododendron forests to unveil breathtaking views from high ridges with snow-capped peaks offering a tantalising taste of the Tibetan border.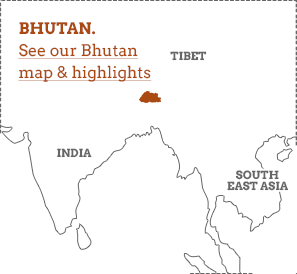 Follow in the footsteps of Buddhism where monasteries and mountains appear from the clouds and blue pines and bamboo thickets give way to pristine pastures filled with dour-faced yaks.

The higher you go, the more challenging the experience, but registered guides and helpers offer support and cultural insights as you walk. Staying overnight in well organised camps allows you to absorb the surroundings and catch your breath before embarking onwards and upwards over Bhutan's most spectacular peaks and passes.

Find out more in our Bhutan walking vacations travel guide.
Our Bhutan walking Vacations
WHAT DO WALKING HOLIDAYS IN BHUTAN ENTAIL
Mountains & monasteries
Swiftly flowing rivers cut through deep valleys in Bhutan's southern Himalayan foothills against a backdrop of Jhomolhari (7,314m) in the east and Gangar Punsum (7,570m) overlooking Tibet to the north. Perched on many of Bhutan's peaks are some of the world's most revered Buddhist monasteries (dzongs) with Taktsang Dzong (the Tiger's Nest) overlooking Paro Valley and Tango Dzong, just north of Thimphu, just a couple of points to head to on a walking tour of Bhutan. Guided walks help you get to grips with the history, symbolism and etiquette attached to visiting monasteries and combining a walking tour with a Buddhist
festival
provides the perfect path to cultural enlightenment.
Small group or tailor made
Unlike in Nepal, it's not possible to trek independently in Bhutan; you'll need to join a small group or tailor made walking vacation. This is because the daily tariff you pay to visit Bhutan includes a guide anyway, and the trekking routes are little used, with no accommodation or places to eat along the way. This means you'll be camping and will need local support staff and ponies to carry kit and food for the trek. So, you can trek as a solo traveler, but you can't travel independently. Traveling in a small group also allows you to meet new people, while a tailor made walking tour gives you complete control over the itinerary, but with the invaluable security of local assistance.
Day walks & longer treks
There are plenty of circular treks and shorter walks in Bhutan that can easily be achieved just outside of city limits. Early morning transfers can position you right at the start of a trail head, where you can spend a day walking in Bhutan before returning to base to rest, unravel and prepare for the next day's adventure. Point to point hiking presents longer distance trails with the Druk Path, Merak and Sakten and the Snowman, all offering more of a challenge amongst some of Bhutan's most scintillating scenery. Time, fitness and cultural or natural interests will all determine which walk best suits you so be honest before embarking on an enjoyable experience rather than a gruelling slog.
Guides, cooks & ponies
Some of the most important people that you'll meet whilst walking in Bhutan will be working and walking alongside you to ensure your experience runs as smoothly and as informatively as possible. Shorter day walks will still feature a local guide licensed by the Tourism Council of Bhutan whilst longer trekking experiences will include an entire crew of experienced licensed guides, camp assistants and cooks. Porters aren't used in Bhutan as readily as Nepal or Tibet and you can expect to find several sturdy ponies employed to carry equipment and food to tented outdoor campsites.
Our top Bhutan walking Vacation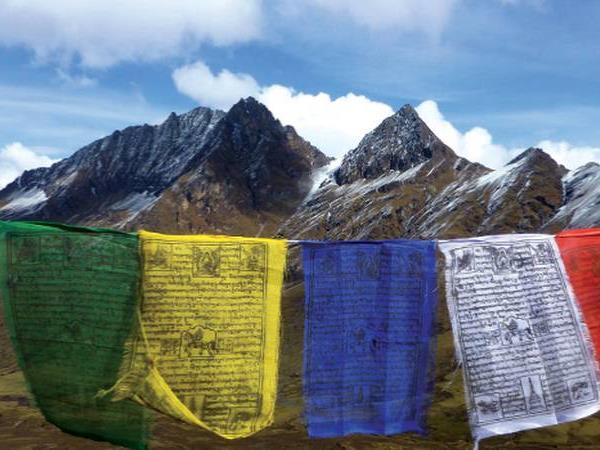 The ultimate Bhutan trekking experience
From
US $

12490
27 days
ex flights
Small group travel:
2024: 8 Oct
If you'd like to chat about Bhutan walking or need help finding a vacation to suit you we're very happy to help.

BEST TIME TO GO ON A WALKING
HOLIDAY IN BHUTAN
Weather-wise you only have a couple of smallish windows to squeeze through with mid to late Oct and the second half of April the best time to go on a walking vacation in Bhutan. Jun-Aug is the monsoon season whereas Dec-Feb finds snow blocking many of the higher trails, although lowland trails can be much warmer and relatively unaffected. Sep signals the start of peak season although conditions are still wet and muddy with cloud often obscuring blue skies and mountain peaks. Trek for multiple days at high altitude and you'll see rare blue poppies flowering from May-Aug. Walks in Mar-Apr find wild primula, iris and edelweiss all below 3,000m.
More about Bhutan walking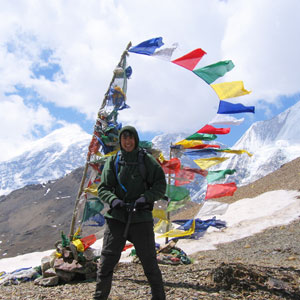 Anyone walking in Bhutan should do their homework before signing up, as weather conditions, fitness levels and high altitude will all make a big difference to a successful trek.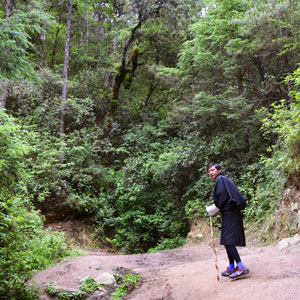 Soaring Himalayan scenery, local life and beautiful cultural sites, all compactly contained within a short and spectacular route – the Druk Path is one of Bhutan's best and most accessible trails.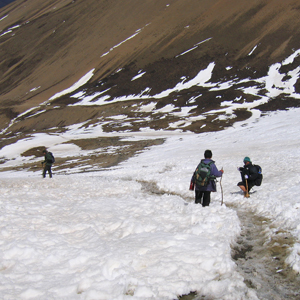 The Snowman trek in Bhutan is well known as one of the world's most challenging treks thanks to its remote location and tricky conditions.