Walking routes in Bhutan, especially in the west of the country, can often be accessed from one of the larger cities, with Paro providing the start of the Druk Path trek, and Gynekha village, around an hour's drive south of Thimphu, signalling the start of Dagala Thousand Lakes. Head into the day hike trails of Bumthang Valley, in the center north of Bhutan, and you're likely to start a trekking trip from the main town of Jakar before transferring to Thangbi Lhakhang to start the trek to Ngang Lhakhang (the Swan Temple) at around 2,800m. The further east you travel the more time you'll need, with the Merak Sakteng trek through Sakteng Wildlife Sanctuary leading ever closer to the border with India.
1. BUMTHANG CULTURAL TREK
Bumthang Valley is synonymous with day hikes in Bhutan and it's easy to tag one trail to the next for longer distances. The 18km trek from Ngang Lhakhang to Ogyen Chholing is one such example, with a max height of 3,350m, at Phephe La Pass. Expect bamboo, birch, sycamore and rhododendron forests although nothing too strenuous, especially if you camp at Sambitang. Note: flush toilets at the end always bring a smile.
DAGALA THOUSAND LAKES TREK
2. DAGALA THOUSAND LAKES TREK
This five-day trek starts 30km from Thimphu with daily distances of 5-12km. Despite a few long, steep climbs this is a moderate option best undertaken either side of summer. Lakes are high on the agenda, in every sense, but don't expect to find a thousand as you cross valleys of rhododendrons, negotiate climbs through blue pines and pass herders' camps en route to the goemba at Talakha or onwards to Chamgang.
3. DRUK PATH TREK
Druk Path incorporates many of Bhutan's most impressive monasteries and wilderness scenes situated between Paro and Thimphu, including Jili dzong and Jimilang tsho (Sand Ox lake). Although distances are relatively short (approx 10km per day) sharp ascents and high altitudes increase the need for good fitness levels. A longish climb to Labanna La at 4,235m on day five marks the maximum elevation over the course of this fairly strenuous six day trek.
4. JHOMOLHARI TREK
Fortune favours the brave and views over Jhomolhari (7,314m) from the high altitude Jangothang camp, located at the base of the mountain, take some beating and some acclimatising over the course of this quite challenging eight day trek. Jangothang can get pretty busy, especially during the autumn, but this shouldn't dissuade you from undertaking the route, unless you don't fancy daily distances of 22km at altitude and listening to a few well worn tales around a crowded dining tent.
5. MERAK-SAKTENG TREK
This five day trek takes you into the Brokpa villages of Merak and Sakteng which still remain relatively free from foreign influence. Nowhere on this trail exemplifies eastern Bhutan better than Sakteng wildlife sanctuary which provides protected habitat for red pandas, snow leopards and Himalayan bears and foxes, close to the border with India. A max elevation of 3480metres on day two lets you catch your breath before negotiating Nagchung La pass and following the river down to Jyongkhar.
6. SNOWMAN TREK
In Bhutan's northwestern Gasa district, this is a tough, tough trail that fewer than 50 per cent of hikers complete. Weather conditions and altitude (max 5,320m) ensure the only way you're quitting is by rescue helicopter, at your own expense. Trek down the Himalayan spine between Bhutan and Tibet, crossing no less than 11 mountain passes, all at more than 4,500m. Sept/Oct is the only realistic start date and you'll need a month off to tackle it.


BHUTAN WALKING HOLIDAYS ADVICE
Dorji, from our Bhutan supplier Namgay Adventure Travels, shares her thoughts on walking in Bhutan:
Know your fitness
"Low altitude cultural walks through farmlands, fields and villages are probably best for people who are not particularly fit although in Bhutan, especially in the western regions where it is easier for tourists to get to, we hardly see any flat land. The flattest land must be the airport in Paro."
Bhutan vs. Nepal
"Walking in Bhutan is not like in Nepal. We have no guest houses along any of the trekking trails, and we don't have restaurants either. The original trekking trails are remote and therefore less used."
Accommodation & luggage
"Open air tented accommodation is the only choice on longer treks, and guests have to bring their own sleeping bags. All other equipment and gadgets are provided and carried by pack ponies. Typically, it would be five ponies and a horseman for a group of two guests. The luggage load is huge as all camp and food supplies have to be brought in."
Our Bhutan walking Vacations
If you'd like to chat about Bhutan walking or need help finding a vacation to suit you we're very happy to help.

BHUTAN WALKING TIPS FROM OUR TRAVELLERS
At Responsible Travel, we think the best people to advise our travelers are often... other travelers. They always return from our tours with packing tips, weather reports, ideas about what to do - and opinions about what not to.

We have selected some of the most useful Bhutan walking vacation tips that our guests have provided over the years to help you make the very most of your vacation – and the space inside your suitcase.

Don't pick a fight with a yak! Treat with great respect. Apart from that, the best tip I can give to people is to go to Bhutan.

"November was a lovely time to travel. Getting from one valley over into the next takes patience as roads are quite precarious and villages are remote. Getting a real feel of this magnificent part of the world therefore has to be a key purpose for being there - one needs to relish the driving. Even when not doing organised hikes, build into the day as much walking as possible. We would stop at the top of a mountain pass and then walk downwards for half and hour or so - just to stretch our legs and enjoy the scenery on foot - before being picked up again by our driver." – Pam Richardson

"Definitely get the flight back from Bumthang to Paro if it's running as otherwise the return journey is very long and on the same route as the outward, so you miss out on extra walks/activities. Also there is no need to upgrade the hotels from the basic government ones until the very end as the fabulous Zhiwaling in Paro is the only locally owned and run luxury hotel in Bhutan." – Vicky Unwin
More about Bhutan walking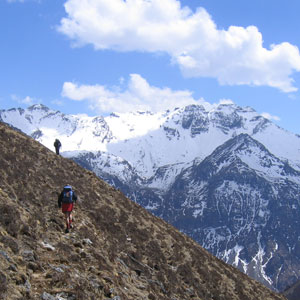 Walk in Bhutan, where yaks and goats make the most of high alpine pastures and monasteries appear shrouded by cloud to offer enlightenment at altitude.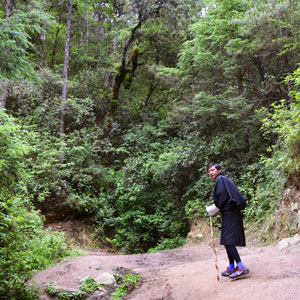 Soaring Himalayan scenery, local life and beautiful cultural sites, all compactly contained within a short and spectacular route – the Druk Path is one of Bhutan's best and most accessible trails.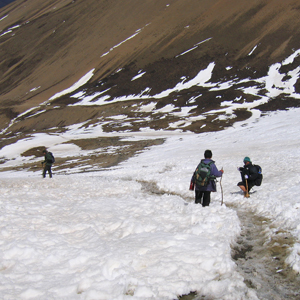 The Snowman trek in Bhutan is well known as one of the world's most challenging treks thanks to its remote location and tricky conditions.