Albania cycling map & highlights
Although the Alps conjure challenging climbs in the north as well as access to Macedonia and Montenegro, cycling in the southeast also promises some meaty mountain passes – Barmash (1,159m) and Llogara (1,043m) – close to the border with Greece. Soothe saddle aches in thermal springs in agricultural Gėrmenj before cycling some 100km southwest to Gjirokastra where Ottoman architecture and views over the Drino Valley mark the gateway to Albania's southernmost tip. A delightful downhill from the Muzina Pass (580m) to the seaside town of Sarandė captures scintillating sea views. Sarandė – 30 mins by hydrofoil from Corfu – however, has succumbed to cruise ships and high rises. Cycle to the communist-era fishing village of Himarė or the UNESCO archaeological sites of Butrint and your ride along the Riviera will be a lot more authentic.
1. Black Drin River Valley
The ride through the Black Drin River Valley from the lakeside city of Kukės to the mountain town of Peshkopi is roughly 75km. Lengthy ascents, including a 12km climb, and dramatic descents make this a real challenge, and well deserving of a trip to the thermal springs on arrival. Take your time to appreciate the glacial scenery as well as the farms and villages before cycling to Lake Ohrid on the border with Macedonia.
2. Butrint National Park
There's a great ride down to the seaside town of Sarandė, via the Muzina Pass (580m), which should always culminate in a cool Korēa. However, before beachside beers, make sure you take in the Greek and Roman ruins of Butrint National Park. This UNESCO site features an entire ruined city but without the crowds associated with similar sites over the border. The peninsula setting also offers an excellent excuse for lunch.
3. Gėrmenj
There's a steady climb from Korēė that takes you over the Barmash Pass (1159m) and down to the village of Gėrmenj. A night on a working farm invites rest and hearty organic fare that's been produced just yards from the kitchen. Rural communities have been self-sufficient since communism but now, through tourism, they're able to offer bed and board to supplement their income and preserve their traditional way of life.
4. Gjirokaster
Maintaining the ancient Ottoman architecture of Gjirokaster is no mean feat. Thanks to annual financial contributions from one of our cycling tour specialists, local people are able to afford restoration work as required by UNESCO. It's this sort of input that paves the way for Albanians to benefit from visiting cyclists just in the same way as cyclists get to appreciate Gjirokaster's steep cobbled streets and myriad stone steps.
5. Llogara National Park
A lengthy, yet steady, ascent to the Llogara Pass (1043m) marks the mid-point of a day's cycle ride up and away from the communist-era fishing village of Himarė. Vistas over Italy are achieved from the summit on a clear day and there's also every chance of spotting an eagle wheeling over the national park's deep, dark black pine forests. Caffeine-fuelled rest stops and lunch amidst the pines add to the sense of achievement.
6. Shkodėr
If you're cycling over the Albanian Alps you'll want to spend a night in the historic old town of Shkodėr. This is the largest city in the north and offers an authentic experience of everyday Albania. Shkodėr also opens up access to cycling routes around Lake Skadar and along the River Drin. Lazy lunches at Mrizi I Zanave slow food restaurant, or wine tasting at Kallmet Winery, offer excellent excuses for afternoons off the saddle.
Recommended cycle routes in Albania
Moderate
There's a
fairly forgiving route
that we recommend to self guided cyclists. It takes you from Cetinje, in Montenegro, and leads through the Albanian Alps towards Shkodėr. You then pedal back across the border via Lovcen National Park and an epic 25km descent to the beautiful Bay of Kotor. Daily distances are roughly 40km over the course of a week, so there are plenty of opportunities to soak up the scenery both on and off the saddle.
Top foodie tip:
check out the slow food restaurant along the River Drin or opt for an afternoon of wine tasting at the Kallmet estate just a short ride outside of Shkodėr – transfers back to your guesthouse by van are always an option. Phew!
Moderate/challenging
You can cover a lot of ground in Albania over the course of a week. Average daily distances of 50-70km take you from Barmash Pass (1,159m), in the southeast to Llogara National Park on the Ionian Coast. On the way you'll visit valley villages, such as Gėrmenj, as well as encountering the archaeological ruins of Butrint, way down south across the border from Greece. Just be aware that this circular
small group itinerary from Tirana
is a pretty tough ride. Challenging stretches include untold cols and high altitude passes through the Grammoz Mountains as well as a lengthy ascent of 1,630m leading up and over the Llogara Pass.
Challenging
Any cyclists seeking more of a small group challenge should certainly check out the fjord-fringed shores of Lake Komani. From the village of Fierze, on the other side, you'll ascend some 1175m to Dardhė before undertaking a 12km climb along the Black Drin River Valley from Kukes to Peshkopi. Macedonian countryside, around the lakes of Ohrid and Prespa, awaits with an initial 93km ride over the border always worthy of a dip before crossing back into Albania on a 75km undulating ride to Pogradec.
Junid, an Albanian cycling guide for our small group specialists Exodus Travels, gives some advice from about cycling in his home country.
Weather warning
"The weather in recent years has changed very much in Albania. It's more unpredictable. Sometimes it can rain heavily for two whole days and then be sunny for the next two weeks. This is especially so in the mountains. We always ask our cyclists to bring their own cycling gear including waterproofs. We supply everything else including bikes, e-bikes and safety helmets. We also provide backup vans and cycling trailers. Our bikes and transportation vehicles were designed in Austria. We don't have this sort of level of manufacturing facilities in Albania; yet."
You are what you eat
"Albania used to be communist. No one could get in or out for 29 years. It was like North Korea. That's why we're still a self-sufficient country. We grow our own fruit and vegetables and don't import. Ninety-nine percent of the food that we grow on the land is organic as we can't afford to buy expensive pesticides. We don't have massive agricultural industries either. That's why the food that you're going to eat in Albania tastes so good. It actually tastes the way it should. Not like the watery food sold in large supermarkets."
If you'd like to chat about Albania cycling or need help finding a vacation to suit you we're very happy to help.

At Responsible Travel, we think the best people to advise our travelers are often...other travelers. They always return from our tour with packing tips, weather reports, ideas about what to do – and opinions about what not to do.

We have selected some of the most useful Albania cycling travel advice that ou guests have provided over the years to help you make the very most of your vacation – and the space inside your suitcase.

Locals were always happy and appreciative. Our cycling was the best way to see new places in an environmentally friendly way. I'd rate self guided cycling in Albania very highly.

"This was one of my favourite vacations ever. Everyone was so accommodating. Zoran was an incredible help and really made being in a different country a lot more comfortable. The hotels we stayed in were very friendly and did their best to make sure we had a comfortable stay. I feel the way we were able to witness and experience the countryside in a carbon friendly manner added to the overall enjoyment of the vacation. Bring sun screen and make sure you have a high enough level of fitness for those mountainous days on the bike." – Conall Walsh

"The most memorable part of the trip was exploring Montenegro and Albania in a completely different way! Also Vladomir was absolutely amazing – so helpful in sorting us out whatever help we needed, he really made the trip. Wish we had been fitter and had brought padded shorts (!), some of the hills around the lake on the Montenegrin side are pretty brutal but definitely worth it for the view!" – Gini Saharvill
More Albania cycling articles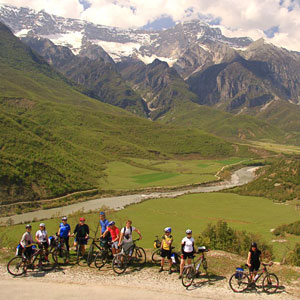 Find out how cycling gives you the chance to pedal to lesser-visited places in Albania, from mountains to coast.