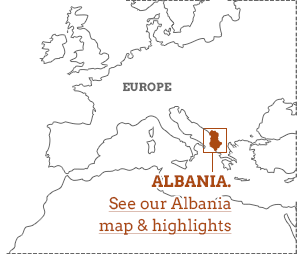 Albania was once in the middle of great empires – Roman, Greek and Ottoman. Although staunchly communist, it escaped the clutches of the USSR and was instead ruled by its own Stalinist despot. Under his dictatorship Albania was cut off for almost half a century, and even today it remains a travelers' enigma. There may be clear cultural differences (nod head for no, shake for yes…) but the awesome scenery transcends language.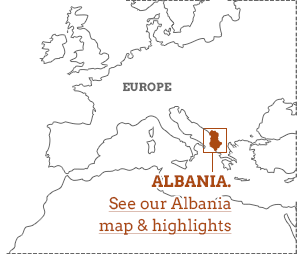 Albania's delights are slowly but surely being revealed to the outside world after decades of despotic leadership. And what delights they are.

The Accursed Mountains, once the land of blood feuds, rise up in the north, a haven for hikers and cyclists in summer and snowshoers in winter. Ottoman architecture tumbles down a hillside in the Town of a Thousand Windows, the bunker-dotted coastline is lapped by the Mediterranean, and inland, ships steer between sheer cliffs, carrying white-capped villagers back to the lands they have tended for centuries. With Albanians clamoring to show guests the beauty of their country and culture, we'd put money on this secret not being kept for much longer…

Find out more in our Albania travel guide.
Albania is...
Europe, but not as you know it.
Albania isn't...
just the place where Hollywood's bad guys come from.
WHAT WE RATE & WHAT WE DON'T
Cycling vacations
Albania is tiny – but its landscapes are diverse enough to delight mountain bikers, fans of flat roads and those who like to combine cycling with culture. Pedal in from Montenegro or Macedonia, or stay in Albania. Relax on the flat, paved roads around Lake Skadar, as you ride alongside horses and carts – or take on the mountains outside Tirana, staying with local families and crossing high passes.
Albanian food
You may have visions of bland, Communist stodge, but Albanian cuisine is more than a pleasant surprise. The varied climate, coastline, pastures and Greek-Turkish-Balkan influence result in a mouthwatering mix of succulent lamb, bean stews, fresh kebabs, fried sardines and stuffed peppers – with rosemary, basil, oregano, garlic and olive oil the dominant Mediterranean flavours.
Snow shoeing
Snow shoeing is a sneaky way to immerse yourself in alpine life; in rural, northern Albania, snow shoeing is used by farmers simply to get around their land; Accompanied by a farmer, you'll learn about life in this traditional and still rather isolated region, once characterised by blood feuds and fortresses – but now a peaceful winter wonderland of beech and pine forests and incredible rural hospitality.
Crossing borders
Albania would fit into the UK over eight times. This means you are never far from an international border – with Kosovo, Macedonia and Montenegro all top countries for combining with Albania. Cross over from Montenegro via the beautiful Lake Skadar, which straddles the border, cycle across from Macedonia, cross the mountains into Kosovo – or go for a full Balkans tour from Croatia to Greece.
Walking vacations
Walking vacations in Albania are no cosy, inn-to-inn experience. The landscapes here are wild and isolated; this is bear and wolf territory – inhabited by hardy shepherds and wood cutters. Luggage can be transported by horse, you can wild camp, stay with local families or in little guesthouses. Take in Alps, lakes and forests, fuelled by hearty, home cooked meals and Albanian hospitality.
Bunkers
There are around 700,000 of these unsightly, domes squatting around the country – on beaches, in the middle of the street, in graveyards… The former dictator ordered their construction to save Albania from an invasion which never took place, and they are seen as a symbol of his hatred of the outside world. Today, their purpose has flipped – rumour has it that they are used as covert meeting points for young lovers…
History & culture
Ottoman, Greek and Roman Empires have all played their part in Albania's history – and present day archaeology fans will marvel at astonishing ruins, as fabulous as anything that exists in Greece – but with a fraction of the tourists. Explore the UNESCO-listed Ottoman town of Gjirokaster, and beautifully restored bazaars, or explore more recent history in Tirana – with its crumbling, communist murals.
Accursed Mountains
Storytellers no doubt look to the Albanian Alps for inspiration – but the scary names and brutal topography belie their gentler side. You'll barely believe you're still in Europe as you pass traditionally attired villagers, deep blue rivers and farmers leading donkeys through this astounding, wild landscape. Multi-day hiking or cycling tours explore deeper – or snowshoe here in winter.
Public transport
Normally we're big fans of public transport. It's one of the best ways to travel like a local, meeting people as you go, reducing your carbon footprint AND your costs. But Albania's buses are so unreliable that only the strongest willed should attempt this as a way to get around. The exception is the public ferry which serves the length of Komani Lake – three hours of astonishing scenery as it stops at remote villages.
Saranda
It's not quite Benidorm, but you get the picture. This former fishing village has transformed beyond all recognition in the past few decades, with whitewashed, high rise blocks overlooking this strip of beach – the gateway to the Albanian Riviera. Don't expect to see the sand in summer, as it's hidden beneath the towels of Tirana, as the city decamps here to make the most of the sea breezes and raucous nightlife.
Homebrewed raki
The locals may be able to handle their home brewed, grape-based moonshine, but rude as it may seem to decline their hospitality, if you're offered raki from an unmarked bottle, declining a shot is probably still better than the undignified alterative. Opt for a glass or two of Albanian wine instead, made from indigenous grapes.
Cruising
Albania's sudden openness to the outside world along with its proximity to Corfu have made it the hottest new stop on Mediterranean cruises. Saranda is the port in chief, meaning that in summer the town, the surrounding beaches and archaeological sites are overwhelmed by passengers. Visit outside peak season, or explore before and after the ships leave port.
If you'd like to chat about Albania or need help finding a vacation to suit you we're very happy to help.

Eating & drinking
You'll recognise Turkish, Greek and Eastern European influences in Albania's cuisine, such as lamb kebab or kofte served with a side of yogurt. Fish is also popular – along the coast and the inland lakes.

Be sure to order a bottle of Albanian wine to wash it all down with. It may not be well known, but this is one of the oldest grape-growing regions in Europe.

Albanian sweets are sublime. Think crystallised fruit, honey, rice puddings and sweet pastries, with ripe cherries, pears, peaches, figs and persimmons.

Albania's currency is the lek – named after Alexander the Great who is often referred to as Leka in Albanian. He appeared on the first lek coin.

People & language
Albanian is the official language, with the Gheg dialect spoken in northern Albania, and Tosk in the south. It's a unique Indo-European language – other related languages have since died out. You'll hear quite a bit of Greek and Italian too, as a result of Greek immigration and the Italian occupation – as well as the Albanians tuning into Italian television channels during the oppressive Communist era. The minority Aromanians (aka Vlachs) live mainly in the south and speak their own language. Confusingly, Albanians shake their heads for yes and nod for no – be prepared for mix ups!

Po = Yes

Jo = No

Tungjatjeta = Hello

Faleminderit = Thank you
Gifts & shopping
Handmade tablecloths, woven on looms, are some of the most typical Albanian crafts – decorated with traditional designs. Or go even more traditional with a qeleshe felt cap.

Carpets, known as qylym (similar to the Turkish kilim) arrived in Albania in around the 1500s, during the Ottoman Empire. Traditional, often geometric, designs are woven into the flat, wool rugs with red, black and cream/white the most typical colours.

It might not be your taste, but it seems that few tourists manage to leave Albania without an ashtray in the shape of a bunker – a modern classic when it comes to souvenirs.

Albania is one of only two countries in Europe never to have had a branch of McDonalds – the other being Armenia. Tirana, however, has succumbed to KFC.

How much does it cost?
Komani Ferry, Shkoder-Koman-Fierze-Valbone = £15

Pint of Albanian beer = 75p

Bottle of water = 35p

Entry to ruins at Butrint = £4.50

Handmade kilim rug = £120 – £200
A BRIEF HISTORY OF ALBANIA
Squished between vast Greek, Roman and Ottoman empires, Albania has a long and rich history, much of which is well preserved and can be seen today, from prehistoric remains to Greek and Roman archaeological sites and Ottoman architecture. But it's been a place of much conflict, too – as its fortresses, bunkers and castles still testify.
Read more