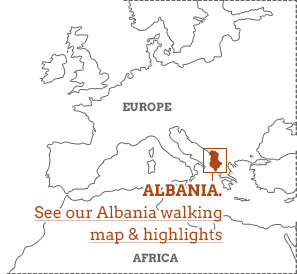 The first thing to understand about Albania is that itís changing very rapidly. It started from base level in terms of tourism, and with each year that passes there are likely to be many more marked walking trails than what you'll find today. Walking with a local guide, as part of a small group in the Albanian Alps or on a tailor made tour in central and eastern areas, gives you a much greater understanding of what's it's like to live in a part of Europe that's easily accessible and yet far removed from anywhere else that you'll have visited before.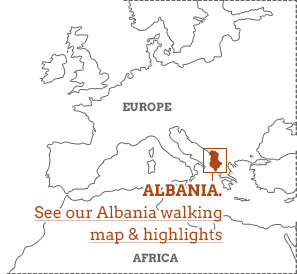 Albania is currently using a tiny amount of its trekking potential with the majority of walking trails, outside the Albanian Alps, still unmarked, untouched and wonderfully wild.

It's still an honour for Albanians to have a foreigner stay in their village and genuine welcomes are as warm as the wild berry rakia (a bit like grappa) and plum slivovitz (homemade brandy), and that's really refreshing.
small group or tailor made?
Small group walking vacations

Small group walking vacations in Albania take place in the north of the country in the Albanian Alps. You'll be walking alongside a group leader, a local guide and a maximum of 16 other travelers. Group leaders act as interpreters for the guides and will be keen to share their knowledge and passion for the natural and social history of Albania as well as ensuring you have an enjoyable and safe experience.
The Albanian Alps are rugged, especially above the tree line, and feature several deep river canyons, and sheer mountain ridges as well as flat valley floors, alpine plateaus and glacial lakes. Some of the walking trails are steep and may need a bit of scrambling to get to the top, whereas in lowland meadows it can get very moist and spongelike underfoot Ė worth being aware of if youíve got knee problems. You can expect to be walking at fairly low altitude (max. 2,090m) on sometimes uneven trails, some of which lead cross country. Daily distances wonít be more than 15km, and over a week you can expect to do three longish walks and three short strolls for a fairly moderate challenge.
Youíll sleep in family run guesthouses and locally owned city hotels. Depending on the terrain, you luggage will be transported by horse or minibus from one location to the next. Albanian accommodation is basic yet comfortable and as tourism only arrived in the last 10 to 15 years, facilities are all relatively new. What you lack in luxury, you make up for in the unbelievable hospitality that you just donít get in similar standards of hotel in other parts of the world.
If you'd like to chat about Albania walking or need help finding a vacation to suit you we're very happy to help.

Our Albania walking Vacations
Walking as part of a small, guided group is an ideal way to make new friends and share encounters along the way. These vacations are a great option for solo travelers, who can pay a single supplement for their own room, or share a room with another guest of the same sex at no extra cost.
Tailor made walking vacations

Tailor made walking vacations in Albania place couples, friends or families in the company of a local guide who knows both the landscapes and the communities in lesser visited regions of Albania, such as DibŽr, Mat, «ermenika and Shebenik-JabllanicŽ National Park. There's no set itinerary, as such. Instead, you can chat to the vacation company before you go and the guide on arrival to ensure you get an experience that's based around what you're interested in, whether thatís flora and fauna, history or cultural heritage.
Accommodation will be in a family home that's had a little bit of money spent on it to make it more hospitable for guests. You'll be invited to eat with the family, or perhaps visit a neighbouring house in the village to share meals with them. It's also possible to wild camp in rural Albania with kit carried on the back of a mule. Your guide will then take you to one of their favourite spots for camping out. It's a wild experience in every sense and certain to resonate with travelers looking for adventure.
BEST TIME TO GO WALKING IN ALBANIA

Summers down south can swelter so stick to the mountainous north, where walking in July and August is much more enjoyable.

Late May-early Jun is the best time to walk within high pastures filled with spring flowers. Even in Apr, southern Albania can be really pleasant for walking in places like Llogara National Park, although the higher up you go, and the further north, the colder it will become. Sep-Oct are also good months to go walking in Albania although Theth National Park and ValbonŽ Valley can get really cold at night. Summers down south can get very hot so we recommend walking in the Albanian Alps or wild camping close to Lake Ohrid.
Albania walking Weather Chart
December, January and February in Albania are generally cold and damp so not ideal for walking vacations unless you fancy a spot of snowshoeing over the snow covered trails in the Albanian Alps. Albania is still soggy in March and April although temperatures are starting to rise in the south. This season is worth bearing in mind if you're considering a tailor made walking vacation Ė and donít mind waterproofs! May to June is the best time to walk in Albania if you're looking to make the most of flower filled alpine pastures. However, be warned: some areas can get extremely spongy which can play havoc for those with knee complaints. Take a pair of walking poles to help counteract the squidge. July and August are ideal months to go hiking in Theth and ValbonŽ National Parks as, whilst inland and coastal areas south of Tirana heat up, the north remains relatively comfortable. Do still take care if walking without any shade. September and October still find hikers making the most of mountain passes in the north. Evenings are getting much colder so pack extra layers and waterproofs to be fully prepared. Temperatures, across the board, drop in November as rainfall rises, so this is not the best time to go walking in Albania unless you like your surroundings cold, dark and damp.
More about Albania walking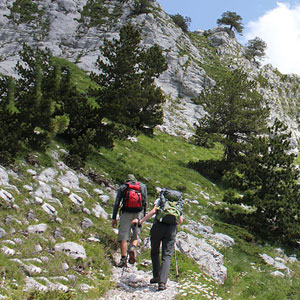 From Valbone Valley to Berat and beyond, we've got the lowdown on Albania's best walking routes, with advice from our wild walking experts...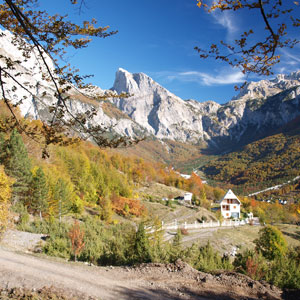 Experience an authentic side to Albania but just be careful what you wish for as sometimes life in the north can really test your levels of rustic.