Walking in the Albanian Alps
Tourism in this remote area of northern Albania is still in its infancy. Many isolated villages aren't accessible by road, having been cut off since the 1990s and the fall of communism. This period of time saw mass emigration as Albanians abandoned their homes in search of a better life. But over the last few years they've started to come back – and that's thanks, in part, to tourism.
This is still a mysterious place for many foreign visitors and exudes an element of uncharted territory. Travelers coming to the Albanian Alps are often interested in getting off the typical tourist merry-go-round and exploring an area of Eastern Europe that's almost unheard of back home. They want to discover off beat locations, learn about life under Enver Hoxha (the communist head of state for four decades) and get excited about traveling, all over again.
Dorien Malaj has lived in the Albanian Alps all his life. He works in partnership with local communities and as a guide for our specialist small group operator, Exodus Travels: "My grandfather turned his house in Tropoja into a guesthouse back in the 1980s. Following the fall of communism, in the early '90s, many people emigrated from Albania. Our country went from a population of 4.2 to 2.8 million people. However, in the last decade, family members are returning to help relatives restore houses and create guesthouses. Young Albanians, in villages like Tropoja, are staying in the area because there are jobs for them as tour guides and service providers. They can become qualified, learn English and make money without having to leave their family."

Tourism is already providing a sustainable source of income for some local people and signs are that this is only going to get better over time. Employment and improved living conditions are both by-products of the influx of travelers in previously cut off areas. This means that young people have options to stay in the area and don't have to disappear to the coast or the capital, Tirana, to find work. At the moment tourism is a gradual process in the Alps, but by choosing a vacation provider that employs locally it continues to benefit the community as well as expectant travelers.

Dorien Malaj: "This is a very isolated area and we often organise hikes from village to village. It's impossible to reach some of these places by road. These communities rely on farming, they are almost completely self sufficient. Maize is grown for cattle, the rest of the produce is all for consumption. They buy only wheat to make bread. This is a new thing. When I was young our bread was made from corn. As a kid, corn was everywhere and used within every meal."
Authentic Albania
Visits to Albania have been
steadily increasing
year on year but most tourists head to the busy beaches along the riviera in the southwest, close to the border with Greece. The proverbial 'former fishing village' of Sarandë, especially, has succumbed to high-rise hotels and nightlife. It's only 35km from Corfu – a 2hr ferry ride – and attracts huge crowds in summer, including a 2,679 passenger capacity cruise ship that docks twice a week. If it's sun, sea and cocktails you're after, this is where you'll find them.
The real Albania, away from the glossy brochure images, exists inland. The Alps, in the north, exemplify this. Travelers looking for an authentic experience in rustic settings surrounded by towering mountain peaks will love the Alps. Although, sometimes, you need to be careful what you wish for as Albania does authentic very well. This can be a shock to the system for those used to first class western service standards. Cruise ship passengers, look away now.
Dorien Malaj: "Many of our guesthouse hosts do not speak English. You will have a translator with you but please be aware that some of the people that you meet will never have been on vacation. They might never even have visited southern Albania."
Don't expect, for example, a massive choice when it comes to food. There aren't any fridges up in the mountains, therefore it's impossible to store products with a short shelf life. If you want meat an animal has to be killed. Chickens are the most convenient source of meat at most mealtimes. They are often used alongside a raft of homegrown seasonal vegetables. But on some occasions, for a larger group, a sheep might be slaughtered.

Dorien Malaj: "Sometimes people come wanting an authentic Albanian experience. But when they arrive they're not happy with something – like they've not got enough bread with their soup. Rather than addressing this at the time they will wait until they get home and leave a bad review of a guesthouse. I have to then say this to the guesthouse host and they feel upset that the guest didn't have an enjoyable experience. This is very hard to do. Although some travelers say they want authenticity, it's often the case that what they actually want is something more like what they're used to at home, in the west."
Local issues
The local government in the Albanian Alps has so far shown very little interest in tourism, nor local people. Whereas some parts of the south are rebuilding and maintaining roads for bike, motorbike and campervan tourists, the north hasn't moved forward with the same speed. Some foreign visitors have even been seen making their own alternative off-road tracks in hired 4x4 vehicles. This not only damages the environment but it's also incredibly dangerous for those who don't know the area.

Waste management, too, is a big issue in the mountains. There just isn't the infrastructure in place to deal with excess rubbish, especially plastics. Too often, mountain streams and rivers are used as refuse points. There's a saying in northern Albania: if you throw something into a stream it will get carried up to 40 stones away. That's not very far, and rubbish tends to build up if not controlled.

In some respects, tourism in the Alps is something of a double edged sword. As more employment opportunities arise, in service industries and as qualified guides, more traditional jobs, such as sheepherding, are dying out. Cattle would once have been taken from 300m to 1700m for grazing on the high alpine pastures. These days, however, sheep are being left unattended whilst former shepherds pursue more profitable positions in tourism industries.

Dorien Malaj: "Some of the traditional work in the Albanian Alps is changing. There aren't as many sheep herders as there once were. Guiding and guesthouses are proving to be more attractive. This means that herds of sheep are often left to be looked after by another shepherd. He has to do the job of two people. It is very hard. This is especially true in areas around Theth and Valbona. What used to be shepherd's huts up in the alpine pastures are now hikers' huts or little tea houses. It's a social phenomena but it is changing the traditional culture of the Albanian countryside."
Our Albania walking Vacations
If you'd like to chat about Albania walking or need help finding a vacation to suit you we're very happy to help.

Opening up Albania

Although the Albanian Alps are often referred to as the Accursed Mountains this is actually a Montenegrin saying, a translation of the Slavic term: prokletje. Albanians would never curse their mountains. Instead they refer to them as Bjeshkë – alpine pastures – or simply: the Alps.

Walking vacations in the Albanian Alps are exciting. They are extremely authentic and off the typical tourist trail: for example hiking groups still have their luggage transported by local horsemen. Your local guide might not be able to speak English and may look on longingly at a herd of wild mountain goats and wistfully wonder why he forgot to bring his gun on this occasion. You'll be accompanied by an English-speaking guide, too, of course; someone like Dorien. They'll explain why your guide is looking so wistful.
Your guides know the area, intimately. They will have grown up there and will take you into villages where they know the names of every resident. Guides will lead you to the next source of fresh water from an alpine spring. Forgetting your reusable water bottle is almost akin to forgetting your hiking boots or binoculars. Drinking water can be enjoyed at your accommodation too alongside the freshest of fresh seasonal produce grown a boot's toss from the flagstone kitchen's farmhouse door.
Mountain tea, chicken soup, blueberry pie and a glass of wild berry rakia or plum slivovitzare are what you can look forward to after a day's hike. More goodies await in your packed lunch. There aren't any shops on the walking trails so be thankful for what you've got and don't leave any waste. Everything's always homemade and cooked on the day.
Dorien Malaj: "When the travelers come here, especially the British, they love our mountain tea. It's grown wild and is basically boiled herbs, plants and flowers. We boil everything, including the leaves and the kernels. Wild blueberries are also very popular with our guests. Our guides often point them out so hikers can pick them and eat them as they walk. It takes two hours to cook a blueberry pie. It has about 40 layers and is very delicious – just what you need to eat after a 16-20km hike. Soups, too, are very popular. We tend to have chicken soup. The animal is killed and eaten. All of it. Nothing is wasted. If you want a different type of meat then our horsemen – the local people who help with luggage – will kill and cook a sheep. There is no other way."
If you're aching for an authentic and exciting experience in the Albanian Alps then this is the real deal not some packaged westernised alternative. The communities living in the mountains welcome your presence and will bend over backwards to ensure your stay is the best that it can possibly be. Service, for them, comes in the form of a warm welcome, hot locally sourced food, a roof over your head and a bed for the night. If you're looking for more akin to 5-star then perhaps you need to head south. But if you're ready to experience the real Albania then look no further than those damned Accursed Mountains.
Dorien Malaj has lived in the Albanian Alps all his life. He works in partnership with local communities and as a guide for our specialist small group operator, Exodus Travels. Here he explains the tourism challenge that lies ahead: "My uncle used to take me into the Alps with him when I was a boy. I have an old photo of us on a trekking expedition in 1984. He would have felt it was impossible that we are now welcoming tourism into our country. These days, I feel like Albania is in between two systems: communism and democracy. It's a real challenge because on one side we need development but this has also left us vulnerable to exploitation. There's a lot of misuse of the word 'sustainability'. We need to copy countries who have allowed tourism to benefit local communities but without exploiting them or changing their traditional culture. This is the challenge that we face in the Albanian Alps."
More about Albania walking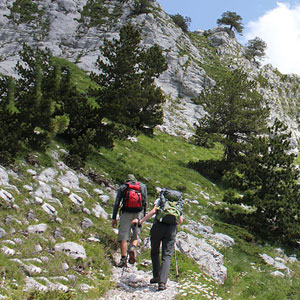 From Valbone Valley to Berat and beyond, we've got the lowdown on Albania's best walking routes, with advice from our wild walking experts...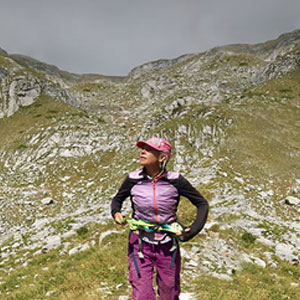 Albania is currently using a tiny amount of its trekking potential with the majority of walking trails, outside the Albanian Alps, still unmarked, untouched and wonderfully wild...