Christmas vacations in Lapland either go one way or the other. They either immerse themselves in the spectacle of Santa Claus or escape it. You'll either spend five days in cookie cutter cottages and Christmas tree forests, or make a break for the far north, where fire-warmed Sámi camps and wilderness guesthouses await you.

Christmasphiles, rejoice. You can swap singing about Rudolph with meeting Rudolph. Stop waiting for Santa to drop down your chimney; take your family to meet – and dine – with the man himself instead.

The best vacations show you how to celebrate Christmas the Lappish way. It's a place where even Santa can get upstaged by the snow-swamped scenery and warm welcomes. Forests straight out of a Hans Christian Andersen tale are the hunting ground of lynx and moose. The snowy fells of Tankavaara are blanketed in real life Christmas trees and home to gold mines.

Quelle surprise, Christmas vacations are also winter activity vacations. You'll laugh your head off hurtling around the snow trails with huskies. Spend your evenings searching for Northern Lights that can be as elusive as the Lappish lynx. Your smiles will be frozen to your faces as you snowshoe through silent forests, before being defrosted with oven-warm cookies and hot chocolate around the campfire.

While Christmas is indeed one of the most wonderful times of the year in Lapland, it's also one of the busiest. You'll need to travel with a tour operator who'll take you away from the madding crowds and into the frosty wilderness. Outside Disney-esque cities like Finland's Rovaniemi, Lapland is a delightful obstacle course of snowy forests, tundra, amethyst mines and the last of the Sámi reindeer herding communities. Read on to find out how you could spend Christmas in Lapland.
Our Alternative Christmas Vacations
Christmas in Lapland for families
Here comes Santa Claus
Let's face it: a huge number of Christmas vacations in Lapland are for families. It's easy to be dismissive about the commercialised aspect of Lapland, but keep an open mind and it might surprise you. Trust in the Finns; they know what they're doing. They know how important the legendary chimney-shuffler is to children – and how to charm them, and you.

If you want to see Santa, you've got to head for Finland. The best vacations back well away from the mass market mayhem of Santa Village in Rovaniemi. Instead, you and the kids will be taken to his real home – the snow-soft forests and fells of northern Finland.

Unlike Santa Village, it'll be an unhurried peek into how Laplanders do Christmas. You might even find an invitation for lunch at Santa's secret lakeside house on Christmas Day. After a sleigh ride or snowshoe through snow-stacked woods, Mr and Mrs Claus will welcome you into their home. And – to the envy of family and friends back home – you can make and send off Christmas cards signed by the man himself.

The best Christmas vacations tap into what Christmastime is all about: toasty-warm welcomes and a massive dollop of goodwill. Two things that Finns excel at.

You'll need to travel with a Finnish vacation specialist to meet Santa in his true home. They're your contacts, and one of your only ways into the wintry Lappish landscape beyond the ski resorts. You'll be matched up with guides who'll make sure you don't miss a thing – from meeting Santa's trusty reindeer to aurora borealis hunting by sleigh with the elves.
Santa paws
There's only one thing that might beat seeing Santa at Christmas: meeting huskies. A musher (or you, if you fancy it), will lead a safari that gets you dashing through the snow behind a pack of grinning working dogs doing what they do best. And you get to play with the dogs after. With the help of a vacation company that knows the lay of Lapland, the rest of the vacation is your oyster. Sleigh ride or kick sledding? Snow sculpting or ice fishing? Cross country skiing or snowshoeing? Small group vacations will give you set activities, while tailor made trips will let you mix and match.
Treehouses and Sámi camps
Another perk of traveling with a Lapland Christmas vacation specialist: they'll dig out some of the most characterful hotels in Lapland. Family favourites come with waterslides for the kids and hot tubs for the grown-ups. Wilderness guesthouses – often run by the Sámi and their descendants – welcome you like family. Or you could stay in a family-sized igloo in Rovaniemi.
Small group or tailor made?
There are two types of Christmas vacations to Lapland: small group and tailor made. Small group vacations balance free time with a set itinerary of activities, hotels and set dates. You'll share the excitement of Christmas with other families – and chances are, the children will make instant BFFs with people from all over the world. Group sizes often max out at 16.

Tailor made Christmas vacations mostly go however you want them to go. You'll still have the guidance of experts, who might suggest you spend extra time in Helsinki to rummage around the Christmas markets. You'll also be able to tweak your hotels and vacation duration – although 5-7 days is usually recommended.
Our top Alternative Christmas Vacation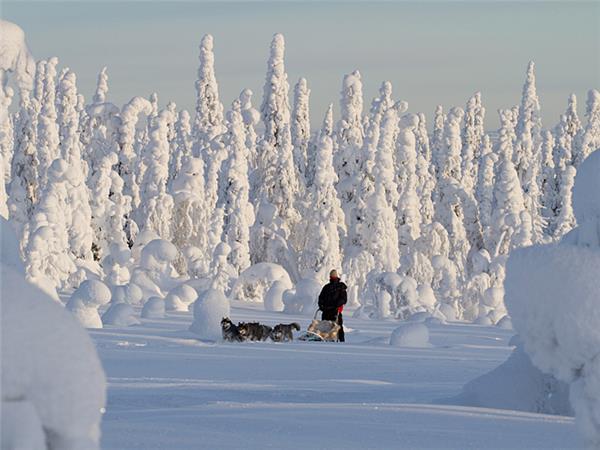 Discover this Finnish winter activity wilderness week
From
US $

3079

to

US $

3499
8 days
ex flights
Small group travel:
2023: 9 Dec, 23 Dec, 30 Dec
2024: 7 Jan, 14 Jan, 21 Jan, 28 Jan, 4 Feb, 11 Feb, 18 Feb, 25 Feb, 3 Mar, 10 Mar, 17 Mar, 24 Mar, 31 Mar, 7 Apr, 14 Apr
If you'd like to chat about Alternative Christmas or need help finding a vacation to suit you we're very happy to help.

Can't stand Santa? Don't write off spending Christmas in Lapland just yet. While most winter vacations wade knees-deep into the Santa experience, others will launch you as far away from the jingles and bells as possible. That means no Icehotels or Santa Villages. Instead, they retreat to Sámi camps in the far north that offer you a more ancient version of Lappish Yuletide.

Up north, you'll meet the real guardians of Lapland – and they don't wear Santa hats (unless a few vodkas down).

In Swedish Lapland, you can camp in the wilderness and meet Laplanders who have 50-odd huskies as their housemates. Photography trips take you out into the moose and reindeer valleys. Outside the twinkling towns, Lapland is pure wilderness. These vacations tend to include long snowy drives and three-hour Northern Lights watching sessions in -30°C that aren't recommended for young children.

Other Christmas breaks are family-friendly down to their bones, offering Christmas concerts in Helsinki and more husky hugs than you can shake a snow-covered stick at. And since Laplanders tend to celebrate on 24 December, you'll be able to spend Christmas Day snowshoeing, kicking back by the fire or taking a wilderness tour that'll teach you how to map read in whiteouts like a pro.
Laplanders traditionally celebrate Christmas on the 24 December. You'll find that most Christmas trips focus on Finnish Lapland, home of Santa Claus. You'll probably fly into Helsinki, before taking a domestic flight or night train into the snowy north. If you get offered the chance to spend an extra day in Helsinki, do it. You could pick up stocking fillers in the Christmas markets, see the winter circus, or catch the men's chorus singing carols at the Temppeliaukio Rock Church. Organised vacations make things easy on you. Most meals, activities, equipment, transfers and guides are all sorted for you in advance. You just get to rock up and enjoy. Bulky outer winter clothing is often included. Bring lots of warm, thin base layers instead – moisture-wicking thermals, long johns and plenty of socks, plus snow boots if you want shoes you already know fit like a glove. Regular scarves don't tend to cut it in -30°C, so consider bringing a neck warmer, too. Remember that you'll only get around three hours of daylight in December, so chances are you'll end up snowshoeing and husky sledding in the dark. That's not a problem, though – it just ups your chance of seeing the Northern Lights.
More about Alternative Christmas