Best time for bear watching

It's not a fair weather activity, bear watching, so get your layers ready. In fact, think 'brrrr' rather than bear in most cases. It is, however, totally, brrrrilliant.

The seasons dictate the best time for bear watching. With polar bears in Churchill your best bet is autumn, when they move from land to sea in search of seals. In Svalbard, however, summer months are best, as ice floes carry them along the coast. March is spectacular in Arctic Canada, when baby polar bears emerge from their dens, or catch Kodiak bears early autumn, as they gather to catch migratory salmon. Head to Finland for the summer's 24 hours of sunlight. And for British Columbia's grizzlies, see them emerging to feed on grasslands in spring, on riverside berry patches in summer, and on salmon in autumn.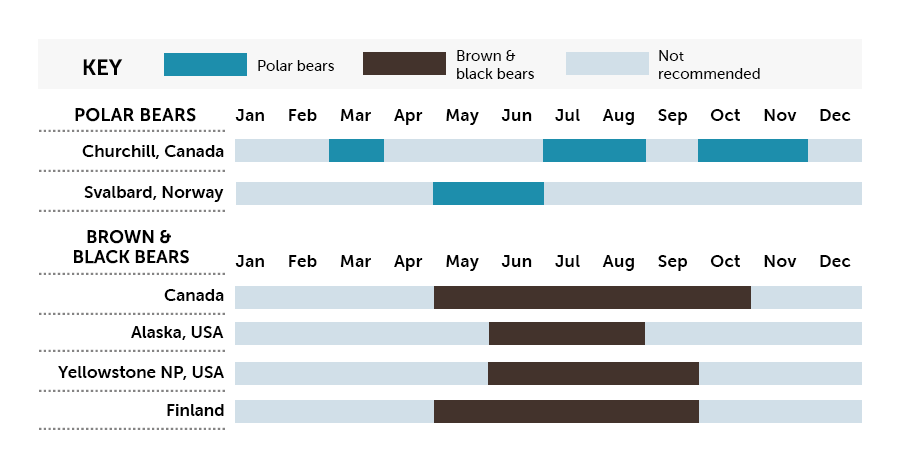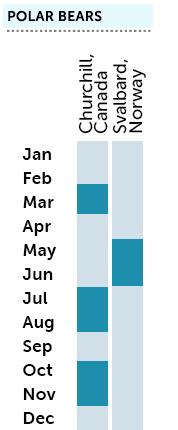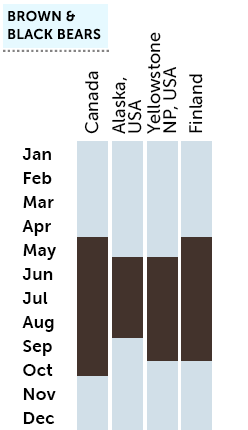 Bear watching, month by month
Most bear watching vacations are in small groups, with expert guides and so they follow strict seasonal timetables. If you don't like the cold, then you might want to avoid polar bear watching in Churchill, Canada, in October/November. Temperatures can get as low as -30°C . July and August are much more popular, and it never gets too crowded up in these parts. The early summer months of May and June are perfect polar bear viewing times in Svalbard, Norway. Brook Falls, Alaska, is a top spot for seeing grizzlies grab salmon. As it is a US state, you might want to avoid the 4 July public vacation as it will pack out. However, the king salmon come here to spawn in late June and early July and coho salmon in late August and September. So, feast your eyes on the feast. If you want to see female polar bears emerging from dens with their babies, March is the time, and Churchill the perfect place. But only if you book couple of years in advance. For brown and black bears, summer is not always the best time for seeing them, as they can get very hot and go high in the hills to keep cool, making them hard to see. In December, January and March, the bears like to sleep. Wouldn't we all?
Our top trip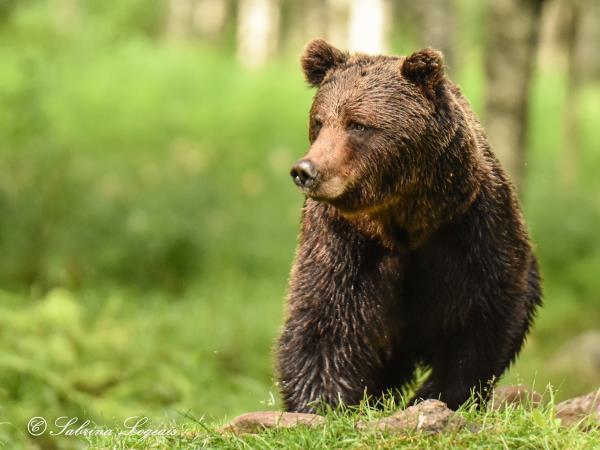 Special Taiga mammals of Finland
From
€

1570
7 days
ex flights
Tailor made:
This trip can be tailor made throughout the year to suit your requirements
If you'd like to chat about Bear watching or need help finding a vacation to suit you we're very happy to help.

Responsible Travel recommends
Tom Brown, Natural World Safaris:
"For Svalbard's polar bears, the best time is July/August. This is because the pack ice, where the polar bears hunt, starts to break up in the summer. This creates ice floes which run down the eastern coast of the Svalbard archipelago. The more ice that breaks up, the more polar bears you can see, as this is the time when they hunt. Sitting by holes in the ice waiting for seals to pop their heads up. For grizzly bear watching, British Columbia is slightly later than Alaska, so July is a good time in Alaska, but August/September is better time for British Columbia".
Roy Atkins , naturalist and expert guide at our supplier Speyside Wildlife, which specialises in bear watching in Canada, Finland, Spain and Yellowstone National Park. "The best times to see bears are spring - when they are very hungry after winter and hunting for food, or autumn when they are eating voraciously to fatten up to in preparation for winter".
More Bear watching articles