WHERE TO GO WALKING IN BULGARIA
There's a great three peaks challenge in Bulgaria, accessible to walkers, which features Mt Vitosha (2,280m), Mt Musala (2,925m) and Mt Vihren (2,915m). All of these summits are south of Sofia with Vitosha the closest and temptingly visible from the capital. The majority of Bulgaria walking routes are in the Rhodope, Pirin or Rila Mountains. Villages like Shiroka Laka and Yagodina, in the Rhodopes, have small, family run hotels with trailheads easily accessible via a short transfer. Resort towns, such as Bankso at the foot of the Pirins, also make great bases, with cable cars and thermal spa hotels always welcome to walkers looking to ease themselves into exploring at altitude.
1. Mount Malyovitsa
Although making it to the top of Mt Malyovitsa can seem 'challenging', at best, – it looks like a chunk of Toblerone – there's an accessible alpine trail that leads up and through the valley so you can walk to the summit (2,729m) from the south side. Stay in the village of Govedartsi and walk to the top of Malyovitsa after breakfast before bussing back to base for an afternoon banitsa (cheesy, eggy pastry).
2. Mount Musala
Towering over Rila National Park and the rest of the Balkan Peninsula, Mount Musala surveys all from a lofty alpine perch close to 3,000m. Catch a cable car and embark on an easy going 12km rocky route to the top via carved cauldrons, mountain huts and glacial lakes. Panoramic views of surrounding peaks and upland areas do their very best to keep the chills from short-sleeved hikers.
3. Mount Vitosha
Conveniently close to Sofia and packed full of Balkan superlatives – including the region's oldest nature park – Mt Vitosha has long provided walkers with excuses to escape and explore. Take the trail to the 2,290m top of Vitosha via the Torfeno Branishte Nature Reserve and you'll find not only great views over the city but also an old-fashioned meteorological station and convenient hikers' cafe.
4. Pirin National Park
Bankso, on the slopes of the Pirin Mountains, has become the Balkan's best loved ski resort but outside of winter it serves as a beautiful Bulgarian base for walkers looking to head onwards and upwards. Mount Vihren is one such place where the Pirins really come into their own with marble rock walls and a central ridge route leading the way to an overnight stay in a mountain hut at 2,515m.
5. Rhodope Mountains
Follow Orpheus into the Underworld as Roman roads lead between farming villages, and wild flower-festooned meadows give way to ancient forests and cavernous river gorges. The Rhodopes are blessed with as many mythological tales as walking trails. A couple of classics include the short route along Trigrad Gorge to the Devil's Throat cave and the ridge line hike to the top of Mt. Golyam Snezhnik.
Rila Mountains National Park
6. Rila Mountains National Park
Glacial lakes always feature in the Rila Mountains with paths through ancient spruce forests accessing unnervingly open alpine areas abundant with cool blue pools. The Cirque of the Seven Rila Lakes is a very popular site for warm weather walkers with ridge routes skirting above the water's edge. Rila Monastery, Malyovitsa Valley and Skakavitsa Waterfall also add to a two day itinerary.
If you'd like to chat about Bulgaria walking or need help finding a vacation to suit you we're very happy to help.

WALKING IN BULGARIA ADVICE
Claire Ouditt and Alec Worthy, from our supplier Exodus, share experiences of walking as part of a small group in Bulgaria:

Small group guides
"Our guide was great, he was from the local area and knew loads about the wildlife and wild flowers. He also knew lots about Bulgarian politics and was keen to share. The group was small enough so he could spend time with everybody on the tour and answer questions from anyone in the group."
Warm welcomes
"We mostly stayed in family run hotels in small towns. Our hosts were always very friendly and were happy to take us out for drinks in local bars. The food was an experience, they always give you four courses: salad and soup to start, main and then desert. There was always loads to eat and it was always very good food. We even got to watch traditional Bulgarian live music and group dancing."
Alex Pazderski, from our tour suppliers the Natural Adventure Company, takes us deeper into the Bulgarian mountains:

Local culture
"Local people are generally very friendly and welcoming; some of the staff at the smaller mountain hotels are not very well trained but compensate this with friendliness. In the Rhodopean villages there are many Pomacs (Bulgarian Muslims); they have a specific culture and they are very welcoming and very industrious."


Where to stay
"Along the high trails in Rila and Pirin, accommodation is mainly in mountain huts and lodges with dormitory rooms and shared facilities; unfortunately not all of them are well maintained. However there are great resort towns, like Borovets in Rila and Bansko in Pirin, which offer some great accommodation, including 4 and 5-star spa hotels with thermal pools."


Mountain meals
"Local fruit, vegetables and honey are just amazing; the same applies to lamb and pork but not so much to veal. In the Rhodopes one should try the local banitsa (pastry with cheese and eggs) and patatnik (baked mashed potatoes with herbs, cheese and eggs). Homemade yogurt topped with homemade jam or honey makes a great and healthy dessert."
TIPS FROM OUR HOLIDAY REVIEWS
At Responsible Travel, we think the best people to advise our travelers are often... other travelers. They always return from our tours with packing tips, weather reports, ideas about what to do - and opinions about what not to.

We have selected some of the most useful Bulgaria walking travel advice that our guests have provided over the years to help you make the very most of your vacation - and the space inside your suitcase.

The most memorable bit? Seeing all the beautiful wildflowers. May was a wonderful time of year to be there.

"Walking in the mountains through unspoilt meadows where the only sounds were birdcalls and an occasional sheep bell was balm to the soul. Be prepared for your hosts to speak no English and to carry your own bags! People are friendly beneath a somewhat dour exterior with a terrific sense of humour but expectations of service differ." – Jo Cohen Jones on a self guided walking and spa vacation in Bulgaria

"The most memorable bit? Seeing all the beautiful wildflowers. May was a wonderful time of year to be there. Also the very warm welcome we received from local people in the smaller villages. You spend a fair bit of time in the forest so you don't always get much in the way of views but there is plenty of wildlife and other interesting sights to enjoy." – Ruth Bradshaw on a Bulgaria self guided walking vacation
More Bulgaria walking articles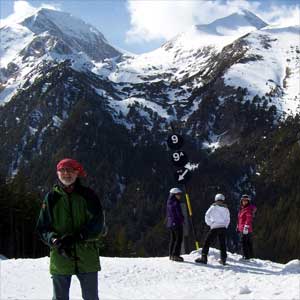 Thermal springs and glacial lakes provide walkers with a wealth of options above and below the pines.