Cape Verde walking vacations
For most travelers, Cape Verde means cruise. "It's different for the islands of Sal and Boa Vista, because they are flat islands," says Lidiana Mendes, founder of our Cape Verde specialists Travell With Purpose. "But for mountainous islands with delicate walking routes, this kind of tourism will eventually cause a long-term problem."
That's a pretty good reason to ditch the palatial hotels and wind-beaten beaches of Sal and Boa Vista, and instead catch a ferry north-west to the more visibly volcanic Northern Islands. Here, pathways streak from semi-arid deserts to tropical mountains, and from port cities to hillside coffee plantations. These vistas will be your backdrop on a
Cape Verde walking vacation
.
"Santo Antao is a very special island," says Lidiana. "For me, it's the only island that provides this type of diversity in one island – where you just go from very steep, more remote walking routes, to beautiful donkey paths in-between green valleys."
Farmers and hikers still use the age-worn donkey paths that crease islands like Santo Antao. Its nickname, Ilha das Montanhas, is spot on: bright green mountains cup farming villages and sugar cane fields in terraced valleys. The Cova caldera rim walk catches views of the rippled Paul Valley, where you can trek the old pass road down through sprays of banana, papaya and coffee trees. Or there's always the coast: start at the candy-coloured fishing village of Ponto do Sol and take the cobbled coastal path to Cruzinha Nature Reserve – Atlantic breeze and wacky rock formations included.
"One of my favourite walks is the Ribeira da Torre valley walk inside the Ribeira Grande," she says. "This is a very beautiful long walk with a lot of green views, a lot of plants, and a lot of trees, so there's a lot to see and explore. The view is panoramic, so usually this is a highlight for walkers."
Sao Nicolau island is another favourite of Lidiana's – a more remote, rustic version of Santo Antao. Here, you can hike Monte Gordo Natural Park, which comes with over 30 endangered, endemic plants species, including the rare umbrella-shaped dragon's blood tree.
Don't let the promise of mountain trails put you off. Most Cape Verde walking vacations are tailor made, so strollers will find their itinerary peppered with simple coastal paths and plenty of grogue (island rum) stops. Experienced hikers, meanwhile, can spend a week tackling vertiginous, unmade tracks that zigzag up to volcano rims and pause in remote farming communities.
Our Cape Verde Vacations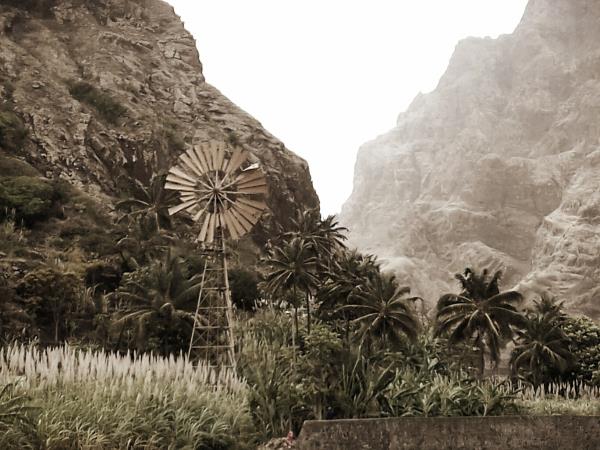 Celebrate the locals and landscapes of Cape Verde
From
€

850

to

€

1400
7 days
ex flights
Cruise control & conservation
The charm of walking in the Northern Islands of Cape Verde is the quietness of the footpaths. It's wandering through ridgeside villages like Fontainhas, on Santo Antao, where the strains of Cesaria Evora's
morne music
drifts from open windows and where the farmers you pass will stop to share stories and a snap of sugar cane. It's being invited into guesthouses like long-lost family.
But Lidiana, peering into her crystal ball, has an ominous feeling. The number of tourists visiting Cape Verde steadily climbed from 146,063 in 2000 to 716,775 in 2017. Those crowds aren't unmanageable – yet. Cruise ships are the biggest threat, simply because they're capable of unloading 3,000 passengers in one go. With those numbers come coach transfers, shore excursions paid for outside Cape Verde, noise and environmental pollution, and a strain on resources like water and waste management on islands prone to water shortages.
Lidiana believes that pre-empting the dangers of mass tourism before they happen is key. And walking vacations to Cape Verde are the ideal preventative. "Conservation of the walking routes is very important for the Northern Islands, especially for the mountainous islands," says Lidiana. "If too many people go on the routes, the walkers that come to this island won't be able to enjoy this island... So, all of us working up north should pay attention to this – to respect the walking routes first and avoid cruise ship packages in the Northern Islands."
That's not just for Cape Verde's sake – it's for your sake too. Half-day hikes don't give you half the time you need to get stuck into the spectacular walking paths of Cape Verde. Additional infrastructure like car parks and cafés are often not made for islanders, but tourists. Lidiana would rather stick with what exists right now: cathedral-quiet villages; house cafés peddling papaya juice and cachupa stew; unadorned views; pathways pretty much unchanged for the last few hundred years.
Our top Cape Verde Vacation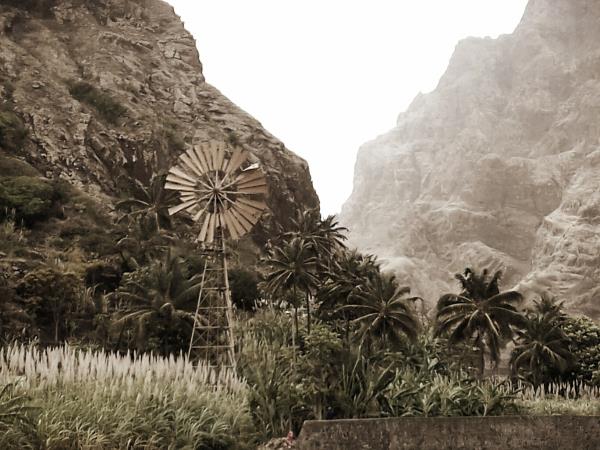 Celebrate the locals and landscapes of Cape Verde
From
€

850

to

€

1400
7 days
ex flights
Tailor made:
This trip can be tailor made throughout the year to suit your requirements
If you'd like to chat about Cape Verde or need help finding a vacation to suit you we're very happy to help.

Follow the leader... slowly
Luckily, for travelers, the answer to the cruise conundrum is simple: choose a small group or tailor made walking vacation that uses local guides, small guesthouses, lasts at least a week, and meets the suggestion of 'all-inclusive' with raised eyebrows.

Walking guides are essential in Cape Verde. Waymarking isn't guaranteed in the Northern Islands and it's easy to take a wrong – and dicey – route through mountainous terrain or get caught out by the unexpected microclimates found in the Northern Islands. Perhaps most importantly, your guide will be your connection to Cape Verde, encouraging you to slow down and really take in what you're seeing. You'll hike some of Cape Verde's most beautiful routes, sure, but you'll also get to duck behind the stage curtain and see what makes up the soul of the islands.

"Our trip is a walking trip, yes," says Lidiana, "but it's also about having a meaningful trip... having a walking group that is closer to the people. It's about connecting: you connect to the local land, the local surroundings, the local nature, the local food. For us, it's important that you connect on the walking vacation, so that you have a full, meaningful experience… You will not be able to do this on a quick day trip."
The best Cape Verde walking vacations also connect you to small family guesthouses. For you, that means staying in the company of Cape Verdeans who'll cook up a slap-up breakfast and invite you to take a book from the bookshelf, turn on the radio, and lounge on a terrace shaded by papaya trees. They'll recommend the best grogue bar in town, or where you can catch a morne performance, or tell you about what it was like growing up in the mountains of Cape Verde.
"We don't do any big chains," says Lidiana. "We only work with small lodges and family guesthouses... We don't really believe in big impacts or big money. When a small guesthouse is running its own small little business, they feel more empowered. That trip becomes a more meaningful journey because of these small impacts."
"The goal is never to have this mass tourism again," she adds. "The goal is the delicacy of the small vacations that connect directly with the local people. For me, that's how I get very much inspired."