Gorilla safaris in
Central African Republic

Although Central African Republic remains far, far off the tourist trail, there is one activity it excels at: tracking western lowland gorillas.

Gorilla tracking typically takes place in Uganda and Rwanda, where mountain gorillas dwell on the steep, forested slopes of volcanoes. But across the continent, inhabiting seven countries from Cameroon to DR Congo and Gabon, are western lowland gorillas, the most numerous gorilla species of all. Given the difficulties of monitoring them in this vast, dense and remote rainforest, population estimates are vague at best. But it is known that this species is critically endangered, and that their numbers are falling, due mainly to poaching for meat, the illegal pet trade, and Ebola.
WWF
estimates that since the mid 1990s, their numbers may have fallen by as much as 60 percent.
However, there is some good news for the western lowland gorillas – and particularly these in Central African Republic. The Dzangha-Sangha Reserve, in the far southwestern corner of CAR, protects the highest density of these creatures, and in recent years WWF has carried out the slow process of habituating gorilla groups in this region so that they can be tracked by tourists. There are only three habituated groups of western lowland gorillas in the world, and two of them are in Dzangha-Sangha.
Our top Central African Republic Vacation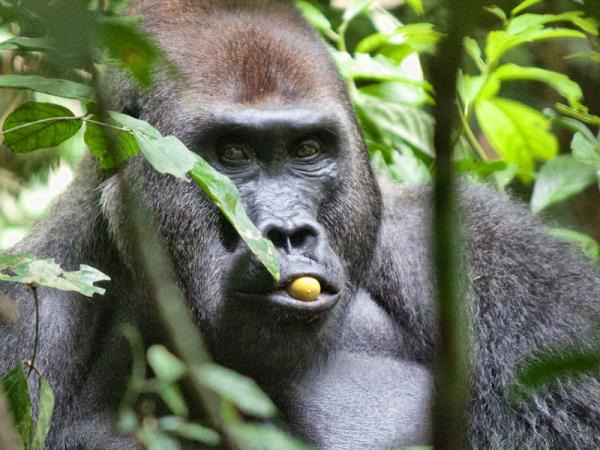 Track gorillas and explore the forests of Central Africa
From
£

6699
8 days
ex flights
Small group travel:
2023: 5 May
2024: 3 May
If you'd like to chat about Central African Republic or need help finding a vacation to suit you we're very happy to help.

Working with the Ba'aka
Key to the success of the WWF programme was the presence here of Ba'aka pygmies. The original people of the forest, the Ba'aka's knowledge of this ecosystem is second to none, and their ancestral wisdom makes them the perfect guides, able to point out medicinal plants and animal tracks along the way. Researchers, along with Ba'aka guides, have information on where the gorillas slept the previous night; each morning, at dawn, they can follow the often scarce clues left by these creatures to find them in time for the following day's tracking sessions. Tourism here also benefits the Ba'aka; around 40 percent of the park entrance fee is reinvested in community and rural development projects.
What does gorilla tracking in CAR entail?
Visiting western lowland gorillas in Dzangha-Sangha is less strenuous than visiting their mountain cousins. You'll be tracking one of two groups that live in and around Bai Hokou, a mineral rich clearing surrounded by thick jungle. The terrain is much flatter than in Uganda and Rwanda, and you'll typically be trekking between 30 minutes and two hours to find the habituated family. This is pristine, equatorial rainforest, though, and the heat and the humidity will be challenging. Wear good walking shoes, and a light, long sleeved shirt and trousers. A lightweight waterproof jacket or rain poncho is also a good idea, plus waterproof bags for camera equipment.

Tracking groups in Dzangha-Sangha are tiny, with just three tourists permitted to visit each gorilla group; two tour groups can visit per day. The minimum age for gorilla tracking is 16.

When you reach the habituated group, you'll need to remain at least seven metres away; diseases can be passed between humans and gorillas, and even a common cold can have severe consequences for the gorillas. For this reason, it is forbidden to track the gorillas if you are ill. You'll be able to spend a maximum of one hour in their presence, but the time will fly; don't forget to put down your camera and just soak up the magical experience of sharing a space in the jungle with one of our closest cousins. Being habituated, they are barely bothered by humans, and will continue to play, forage, socialise and relax as you gaze on. Do avoid making direct eye contact with them though, especially if they mock charge!
Unlike mountain gorillas, lowland gorillas tend to spend quite a bit of their time up in the trees. Although this can give you a great view of a family group, if they are high above the ground it can make them tricky to observe. If you are lucky, they may be hanging out in the Bai, where elephants have dug a large hole as they forage in the mud for their mineral fix. Lowland gorillas also stay in smaller groups, and you may see just two or three socialising together.
Given the short distances travelled by the gorillas each day, and the impressive tracking skills of the Ba'aka, viewing success rates in Dzangha-Sangha are high – close to 98 percent. Trekking with a Ba'aka guide is a truly fascinating experience, as he'll point out almost invisible traces of the gorillas and other forest species, and talk about life and survival in this remote forest. Listening to these stories really brings home what centuries of ancestral knowledge of this forest means – and just how much wisdom could be lost if the Ba'aka's culture is not protected.
Gorilla tracking has brought in much needed funds to ensure the protection of these animals and their forest habitat – along with the other highly endangered species that live here, from forest elephants and chimpanzees to pangolins.
Accommodation in Dzangha-Sangha
Unsurprisingly, southwestern Central African Republic is not exactly falling down with hotels and resorts. The only tourist accommodation in this region is the wonderful Sangha Lodge, a collection of seven wooden bungalows run by a South African couple who have dedicated themselves to keeping the lodge up and running despite recent periods of unrest, and who also rescue and rehabilitate orphaned wildlife.

The lodge is basic but comfortable, with en suite rooms and large mosquito nets. African and Western-influenced meals are served in a communal dining room, and the bar – well stocked with cold beers and soft drinks – is in an idyllic spot, overlooking the Sangha River. It's well placed for birding trips (one of the owners is a keen ornithologist), for night walks into the jungle and boat trips on the river, as well as visiting the elephants at Dzangha Bai, so there is plenty to keep you occupied when you're not out trekking gorillas. Established in 2009, Sangha Lodge has played an absolutely crucial role in developing this region for tourism, in conserving this remote habitat and supporting and providing sustainable employment for local community members. Time – and money – spent here is well spent.
More about Central African Republic
The best time to go to CAR is in the December to May dry season. At this time animals are forced to cluster around the remaining waterholes, so you can see them in great numbers.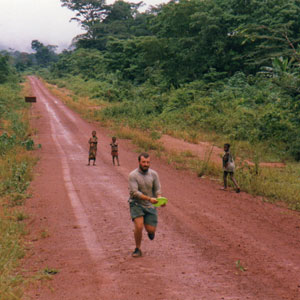 Central African Republic travel guides are in rather short supply; stories about this country tend to come in the form of news bulletins and humanitarian reports, not vacation brochures.