Central America overland guide
---
2 MINUTE SUMMARY
Central America is one idyllic isthmus flanked by both the Caribbean and Pacific. A troubled region for many years, with a history of coups and crises, many parts of it remain untouched by tourism, even though they are now living through much more peaceful times. To travel around a selection of them, it can be hard to get your head around where to even start, with Mayan ruins a plenty, adventures abounding and beaches a go go. This is where overland trips step in, taking you on well crafted odysseys created by local experts. With an itinerary that might take you through six countries in a few weeks, you don't have to do any planning, but you do have plenty of time to get off the bus and just do your own thing. Be it blissing out on a Belizean beach, doing a night hike on a Nicaraguan volcano or white water rafting in Costa Rica.
Find out more in our Central America overland travel guide.
What we rate & what we don't
---
RESPONSIBLE TRAVEL'S BEST & WORST
Underrated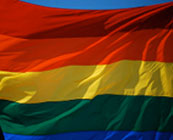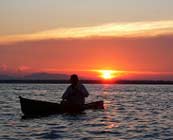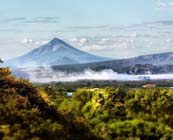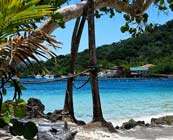 Human rights
Just look at Amnesty International's homepage for a good snapshot of human rights abuses and please don't turn a blind eye. Homosexuality is illegal in Belize, indigenous peoples mistreated in Nicaragua, women and women's rights violated in Honduras, and former Guatemalan head of state Efraín Ríos Montt was found guilty in 2013 of genocide and crimes against humanity. Please support and keep up to date with work of Amnesty and Human Rights Watch.
Guatemala
Although Guatemala is already famous for its magnificent Mayan ruins at Tikal, Topoxte and Yaxha, it is also a nirvana for nature lovers. Take a boat ride along the Rio Dulce and its eponymous national park all the way to the Caribbean coast. Hike to San Pedro volcano or kayak across the stunning Lake Atitlan, or swim in the sultry waters of Lake Petén Itzá, with the island town of Flores as your base.
Nicaragua
If you hear this described as the poor man's Costa Rica, think again. Nicaragua is completely different, but just as stunning and with a lot fewer tourists. Touching two seas, it is all about jungles, volcanoes and coast, as well as music, food and laughter. Highlights include the elegant, colonial city of León. And traditional Granada, with Volcán Mombacho as its backdrop. As is Lake Nicaragua and its magnificent Ometepe Island. text
Honduras
A relative newbie on overland tours, this country has been slower to emerge from poverty than some of its neighbours, and many communities are now embracing tourism as a sustainable and sumptuous way to break the cycle. Highlights include Copán's copious Mayan ruins, the Caribbean island resort and luscious lagoons of Roatán, or go hiking through the jungle- and waterfall-filled terrain of Pico Bonito National Park.
Rated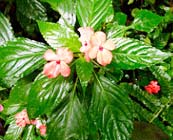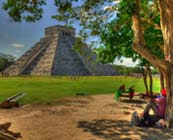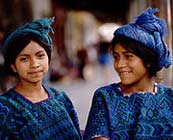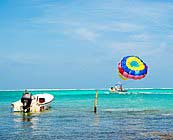 Costa Rica
This is still the classic eco stop on overland tours in Central America. From the peak of the iconic Arenal Volcano, the flora and fauna of the Monteverde Cloud Forest, to the coastal mangroves of Tortuguero National Park where you can travel by boat to see green turtles, manatees and howler monkeys. Or enjoy the Afro-Caribbean vibe in Puerto Viejo, where the sound of surf segues sublimely with reggae music.
Mayan Trail
A 2,400km trail around the great pyramids, palaces and ancient principalities from Mayan civilisation, which dominated Mexico's Yucatán Peninsula, Guatemala, Belize, Honduras and El Salvador. Overland tours are a great way to take in some of the greats, be it Chichén Itzá or Tulum in Mexico, Tikal in Guatemala, Actun Tunichil Muknal Caves or Xunantunich in Belize, Cihuatán in El Salvador or Copán in Honduras.
Indigenous cultures
Central America's array of indigenous cultures is simply extraordinary, and really worth swotting up on before you leave for vacation. The Mayan people still thrive in Mexico and Guatemala for example, and in the former are only one of 60 indigenous groups. Many overland trips incorporate visits to small indigenous communities, such as the Bribri of Costa Rica or the Lenca people of La Campa in Honduras.
Cayes & Cenotes
Cayes are a Caribbean thing, and a particularly important part of Belize's natural heritage, with over 200 of them. Pronounced 'keys', these are small islands formed by sand gathering on top of reefs, the most popular cayes being Ambergris and Caulker. Both are heaven for swimming and snorkelling. As are Mexico's cenotes, particularly in Yucatán, where the collapse of limestone bedrock has created the most perfect natural swimming pools.
Overrated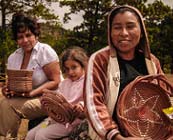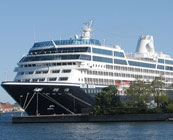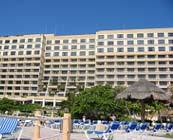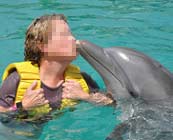 Exploiting poverty
Please don't assume you can get everything for nothing, especially in countries like Nicaragua and Guatemala, which some see as the "cheap Costa Rica." Prices aren't as high, but similarly these countries are developing their tourism infrastructures to, ideally, create good sustainable tourism. This costs money. So do remember that these are people's real lives and, in many cases, their only income sources.
Busy US vacations
Not helped by the giant cruise ships, with their pollution records and generally highly irresponsible attitude to tourism, US vacations such as spring break, Labor Day or Memorial Day weekends are when the big port towns and daytrips pack out in certain Central American countries. Your tour operator will be aware of these and, ideally plan your days out accordingly, but do be aware of them if you want to avoid crowds.
Cancun
The Yucatán Peninsula is exquisite, but Cancún is yucky. The land of all inclusives, irresponsible tourism and unthinkable concrete developments in such environmentally sensitive terrain, you can do better than this on your travels – even just a few miles away from the monster developments. Go cycling, hiking, swimming in cenotes or wildlife watching in the Celestún estuary, famous for its flamingos and turtles.
Captive dolphins
At the last count by conservation experts, there were 29 dolphins in captivity in Mexico, and many of them for the sole purpose of tourists getting to swim with them. Most tourism activities that are linked with captive wildlife are highly dubious in our books, and totally unethical when it comes to whales or dolphins. Even if they call themselves 'eco', know that these activities are much more about dollars than dolphins.
Is a Central America overland vacation for you?
---
WHAT DOES THIS TRIP ENTAIL?
Go on a Central America overland tour if…
---
… you are active. You'll be on a bus for long stints, but bring a good cushion, ear plugs or whatever you need to sleep, because when you get off, you will hit the ground running. These trips squeeze adventure and exploration out of every waking moment. Of course you don't have to do everything. But if hiking through Honduras' Pico Bonito National Park for a day appeals, as does swimming in cenotes or kayaking on Lake Atitlan, then you will love these trips.
… you can't decide if you prefer mountains or coast. Studying a map of Central America brings tingles down most ardent travelers' spines, with the volcanic beauties throughout, and Caribbean and Pacific on each side. Or Panama's Bocas del Toro archipelago on the Caribbean coast overlooked by the stunning Boquete Highlands and cloud forests. Your favourite landscapes are never far.
… Mayan archaeology fascinates you. The Ruta Maya was created for tourists in the 1990s to help them navigate the many archaeological wonders that are scattered through ancient lands which are now the Yucatán Peninsula, Guatemala, Belize, Honduras and El Salvador. It's hard to know where to start, but overland trips do all that for you.
… you want to get real. Overland trips in Central America are not coach trips where you stick your head out of a window taking photos of 'locals' as if you're on safari. You are traveling by public transport, beside real people with real issues, worries, hopes and plans for the day. Responsible vacations invite you to stay in the heart of local communities, be it in a traditional bamboo cabana hosted by the Bribri tribe or with the Mayan people overlooking Guatemala's Lake Atitlán.
Don't go on a Central America overland tour if…
---
… you're not flexible. The first thing on your packing list should be patience. A bus might break down, a rainstorm might flood a road, you may end up at the back of the queue at a big Mayan site. Or hey, a volcano might erupt. It's Central America, it's unbelievably gorgeous, and fantastically unpredictable. If banal is your thing, maybe think again.
…you want five star accommodation. Most overland trips are for travelers who not only want to travel on what is a real budget, but who also don't crave frills and fussing on vacation. At least not all the time (who doesn't like crisp, white sheets and a sundowner by the pool now and then?). These trips take you to Mayan homestays or campsites in Guatemala or an eco lodge in Costa Rica. Or small coastal hotels in Belize where you pay $20 for air conditioning. Electricity is very expensive there, so it's a thing.
… you don't do street food. You are not spoon fed, but might arrive into a town or fishing village just in time to go find yourself lunch. This might be freshly cooked fish on an island stall in Belize, eating your own weight in tacos in Oaxaca market, or tucking into tortillas in Chichicastenango.
… you prefer solitude. Although tailor made vacations are available, Central America is a camaraderie sort of place. Especially on overland trips, where it is hard to ignore the kindness of strangers or the warmth of fellow wanderers. However, we all chill in different ways, and no one expects you to party until dawn, or eat with the group morning, noon and night. Overland travel companies make sure there is plenty of free time built into itineraries.