As the rains cease, semi nomadic Mbororo men gather together in the Sahel to attract new partners with flamboyant performances during the annual Gerewol Festival.

The dry months from Oct/Nov to March are the best time to visit Chad – the rains may liven up the arid landscape but they wreak havoc with the largely unpaved roads and traveling north is virtually impossible. The rains are shorter in the Sahel northwards – lasting roughly Jun-Sep. Autumn is slightly cooler than spring – when temperatures are regularly over 40°C. The Gerewol Festival takes place in late Sep but is close enough to N'Djamena not to have transport issues; however, it can't usually be combined with trips to the desert as it's still too wet.
Things to do in Chad…
Ever since Michael Palin visited the Gerewol Festival for his 2002 BBC TV series, Sahara, the strangely painted young men aiming to attract romantic partners by emphasising how tall they are, how white their teeth and eyes, have been the subject of international curiosity. The series was filmed in Niger, however, and while tourists there have caught on, few have access to Chad's Gerewol. It's an incredible spectacle, as traditional as ever, with the winner celebrated for years to come – and the women on guard, should another woman choose her husband as the prettiest.
The Guelta d'Archei ia a permanent waterhole surrounded by steep cliffs and reached via a trek across the desert lasting between one and a half and two hours. The hike is worth it; from a clifftop viewpoint you can see hundreds of camels being led to the water's edge as their bellows echo eerily off the rocks.
The Tibesti Mountains, tucked into a remote corner of the Sahara between Niger and Libya, are little explored even by African standards – which is part of their mysterious appeal. Historically out of bounds it is now possible to visit – but expect to spend days driving across the desert and nights camping out under the stars to reach these volcanic peaks, home to some of the world's most remote settlements.
Things not to do in Chad…
Get hammered. Central and northern Chad is largely Islamic – and consuming alcohol is frowned upon – though it's often ok to drink in the desert villages. If you're not sure whether to drink or not, it's very simple – if alcohol is widely available, or offered to you, then bottoms up. If not – don't go looking for it. It's been hidden for a reason.
Travel without insurance. Many insurance companies won't cover travelers heading into Chad, due to FCO warnings and instability in the surrounding countries. However, your vacation company will work with those that do, and in an area this remote, and with such sparse medical facilities, it's incredibly important to have backup in case of an accident.
Expect to meet other travelers. Chad is one of the least explored countries in the world, with great stretches of its desert landscape untouched even by Chadians, let alone visitors. One of our tour leaders has spent a total of around ten weeks in Chad – and once, he saw a group of two tourists.
Play with the tanks. The remains of old conflicts are littered across the landscape, particularly in the north from the war with Libya, where you'll come across rusting tanks and jeeps half swallowed by sand. But don't go near them – there may be unexploded devices waiting to go off.
Our top Chad Vacation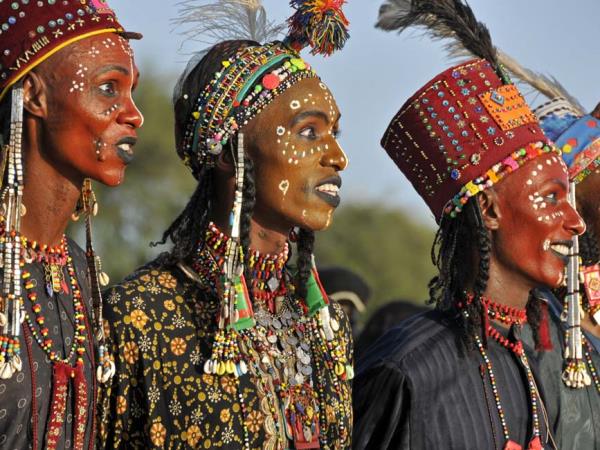 Witness one of Africa's most colourful traditional festivals
From
£

2249
8 days
ex flights
Small group travel:
2019: 29 Sep
2020: 27 Sep
If you'd like to chat about Chad or need help finding a vacation to suit you we're very happy to help.
Unique appeal
Jim O'Brien, from our specialist supplier Native Eye, shares his Chad travel advice.:

"Chad is wild and untamed like nowhere else I've travelled to. It's not an easy country at all – there's no tourist infrastructure whatsoever, and there's very little infrastructure at all outside two or three main cities. Having said that, I've been to Chad four times in the last few years, and it's probably my favourite destination."
How safe is Chad?
"Chad is actually one of the safer parts of the Sahara and Sahel. It's got a slight problem around Lake Chad, but once you get up into the desert, there's really no one there. The northern regions have always had a tempestuous relationship with the south because they're inhabited by the Toubou people who generally don't like outsiders and just want to live as they always have done. But for years now it's been peaceful."
Cultural tips
Jim O'Brien, from our specialist supplier Native Eye, shares his Chad travel advice:

"The Toubou people are very sensitive to having their photos taken, and I've seen some ugly incidents where tourists haven't heeded that advice, and have almost got themselves into trouble. So you always, always have to ask. It's more critical there than anywhere else I've ever been. You're out in the desert, the law is basically the person in front of you so if they want to take offence at that then they can."
Not all deserts are lifeless…
Not all deserts are lifeless…
"There is quite a surprising amount of wildlife in the Ennedi Mountains. I've seen hyenas, I've seen baboons, monkeys, fennec foxes, and just outside of the mountains you've got dorcas gazelles – quite a lot of them. So there's actually quite a lot of wildlife in the desert, but it's not always easy to see. On one particular day of our trip into the Ennedi we drive into a region which comparatively well watered. There's a fair bit of vegetation and we see about a hundred gazelles throughout the course of the day – it's alive."
More about Chad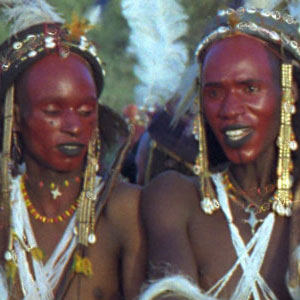 This desert nation isn't a place where you come on vacation - it's a place for an adventure, and an expedition into the unknown...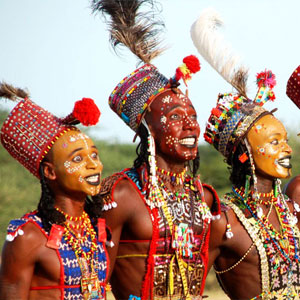 An ancient courtship ritual in which tribesmen dress up and wear makeup to attract a wife or a lover, Chad's Gerewol festival is an extraordinary spectacle...
Back to the top
Convert currencies