The Union of the Comoros, as it's officially known, is one of the smallest island nations in the world. If you haven't heard of it, you're not alone. While fellow Indian Ocean neighbours Mauritius and the Seychelles have a slick and established tourism offer, Comoros is virtually unknown. Just a few thousand people a year make it here, which of course is its unique appeal.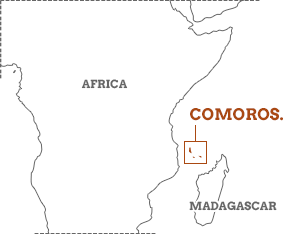 The Comoros offers an off the beaten track version of the Indian Ocean idyll, with added extras: rare wildlife, fascinating culture and an active volcano.

Comoros can compete with other Indian Ocean islands on looks – white sand beaches, clear seas and voluptuous volcanic landscapes – but also offers cultural riches, with a blend of Arab, African and French influences. Add in the presence of sea turtles almost year round, lemurs and highly endangered and enormous Livingstone's fruit bats, plus wonderful hiking, whale watching and snorkelling and it doesn't make sense that Comoros remains off the tourist map, but it does make sense to visit now, before everyone catches on. Find out more in our Comoros travel guide.
Comoros is…
three undiscovered island gems in the Indian Ocean, where Arab, African and French influences mingle.
Comoros isn't…
developed for tourism, making them fabulous for adventurous travelers in search of tranquility in raw nature.
The four original Comoros Islands were a key trading post from the 15th century and annexed by the French in the 19th century. Grande Comore, Mohéli and Anjouan gained independence in 1975 (the fourth island, Mayotte, remains a department of France) and most organised tours island hop between these three. Typically, trips rely on short flights (it's 25 minutes from Grande Comore to Mohéli), or a combination of boat and air travel, to get between the islands. Roads are often poor, although the main round-island road on Grande Comore is reasonable. You can also hire bikes. Cycling on Mohéli's only sealed – and virtually empty road – is a highlight.
1. Anjouan
The most populated of the islands, Anjouan is also rated as the most beautiful island of the three Comoros. Walk its capital Mutsamudu to see historical citadels and the medina, and explore the Col de Patsy, a particularly beautiful valley, and the nearby Tatringa Falls. You can also visit the mausoleum of the late president Abdallah, the father of independence in the Comoros.
2. Beaches
Boasting the classic Indian Ocean combo of white sand and turquoise seas, the beaches of the Comoros are delightful. Two of the most beautiful on Mohéli are Sambadjou and Nioumachoua, while the beach at Itsamia is the nesting ground of sea turtles. On Grand Comore, Chomoni has an excellent beach – a dazzling contrast of blue sea, white sand and black volcanic rock.
3. Grande Comore
There is lots to enjoy on the largest island in the Comoros, including visiting an ylang-ylang plantation and distillery, the Lac Salé, a volcanic salt lake, the lava flow at the village of Singani and the ruins of the 18th century sultan's palace. At Itsoundzou enjoy views of the seven volcanic cones of Diboini, and head north for the dramatic Dos du Dragon (Dragon's Back) rock formations.
4. Mohéli
Mohéli is Comoros' nature island, where you can hike through virgin rainforest, snorkel and go whale and dolphin watching. It's home to the Comoros' first national park, the Parc Marin de Mohéli, created in agreement with 10 neighbouring villages to protect endangered and enormous Livingstone's fruit bats (their wingspan reaches 1.5m) and the green turtles that lay eggs on the beaches of Itsamia.
5. Moroni
Moroni, the Comoros' capital city, means 'in the heart of the fire', because of its location at the foot of Mount Karthala, an active volcano. It's an atmospheric place, steeped in Arabic heritage dating back to the 10th century. Stroll through a huge carved wooden gate into the medina, discover mosques and its ancient royal palace, and the port with its many moored up dhows.
6. Mount Karthala
Mount Karthala on Grande Comore is an active volcano, and lava flows from its eruptions scar the island. The hike to the summit at 2,361m winds through thick forest, with butterflies and parrots accompanying you, before reaching the lunar landscapes of the crater. It's best attempted during the dry season, April to November. You can summit Karthala in a day, but it's fun to take two, camping in the crater itself.
Our top trip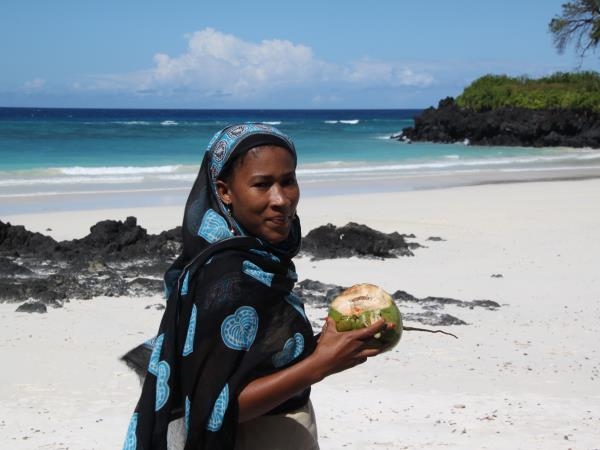 Dramatic scenery, Swahili heritage and unusual wildlife
From
£

1775
9 days
ex flights
Small group travel:
2024: 26 Aug
2025: 25 Aug
If you'd like to chat about Comoros or need help finding a vacation to suit you we're very happy to help.

More Comoros articles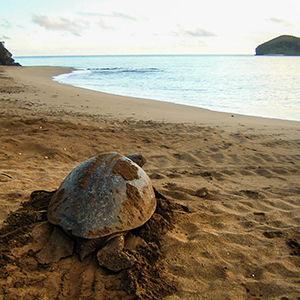 Thanks to its mellow tropical climate, you can visit the Comoros at any time of year, but the best time to go is perhaps April to November, when it's drier and fresher.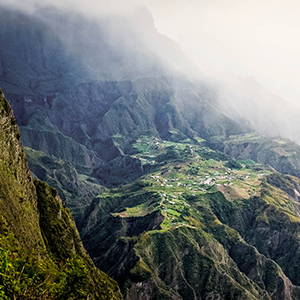 Creole culture, a very active volcano and a landscape that's both extraordinary and accessible – Reunion is a tiny Indian Ocean island with a ton to offer visitors.