Costa Rica adventure travel guide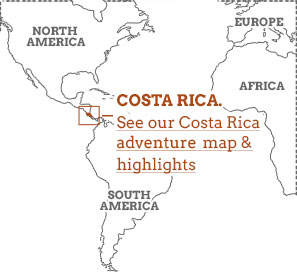 In Costa Rica you can zip line through cloud forests, white water raft down rushing rivers and trek up the side of volcanoes. However, Costa Rica isnít just about climbing up stuff and chucking yourself off things Ė itís also about discovering the food, culture and wildlife. Yes, you can dive into any adventure activity that you set your mind to, but you can also spend time getting to know the local people and exploring away from popular areas such as Arenal Volcano, Manuel Antonio and Tortuguero.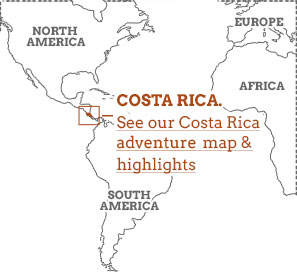 Join a small group or tailor a tour that combines off-the-beaten-track locations with family-run accommodation.

Costa Ricaís well-known national parks are on the verge of an overtourism problem but, thankfully, the countryís internationally recognised wildlife protection programmes are outstanding and tourism is currently well-managed. While theyíre great places to visit, there are an awful lot of equally exciting areas to have adventures in Costa Rica, if you know where to look.
By visiting less well-known locations like Corcovado National Park, Sarapiqui rainforest and Cano Negro Ė a great alternative to Tortuguero Ė youíll have adventures, but youíll also have more of Costa Rica to yourself. And if you visit outside of the typical tourist season, youíll be spreading the impact of your presence still further while having a more authentic adventure at the same time.
Keep reading our guide to adventure vacations in Costa Rica to find out more.
Best time to go on an adventure vacation in Costa Rica

Visit Costa Rica in July and August when there are fewer tourists, but it isnít too wet.

November to June is a popular time of year to visit Costa Rica, as itís mainly dry and sunny. This is the countryís high season, when national parks such as Monteverde and Manuel Antonio can get crowded. The wetlands and canals of Tortuguero National Park also get busy from May to November, as this is green turtle nesting season. Although late June to October is the rainy period, July and August arenít too wet. This is the best time to go on adventure vacation in Costa Rica. There will be a bit of rain but not that much and there wonít be half as many crowds.
Tortuguero National Park Weather Chart
Our Costa Rica adventure Vacations
If you'd like to chat about Costa Rica adventure or need help finding a vacation to suit you we're very happy to help.

What does a Costa Rica adventure vacation entail?
Small group adventures
Small group adventure vacations in Costa Rica
are the best way to meet fellow travelers and local people. Our small group specialists always work with local guides, instructors and drivers. Youíll also be accompanied by a local tour leader throughout. Itís through their personal recommendations that youíll find family-run restaurants and rural
fincas
(farmhouses) where lunch is grown yards from the kitchen table. Youíll also be invited to stay in independently owned hotels and lodges. This is a much more authentic experience than the all-inclusive resort complexes on the coast.
Adventure activities
Itís said that zip lining was started in Costa Rica by a biologist who was trying to get up close to the animals that lived in the treetops. These days, zip lining is just for kicks but youíll still be able to take advantage of whizzing high above the ground, surrounded by the sights and sounds of cloud forest canopies.

Hanging walkways are another great way to explore above the forest floor. Although being in Costa Rica is an adventure in its own right, couple the experience with white water rafting, tubing, hiking up volcanoes, horse riding and bathing in mud pools, and youíve got the makings of a legendary vacation.
Tailor made adventures
The type of trip you choose will determine which side of Costa Rica you see. A
tailor made adventure in Costa Rica
gives you the chance to plan things to suit your own pace. You can join in with groups for day trips, or you can explore on your own with a local guide and driver.
Having the full attention of a knowledgable guide is totally different to being part of a group where the guideís attention is focused on everyone, not just you. You can also self-drive in Costa Rica. Itís a great way to stop where you like and be a bit more spontaneous.
Lesser-known adventures
Spread the load and visit Costa Rica outside of the peak season Ė July and August, for example. This is the start of the rainy season, but itís never that bad. You can also visit alternative locations where the wildlife is just as exciting as more popular places. Sarapiqui rainforest, for example, is not very well known but there are lots of opportunities to go river rafting here and visit chocolate making workshops.
Tortuguero is the jungle that everybody goes to. It's still worth visiting by boat but, Corcovado National Park on the Osa Peninsula is a lot quieter but equally as impressive, as is Cano Negro where you can see sloths, turtles and a huge variety of native bird species. Stay at out-of-the-way places inland, and youíll see a side to Costa Rica that many tourists wonít.
More about Costa Rica adventure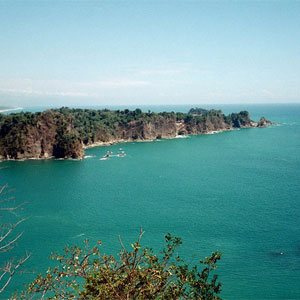 Our map and highlights help you discover more peaceful but equally adventurous alternatives to Arenal, Tortuguero and Monteverde.