Costa Rica is a pioneer in sustainable tourism, so our vacations ensure that while admiring the (spectacular) wildlife of this easy-going Central American country, you'll also be contributing to their protection. That could mean volunteering with turtles on the beach or visiting parks and reserves where entrance fees fund conservation. It definitely means staying in small, family-run hotels and exploring with guides drawn from local communities who will share with you their unparalleled knowledge of Costa Rica's culture and nature. This is one of the world's top activity vacation destinations for families, and it's easy to see why.
Our top Costa Rica vacations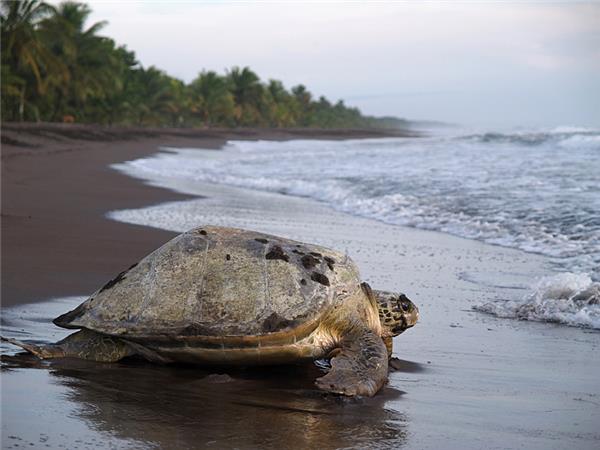 From
US $

3999

to

US $

4879
15 days
ex flights
An amazing variety of Costa Rican wildlife
Small group
2021: 21 Dec, 2022: 13 Jan, 15 Jan, 22 Jan, 27 Jan, 29 Jan, 3 Feb, 5 Feb, 19 Feb, 24 Feb, 26 Feb, 3 Mar, 5 Mar, 12 Mar, 17 Mar, 19 Mar, 24 Mar, 26 Mar, 2 Apr, 9 Apr, 16 Apr, 23 Apr, 30 Apr, 7 May, 21 May, 9 Jul, 23 Jul, 30 Jul, 6 Aug, 13 Aug, 20 Aug, 27 Aug, 3 Sep, 17 Sep, 1 Oct, 8 Oct, 15 Oct, 29 Oct, 3 Nov, 5 Nov, 10 Nov, 12 Nov, 17 Nov, 19 Nov, 24 Nov, 26 Nov, 17 Dec, 22 Dec, 31 Dec, 2023: 5 Jan, 7 Jan, 12 Jan ...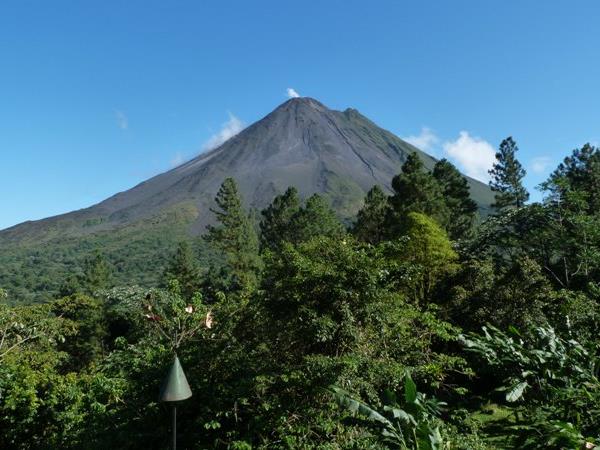 13 days
ex flights
Short highlight itinerary covering city, forests and beach.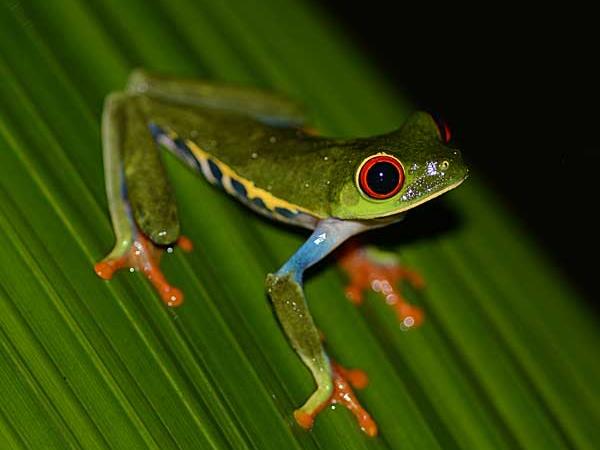 15 days
ex flights
Discover Costa Rica's stunning wildlife
Best time to go on vacation to Costa Rica
Despite being on the small side, Costa Rica's mountains, rainforests, cloud forests and Pacific and Caribbean coasts mean that temperatures and rainfall vary wildly. Late December to April is driest and sunniest and the northern Pacific experiences less rain, but this is still?rainforest: bring waterproofs and quick drying clothes regardless of the season. San José and the Central Valley are spring-like throughout the year, while high peaks experience frost. The cool cloud forests provide respite from lowland heat and relentless bugs. Happily, the best time to visit Costa Rica coincides with the worst of winter in the north, and the spring half-term.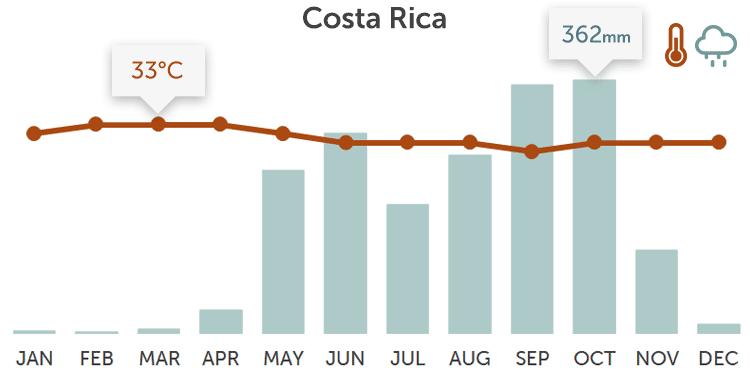 Map & highlights
Due to its mountainous topography, reaching all of the main areas of Costa Rica on one vacation is unlikely. The Monteverde Cloud Forest and Arenal Volcano (the most famous of 16 in the country) are located close together, but the Nicoya Peninsula, where turtle volunteering trips are often based, is off to the west and the remote Tortuguero National Park, which you explore by boat, is on the eastern coast. Meanwhile Corcovado National Park, the largest in Costa Rica, is to the south on the wildlife-rich Osa Peninsula, and Rincon de la Vieja Volcano Park, with its many geothermal features, is in the far north.
1. Arenal Volcano
Of Costa Rica's 16 volcanoes, Arenal is the most famous, and it was once its most active. Lava flows have ceased in recent years, but the national park still has much to offer. Cross suspended walkways and traverse nature trails through the forest to discover birds, howler monkeys, cascades and barren lava fields, then revive your achey legs in the thermal baths. The little town of La Fortuna is a convenient base.
2. Guanacaste National Park
Sandwiched between Lake Nicaragua and the Pacific Ocean, the Orosi and Cacao Volcanoes, Guanacaste was preserved thanks to its very diversity of ecosystems, as it provides a protected corridor between lowland rainforest, mangrove swamps and the high cloud forest. The creation of such a large conservation area means that even species such as mountain lions and jaguars can thrive.
Monteverde Cloud Forest Reserve
3. Monteverde Cloud Forest Reserve
A fairytale forest shrouded in perpetual mist, Monteverde's trees are draped in orchids, mosses and bromeliads, thriving on the moist, chilly air. Around 400 bird species inhabit this landscape, including the elusive quetzal. Visitor numbers are capped but it's still one of Costa Rica's busiest spots; however, this results in great infrastructure, well maintained trails, and an easy ride for families. Don't miss the zip lines.
4. Nicoya Peninsula
Costa Rica's driest region conveniently has some of its most beautiful beaches. Its extensive coastline has both tranquil beaches for relaxation, as well as wind and waves to delight surfers, sailors and windsurfers. You can also take body boarding, kayaking and scuba diving trips with certified instructors – or a night tour to Ostional to see thousands of turtles nesting before each new moon.
Rincon de la Vieja Volcano National Park
5. Rincon de la Vieja Volcano National Park
Geology buffs will love this highland region of dry forest, which is literally bubbling with volcanic activity. Hikes of various lengths and complexities take you past sulphurous mud pools, a mini volcano and hot springs. Go zip-lining, tubing, or discover the culture on a local ranch: after milking the cows you can ride the horses out to streams and waterfalls.
6. Tortuguero National Park
Begin your adventure by boat – the only way into this remote region, famed for its wildlife and particularly the green turtles that gave it its name. Peak nesting season falls from July to October, but you can hike and canoe through the verdant Caribbean forests most of the year, looking out for otters, howler monkeys, manatees and sloths around the rivers. Tortuguero is also well set up for families.
Wildlife
Costa Rica is teeming with wildlife, with half of the country blanketed in primary forest, and around a third of it protected by conservation areas. Spring is the best time to observe iguanas going about their courtship rituals. There are no fewer than six species of turtle – Tortuguero National Park sees loggerheads, leatherbacks, Atlantic greens and hawksbills. Forests echo with the calls of birdlife, including toucans with impressive beaks and small armies of monkeys. Sloths laze on tree branches, shy jaguars slink in the shadows, and gigantic American crocodiles crowd mangrove swamps and freshwater rivers, making impromptu swims highly inadvisable.
Top 10 animals
You'll probably see a lot more than 10 by the end of your first few days in Costa Rica, but our
top 10 animals guide
includes the iguanas that you'll find all over Manuel Antonio National Park, the huge troupes of monkeys you'll see swinging through the tree canopies any time you go into the forests, picnic-fancying coatis that look like small badgers, lazy sloths, and the many turtles of Tortuguero National Park. Basically, any of the animals that aren't going to try and eat you.
Family vacations in Costa Rica
As you can probably imagine from a country where you can zipline through rainforests, tube down rivers, learn to surf, and watch turtles on idyllic beaches or monkeys eyeing up your fruit baskets, Costa Rica is a wonderful country for
family vacations
. And while families with older kids will find no end of adventures to dive into headfirst, those with younger ones looking to take it easier will love it here too. Costa Rica has tourism down to a tee and the only real downside is that your kids will not stop nagging you to go back again afterwards.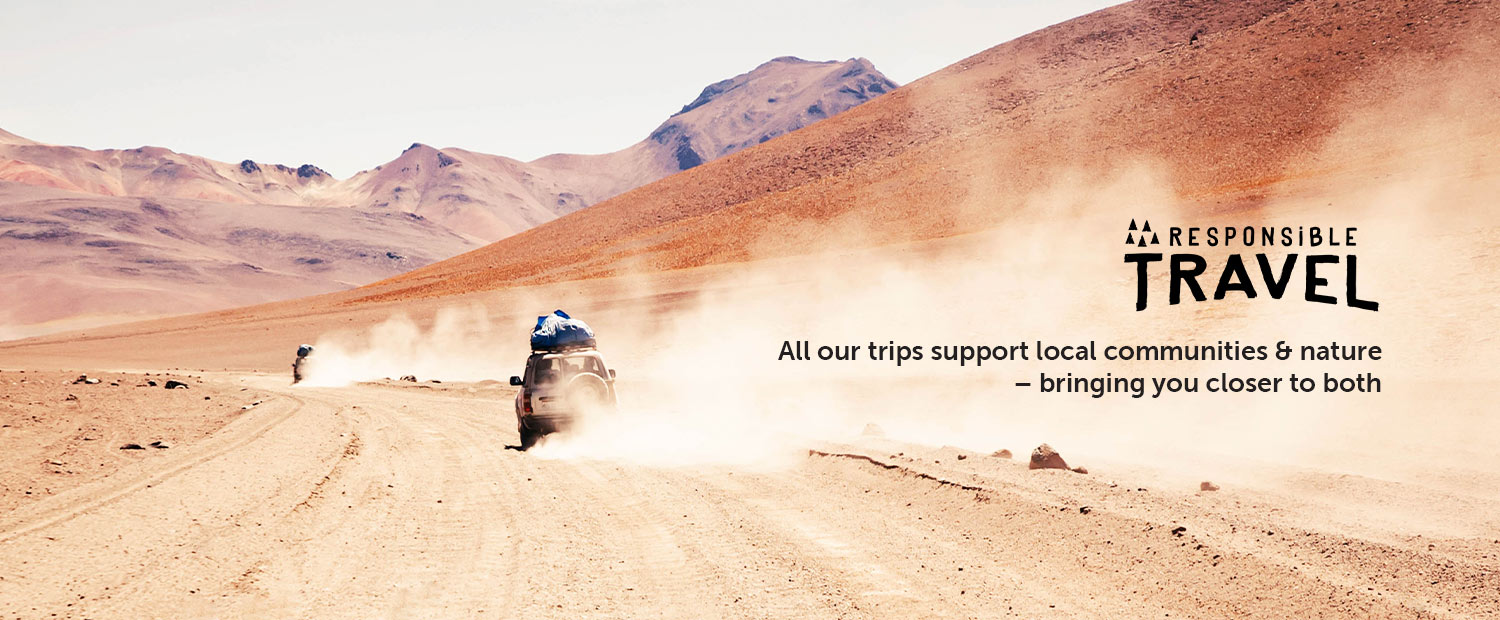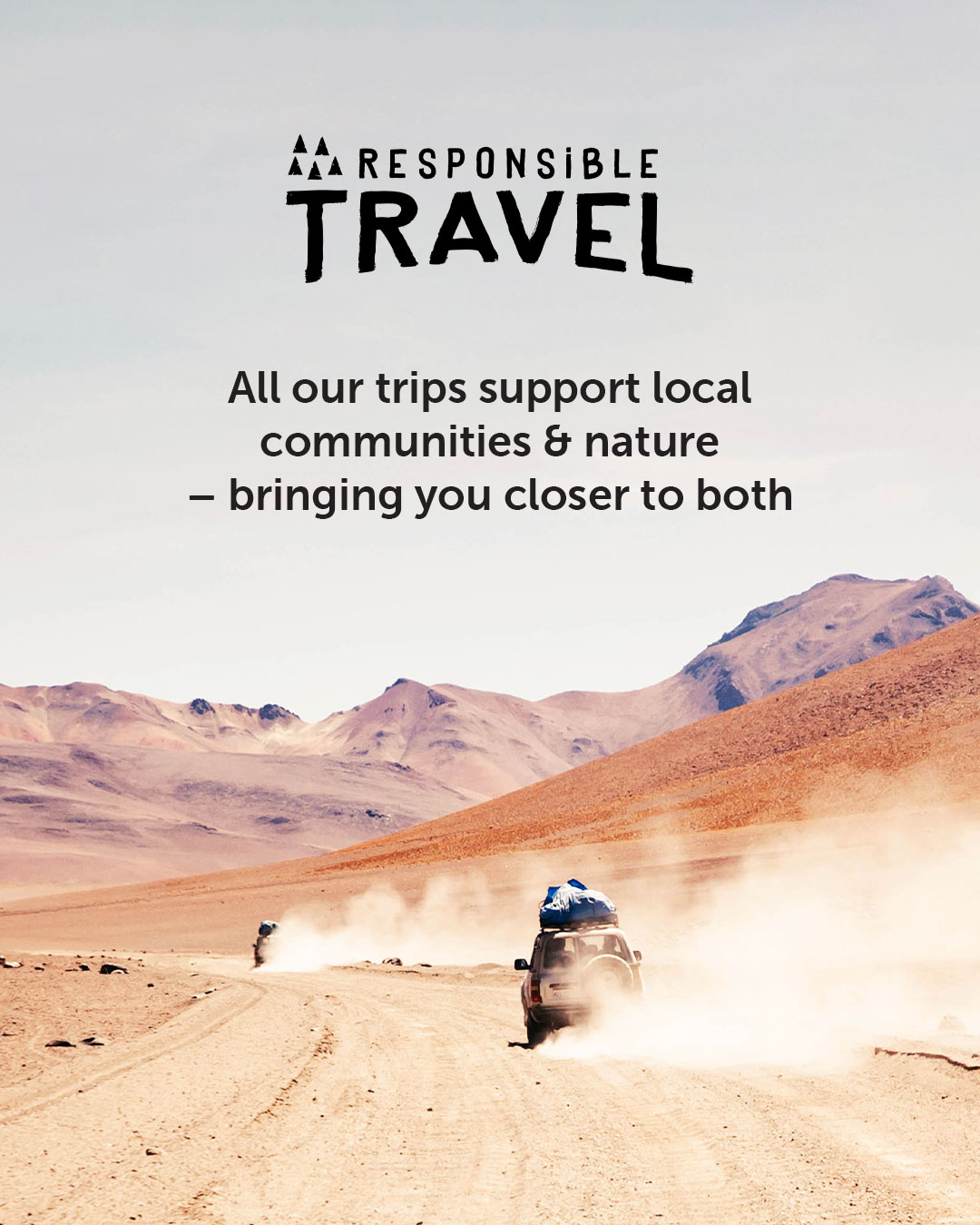 Multi activity vacations in Costa Rica
Costa Rica vacations are usually
multi activity vacations
; that's just the nature of travel here. A typical itinerary might see you wildlife watching in the rainforest one day and tubing down a lazy river the next. You could be trying your first surf lesson on a Caribbean beach, mountain biking, or strapping in for a thrilling zipline tour through the tree canopy. Activities are always set against the backdrop of Costa Rica's lush scenery and although cultural vacations here are not so common, there are scenes of everyday life unfolding around you throughout.
Cycling vacations in Costa Rica
Fancy somewhere a little more exotic for your next cycling vacation? If your idea of the perfect getaway is one where you spend most of it in the saddle then Costa Rica will be a tantalising prospect.
Cycling vacations
, typically guided small group tours, operate pretty much all year round. The Coast to Coast is a stand-out route, taking you through forested, volcanic and coastal terrain over two weeks, climbing up mountain passes and down through valleys filled with plantations until you reach the warm Caribbean. There are exciting multi-country cycling vacations too, combining Costa Rica with Panama and Nicaragua.
Types of vacations & vacations in Costa Rica
All Costa Rica vacations are
adventure vacations
, just with different degrees of adventure. This compact country packs a lot of excitement into its borders, from river rafting to ziplining and rainforest trekking. The latter is always a highlight – you'd struggle to picture a better destination for
wildlife vacations
. Costa Rica is an unforgettable place for
family vacations
– safe and relaxed, and never a dull moment for kids aged from about seven upwards.
Small group vacations
have an inbuilt social element, with new friends to cheer you on throughout and local guides offering a chance to explore Costa Rican culture a little too.