Volunteering in Costa Rica
"Volunteering is about getting into the heart of the country," says Anne Smellie, from our volunteer travel specialists Oyster Worldwide. "You are a part of nature and beauty, and by volunteering you are also experiencing Costa Rica as a local and helping it to stay that way on a project that's genuinely contributing to help."

There's plenty in need of your help in Costa Rica. It's one of the most biodiverse countries in the world, home to about five percent of all known species of plants and animals – and it's not shy about it. Toucans squawk, howler monkeys scream through the canopies, tornadoes of fist-sized butterflies whirl, and sloths reach lethargically for berries. Sea turtles drag themselves onto beaches of parallel coasts to nest in their thousands.

Volunteering is about getting into the heart of the country.

This visible surfeit of wildlife is no happy accident – it's down to hard-working charities, civilian activists and a government that's realised that keeping Costa Rica's rainforests in-tact and wildlife thriving is great for the economy. It's repeatedly snagged the number one spot on the
Happy Planet index
that measures sustainable wellbeing via factors that range from ecological footprint and wellbeing to life expectancy and inequality.
Costa Rica is an environmental champion right now – but that doesn't mean it'll always be that way. Climate change and tourist developments make Costa Rican species like sea turtles and sloths especially vulnerable. A volunteering vacation to Costa Rica is a way of giving them a helping hand.
Starring: sea turtles
Ninety-nine percent of volunteering vacations in Costa Rica focus on sea turtles. Well, who wouldn't? Despite the full metal jacket, sea turtles need all the help they can get. Only one out of 1,000 baby turtles make it to adulthood and their nesting beaches are sinking under the weight of beach hotels and rising water levels.

In typical Costa Rican style, the country has not one but four species of turtle: leatherback, olive ridley, hawksbill and green. They hone in on Costa Rica's double coastline between July and December – and sometimes in huge numbers. There's a near-mystical phenomenon called an arribada, when up to 5,000 turtles arrive to lay their eggs on the beach in the darker dawns and dusks just before the new moon. August is hatching time: when thousands of tiny vulnerable turtles skitter down the beach to the ocean.

Children often make the best volunteers. They're so enthusiastic, so excited, and take all the rules really seriously.

Turtles do most of their work under the cover of darkness, so many volunteering vacations include nightly patrols. "The kids love it," says Anne. "Walking up and down the beach at night… and then: 'There's a turtle.' You collect the data and eggs, then walk a bit further and there's another turtle… Children often make the best volunteers. They're so enthusiastic, so excited, and take all the rules really seriously."
Daytime jobs include disinfecting reusable gloves used to handle turtles and checking hatchery babies to see if they're ready for release. "Be prepared to get stuck in and work," says Anne. "You aren't there to lie on a beach, but to get actively involved in the project."
Turtle volunteering is especially suited to families with children from the age of five – as long as you're the sort of family that doesn't mind living in each other's pockets for a week or so. The pace is Costa Rica-slow, factoring in plenty of time to meet other volunteers. You can manage your own free time, slipping in surf lessons or wildlife river tours. In fact, one of the biggest challenges can be learning to slow right down and seeing what Costa Ricans really mean when they say pura vida.
To the (wildlife) rescue
There's another arm to volunteering in Costa Rica:
wildlife rescue
volunteering in a locally run sanctuary that takes in an assortment of injured creatures. There's usually little standing on ceremony at these sorts of places. You won't be cuddling sloths, but rehabilitating them as quickly as possible so that they can be returned to the jungle pronto. The only permanent residents are rescuees too injured to survive in the wild. Tasks might include preparing food and water, helping with feeding rounds, cleaning enclosures and maintenance work.
These sorts of volunteering vacations tend to be much more structured, working to the hours of the sanctuary – so you might work 9-5 for six days and have free time on the seventh. It's really rewarding, though, and your help will free up trained staff to focus long-term projects – like campaigning for wildlife bridges and educating school children about the value of the forest on their doorstep.
Beyond volunteering
You'll live as close to the animals you're helping as possible on a volunteering vacation, so accommodation tends to be basic. It might be a guesthouse or a rental apartment – usually minus extras like air-con and mini-fridges. Anne adds: "There might be a crab in your shoes in the morning or a frog on the shower wall. Shower water is heated by the sun, so it's not a Herbal Essences ad."

There might be a crab in your shoes in the morning or a frog on the shower wall.

You'll be staying and working with Costa Ricans daily – Costa Ricans with an excellent grasp of English (and often several other languages). Even so, learning a few phrases of Spanish goes a long way. "Have a bit of a grasp of the basics of local language," says Anne, "because you are always going to be working with local people. So, just having the hello, thank you, goodbye and that was delicious if your food is being prepared for you, is brilliant."
A volunteering project is the ideal warm up for exploring the rest of Costa Rica. "They generally use our project as a springboard into the country," says Anne. "You get cultural immersion, get to speak some Spanish, make a contribution and teach kids that there's more to life than Wi-Fi. After you've been looked after and got a feel for the country, then you can strike out independently or on an organised tour."
Our top Costa Rica Vacation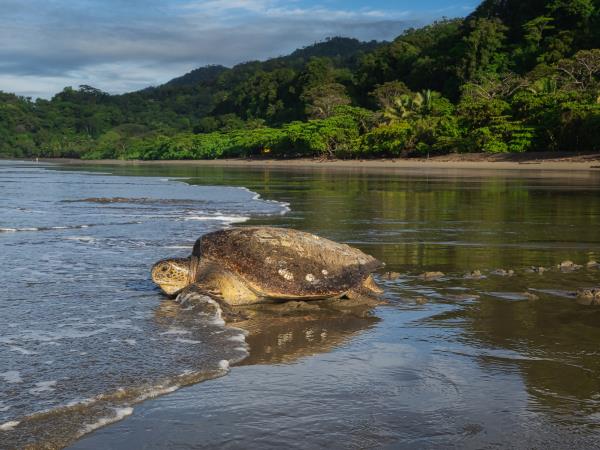 Help research and protect sea turtles and other wildlife
From
£

725
7 days
ex flights
Tailor made:
This trip can be tailor made throughout the year to suit your requirements
If you'd like to chat about Costa Rica or need help finding a vacation to suit you we're very happy to help.

When to go volunteering in Costa Rica
July and August are the most popular times for volunteering with turtles. Families aim for the school vacations, plus August is one of the few times you could catch mothers digging their nests and babies breaking out of their eggs in the same week. The whole sea turtle season runs from July to December, however, so if you're not tied to school dates you can take your pick.

Don't be scared off by the rainy season, either. Anne says: "It can rain really heavily for an hour or two then carry on in late September and early October. It's not the sort of rain that stops play. It's warm, tropical rain and it's a genuine pleasure to sit on the porch in a rocking chair with the rain hammering down. You also get amazing thunderstorms out to sea which you can see at night when you're patrolling the beach."

Volunteering vacations at wildlife sanctuaries don't run to as strict a schedule. Injured monkeys, sloths and birds turn up all year round, so you'll be welcomed at any time of year.
Practicalities
Volunteering vacations in Costa Rica usually last between one and 12 weeks. Families generally opt for two weeks; solo travelers often stick it out for much longer.
Age is but a number. Anyone from five years old upwards is welcome to volunteer in Costa Rica, particularly when it comes to working with sea turtles. Got younger children? Speak to your vacation specialist – they might be able to find a way to tailor the vacation for even smaller kids. Saying that, children will get the most out of it when they're 10 or older; from that age, they can have a go at most tasks and start to understand – and be inspired by – the work they're doing.
Volunteering doesn't tend to be particularly strenuous, but it's worth talking to your volunteering specialist if you have fitness concerns.