Volunteering in Costa Rica travel guide
Our Costa Rica volunteering Vacations
Volunteering in Costa Rica is…
contributing to wildlife conservation and living like a local at the same time.
Volunteering in Costa Rica isn't…
about petting turtles or patting sloths.
Is volunteering in Costa Rica for you?
Go on a volunteering vacation in Costa Rica if…
… you're fascinated by wildlife. Most volunteering vacations here involve wildlife conservation, with turtle projects the most common. Working with one species means being surrounded by lots of others, too, so you get a great overview of the country's animals and marine life.
… you want to live like a tico. Volunteering takes you off the tourist trail and into the heart of Costa Rica, to work with and live within a local community.
… you want an alternative family break. Volunteering with kids is fun and meaningful, with plenty of free time built in to relax and explore.
… you're a solo traveler.There are always lots of other solo travelers on volunteering vacations and the volunteering team becomes an instant friendship group.
Don't go on a volunteering vacation in Costa Rica if…
… you prefer to please yourself on vacation. You will have working hours, jobs and responsibilities, which vary trip to trip. Some vacations include six days a week of work, others are more equally balanced with free time.
… you want a four star hotel. Accommodation is basic and not flash. You'll be staying in a house rented from local people, or in shared dorms in the project base.
… you like to stop and flop. A volunteering vacation is active, with lots of time outdoors and a decent level of fitness required.
… you want to do marine conservation. Costa Rica has wildlife projects, many involving turtle conservation, but for actual marine conservation look to countries such as Belize, Indonesia and Greece.
Our top Costa Rica volunteering Vacation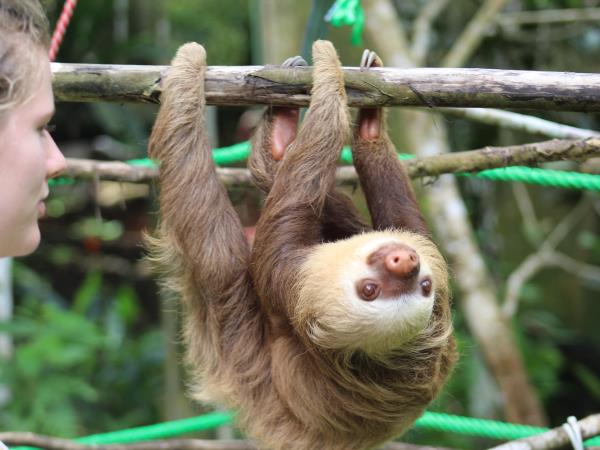 Work with sloths and other wildlife in Costa Rica.
From
£

945

to

£

1745
15 days
ex flights
Tailor made:
This project can be joined on any day of the year
If you'd like to chat about Costa Rica volunteering or need help finding a vacation to suit you we're very happy to help.

What does volunteering in Costa Rica entail?
What kind of work will I be doing?
Most volunteering vacations in Costa Rica focus on wildlife and turtle conservation. Most turtle conservation vacations take place on the Pacific Coast and you'll work with a local team, collecting data and patrolling the beaches at night to reduce poaching. If you come across a nesting female, you will collect data on her and transfer her eggs to a hatchery where they are safe from theft by humans or animals.
At the hatchery you'll be checking for any baby turtles that have emerged, recording how many and then releasing them into the ocean. This is exciting and busy work, as there are often 100 or so hatchlings in a single nest.
In addition, there's often the chance to get involved in education projects within the local community on the importance of conserving turtles, and you'll probably be expected to do a few light chores around the project house, to keep it clean and tidy. Local children often pop by to practice their English and see if you'll put your broom down and join in a game.
Some turtle conservation vacations include working away from the beach, too, monitoring mammals in the forests near the shore. You might help set up trail cameras and learn to identify footprints and there's even the chance to monitor crocodile populations by kayak on the waterways of the Reserva Playa Tortuga.
It's also possible to volunteer at a wildlife sanctuary in Costa Rica, helping care for sloths, monkeys, coatis, kinkajous and other animals, which are rehabilitated and released back into the wild or cared for permanently there. This means preparing food, feeding the animals, cleaning enclosures and doing maintenance work around the sanctuary.
How much work?
During a week-long volunteering break you can expect to work for six days, with a day off to do your own thing. You might choose to relax on the beach, take a surf lesson, or go horse riding or hiking inland. If you're here from mid-July to late October or mid-December to late February, you can take a whale watching tour, looking out for the humpback whales that pass Marino Ballena National Park on the Pacific coast on their way to feeding and mating grounds. On family volunteering trips, the work load is lighter and more flexible, with the option to skip tasks.
Who volunteers in Costa Rica?
Everyone and anyone, is the simple answer. In terms of age, children as young as five right up to people in their 60s and 70s can happily enjoy volunteering in Costa Rica, with turtle conservation work in particular not too physically demanding. Some volunteering vacations in Costa Rica are designed specifically for families, others will take children from five years and upwards, even though they're not marketed as family volunteering. Most people come because they want to help protect Costa Rica's unique wildlife, and because they'd like to step off the tourist trail and live amongst a local community, learning about Costa Rican life – these trips are as culturally enriching as they are good for the planet. They're also brilliant for solo travelers, who quickly settle into being part of a group of people from around the world.
How long are trips?
Most volunteering breaks in Costa Rica last a minimum of a week, but there's usually the option to extend that, with subsequent weeks charged at a discounted rate. Some two-week vacations can be extended to four weeks, for instance, others ask for anything between a one and 12 week commitment. Entry requirements will depend on your nationality, but many travelers will not need a visa to enter Costa Rica and can stay as a visitor for up to three months, so there's plenty of scope for a long volunteering trip. You can usually start your volunteering break on any day that suits you, too. Many travelers choose to volunteer for a week and then travel in Costa Rica after that. This is a great option, as Anne Smellie, from our leading volunteer vacation supplier Oyster Worldwide explains: "Some people just have a two-week break, volunteer and then go home, but those that are more flexible and have three or four weeks generally start with the volunteering project, just to meet new people, get comfortable in a new country, and learn about a new culture and language. They then take the confidence they pick up and use it as that springboard into traveling. It's easy to assume before you arrive somewhere that everyone speaks English or is culturally similar, but when you live and work in a country you can pick up on different nuances, gain an awareness of how to behave respectfully, eat with local people and try local food. So volunteer, then travel. That's the best way round. Get an insight first."
Best time to go
Turtle conservation vacations in Costa Rica only take place when the turtles are nesting and the babies hatching, which is broadly from the beginning of July until January. This means turtle volunteering vacations fall within the school summer vacations – another reason why they're a good option for families – but summer and autumn are also the rainy season so you might catch some short, heavy showers.
If you'd prefer to work at an animal sanctuary, you can travel at any time of the year as there's always an array of species to meet and care for. During the dry season forests will look a little bare, due to lack of rain, so consider coming during the wet season, roughly May to December, when the forests really come to life. Rain usually falls in the afternoons or evenings, and it's still warm.
Do I need experience?
Enthusiasm is generally more vital than experience, as you'll receive full training for any of the work you carry out and be accompanied by a local team. You do need a certain level of fitness, and should be happy to walk for a few miles. It's also good to have an interest in the scientific side of things – date gathering, monitoring, population statistics – and you should be motivated by the bigger picture. Don't come to pat a turtle or pet a sloth; come to fulfil a genuine interest and make a valuable contribution.
Why pay to volunteer?
Although you are giving your time and energy, a volunteering break is not free. This is an organised vacation, booked through a specialist tour operator that has carefully vetted each project and is sure it delivers genuine benefit. The price will usually cover all your accommodation in a shared or private room, all main meals, induction and training, onsite support from a local team and support by phone and email from the volunteering specialist you booked through. Often, transfers to and from the airport or the capital San José are also included. Once on location, additional costs are pretty minimal. You need to cover any personal expenditure and the cost of a few trips or activities – around £50 per week generally covers it. You will receive a great deal of support before you leave home, too, from volunteering guide books to visa and health advice. When you take all this into account, a volunteering vacation is an economical way to visit Costa Rica, taking you to remote regions and connecting you with its people and wildlife in a way few other travelers experience.
More about Costa Rica volunteering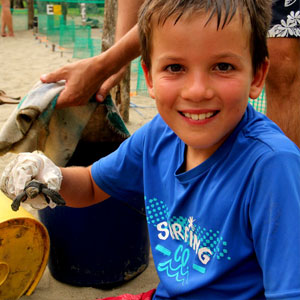 Working with an on-the-ground team to protect turtles or rehabilitate animals in a sanctuary is also a chance to live like a local, enjoy a Costa Rican pace of life and discover hidden corners of this popular country.