Top four volunteering in Costa Rica trips
While Costa Rica does ecotourism brilliantly, a volunteering break here adds another layer of understanding of its environments and wildlife. Volunteering takes you off the tourist trail and deep into a local community, to help a project that creates genuine benefit and to experience total immersion in Costa Rican life. A week or more volunteering is a chance to practice your Spanish, socialise with local people and enjoy wildlife, rainforests and stunning empty beaches.
Our Costa Rica volunteering Vacations
1. Family volunteering with turtles
Family volunteering in Costa Rica tends to involve turtle conservation, since this is fun work that's not too physically demanding. Kids will love releasing babies and protecting nesting turtles. There's always plenty of free time to swim, learn to surf, or just explore the beach, with local children to play with, too, and this is a chance to venture off the beaten track and live like a local. When to go: July to December, when turtles are nesting
Our top selling trip:
Family volunteering with turtles in Costa Rica
Read more:
Turtle conservation travel guide
and
Costa Rica wildlife travel guide
2. Turtle conservation
This is the chance to live and work with local people, as you help protect turtles during the crucial nesting and hatching stages. Join night patrols, monitor turtle nests and ensure just-hatched baby turtles make it safely to the sea. You'll be based on a remote, unspoiled stretch of Costa Rican coast surrounded by wildlife, from whales and dolphins, to macaws and monkeys. When to go: July to December, when turtles are nesting.
Our top selling trip:
Volunteer with turtles in Costa Rica
Read more:
Turtle conservation travel guide
and
Costa Rica wildlife travel guide
3. Wildlife volunteering
Volunteering at a sanctuary that rescues and rehabilitates animals is a great way to work with a huge range of Costa Rican wildlife, including sloths and monkeys. Jobs include preparing food, feeding the animals, cleaning enclosures and general maintenance work. Expect to work six days a week, alongside local staff including animal keepers, biologists and veterinary professionals. When to go: Year round
Our top selling trip:
Wildlife rescue volunteering in Costa Rica
Read more:
Turtle conservation travel guide
and
Costa Rica wildlife travel guide
4. Mixed volunteering
Some volunteering breaks in Costa Rica include a huge range of tasks in various locations, for real variety. Alongside turtle conservation, you might also collect scientific data, do a beach clean and work with an educational collaboration officer to produce materials for schools you'll then visit. There might be mammal monitoring in the forest, too, and the chance to survey crocodile numbers from a kayak. When to go: August to January
Our top selling trip:
Costa Rica turtle conservation experience
Read more:
Turtle conservation travel guide
and
Costa Rica wildlife travel guide
Our top Costa Rica volunteering Vacation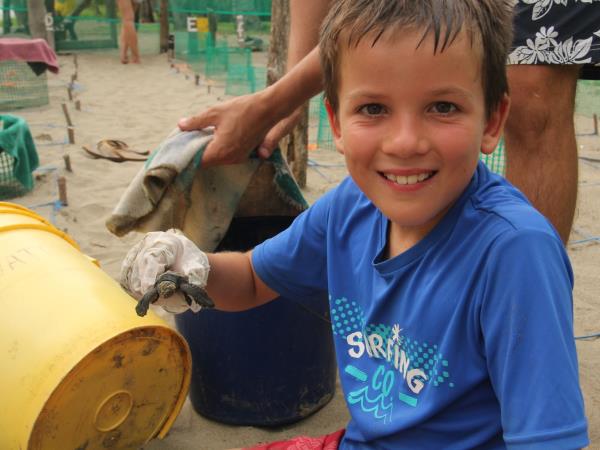 Family turtle conservation volunteering in Costa Rica
From
£

1302
7 days
ex flights
Tailor made:
Tailor made: Flexible departures July - December (nesting season)
If you'd like to chat about Costa Rica volunteering or need help finding a vacation to suit you we're very happy to help.

Advice on volunteering in Costa Rica
Anne Smellie, from our leading volunteering vacations supplier, Oyster Worldwide, shares her Costa Rica tips:
The benefits of volunteering
"There are lots of ways to visit Costa Rica, but volunteering is about getting into the heart of the country. You are a part of nature and beauty and by volunteering you are also experiencing Costa Rica as a local, helping on a project that's genuinely contributing. You'll also be based on the most beautiful beach and can enjoy pura vida which means living at a slower pace. It's a very local take on things, which leaves the hectic Western way behind, and it's wonderful for families."
Volunteering with kids
"Children often make the best volunteers, they're so enthusiastic and get so excited, and take all the rules really seriously. The main job on a turtle conservation trip is done at nighttime when the female turtles are nesting, in between low and high tide. You do one patrol, which takes three or four hours. The kids love it, walking up and down the beach at night. It's not for miles and miles because you start out and then, oh, there's a turtle. You collect the data and the eggs then walk a bit further and there's another turtle. There is lots of leisure time, and the biggest challenge is going from a hectic life to chilling out. It's brilliant for teaching children that it's OK to do nothing."
Age advice
"We recommend five as a minimum age and explain the reasons why, but we've taken children as young as three. People well into their 70s have volunteered with us. Turtle conservation volunteering is not that physically strenuous. Kids come down to the beach to practice their English, you're meeting people, living a slower pace of life, socialising with locals. It plays to everyone's strengths."
Best time to go
"July to August is busiest for families, because of the school vacations. In late September and early October it can rain really heavily for an hour or two but then it clears. It's not the sort of rain that stops play. It's warm, tropical rain and it's a genuine pleasure to sit on the porch in a rocking chair with the rain hammering down. You also get amazing thunderstorms out to sea which you can see at night."
Accommodation insights
"On family volunteering trips, all accommodation is rented from locals. It's basic but that's part of the experience. You are living in nature, with no air con. There might be a crab in your shoes in the morning or a frog on the shower wall. The shower water is heated by the sun so it's not a Herbal Essences ad. It's about getting back to nature."
What to expect
Erin Sparks, from our supplier, Pod Volunteer, shares her advice on managing your expectations: "On every different trip, your role is support the work that the conservation project is doing, so although they may have said that something is due to happen the next day, if it's for the benefit of the animals that you're working with, or for the goal of the project overall that it has to happen in two days time instead, that's the way it is. You have to go with the flow. If you're supposed to be tracking a specific species that day, but then there's issues with the parameter set and you can't find them, it just makes it more special when you do, plus you'll get to see lots of other nature driving to and from sites – you have to understand that when you're working with animals in a natural environment, nothing is guaranteed."
At Responsible Travel, we think the best people to advise our travelers are often... other travelers. They always return from our tours with packing tips, weather reports, ideas about what to do – and opinions about what not to.

We have selected some of the most useful Costa Rica volunteering vacation tips that our guests have provided over the years to help you make the very most of your vacation – and the space inside your backpack.

Buy lightweight long trousers for the evening/late-night patrols. Don't wear shorts as you will likely get eaten by bugs.

"Keep packing to a minimum – lightweight quick dry clothes – and take walking shoes for the beach." – Steve Halsey

"Buy very lightweight long trousers for the evening / late-night patrols. Don't wear shorts as you will likely get eaten alive by bugs. Come stocked with snacks if you have young children. Make the effort to go on every single patrol you are given. Keep asking how you can help and be as involved as you can be." – Antonio Cucchiara



As a family we were made so welcome by volunteers and locals alike.

"Learn some Spanish, get stuck in and if you love turtles and wildlife this is your perfect vacation!" – Helen Parker

"Don't expect the luxury's of home and know that you will quickly understand and appreciate you can enjoy a pure, happy time without not much at all. All facilities and services are available and the food it terrific given the location. Go into the vacation with an open mind, be prepared to muck in, learn heaps, have fun and you won't be disappointed. As a family we were made so welcome by volunteers and locals alike. We had plenty of time during the days to do what we wanted and we never got restless, infact we got into relax & go slow mode quite quickly and the days just flew! Having the Spanish language wasn't essential but was helpful in getting to know the locals." – Simon Wrench
More about Costa Rica volunteering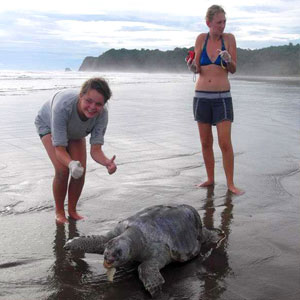 From feeding sloths in a sanctuary to saving turtle eggs from poachers, a volunteering vacation in Costa Rica is a rewarding opportunity to work with and for the wildlife of this biodiverse nation.