Costa Rica cycling vacations guide
A cycling vacation in Costa Rica offers the best of both worlds. The roads are in good condition for riding on, there is a well established network of ecolodges and guesthouses, plus opportunities to spending an afternoon kayaking or hiking with a naturalist guide. But cycling means you can leave the more touristy spots far behind – pedalling along the back roads, pausing in forgotten pueblos, perusing roadside fruit stalls.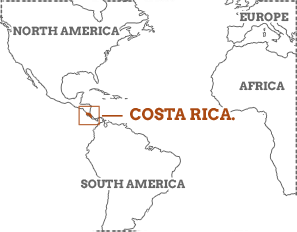 Costa Rica is packed with highlights. Traveling between them by bicycle allows you to join the dots, appreciating not just the main attractions – but the whole glorious picture.

Joining a small group cycling vacation in Costa Rica gives you the independence of being on two wheels, with the reassurance of an expert team – from a support vehicle and regular stops to refuel and rehydrate, to someone to cheer you on when the heat and humidity kick in. Plus, they'll keep an eye on your bike and are on hand should anything start to wobble – including you. This leaves you to keep your eyes off the bike and on the surrounding scenery, spying sloths wrapped around trees, and electric blue morpho butterflies bobbing along beside your bike.
Go on a cycling vacation in Costa Rica
Go on a cycling vacation in Costa Rica if…
...you want to explore other countries, too. Costa Rica is small, and Nicaragua and Panama can easily be included in your two-wheel itinerary.
...you love rice and beans. Gallo pinto is the national staple – but on a cycling vacation you'll earn this dose of carbs at every meal (yep, even breakfast…)
...you can cope with heat and humidity. For many cyclists, the toughest part of a cycling vacation in Costa Rica is not the hills – which you can train for – but the climate.
...you're not confident with bike maintenance. Expert tour leaders are with you to ensure everything's in working order – you just need to be able to ride! Support vehicles also accompany you 100% of the way.
Don't go on a cycling vacation in Costa Rica if…
...you're not prepared to pedal up a few hills. Costa Rica is a mountainous nation, so even leisurely tours are likely to involve some climbs.
...you don't mind a bit of rain. There's rainforest, cloud forest, tropical coastlines and everything in between – so at some point, you will get wet.
...you're not into socialising on vacation. You and your fellow travelers will literally be sharing highs and lows of the trip – for many, the team spirit is the most enjoyable part.
...you're in it to win it. This is not a race; taking a moment to enjoy Costa Rica's astonishing wildlife and scenery are just as important as reaching the end.
If you'd like to chat about Costa Rica cycling or need help finding a vacation to suit you we're very happy to help.

Best time to go on a cycling vacation to Costa Rica

December to April are the best months for cycling in Costa Rica – with less rain, and less ferocious heat.

If traveling at this time, be sure to book in advance to beat the crowds – and pack a mac and waterproof bags, as rainforest, cloud forest and tropical coastline mean you could get a soaking at any time. Trips run in July-Aug too, but avoid the summer unless you're tied to traveling then; prices soar and the stormy weather makes for sad cycling conditions. You'll spot wildlife year round, but if there is anything which particularly appeals – such as migrating birds or nesting sea turtles – our Costa Rica guide offers tips on the best times to see these.
More Costa Rica cycling articles