Best beaches in Costa Rica
Small is so very beautiful when it comes to Costa Rica. This tiny country packs incredible biodiversity and landscapes into a petite footprint, with its coastline one of its biggest and most alluring features. Lapped on one side by the Pacific Ocean and on the other by the Caribbean Sea, the beaches in Costa Rica are diverse, each boasting a unique appeal: from the dreamy combo of white sand and palm trees, to rugged coves backed by tropical rainforest; from chilled Caribbean surf spots, to dark, volcanic beaches where sea turtles nest.
There are some key differences between Costa Rica's two coastlines. Size is one. The Pacific coastline is some 1,254km long, but the Caribbean coast measures only 212km. Both have an abundance of beaches, or playas, though the Pacific is home to more big resorts than the lower-key Caribbean. The north Pacific coast is the main hub for marine activities, such as scuba diving and some great surf. The warm waters of the southern Caribbean are also known for surfing, and are home to pods of bottlenose dolphins. Take a boat tour from Puerto Viejo to see them.
May to November are the rainy months, often featuring short, heavy downpours, and the rain falls mainly on the Caribbean coast, with the Pacific experiencing a drier climate. In general, the surf is best on the Caribbean coast during the dry season, and on the Pacific Coast during the wet 'green season'.
Cahuita
Cahuita National Park on the southern Caribbean coast is fringed by coral reefs, and the snorkelling is spectacular. Once you've admired life below the waves, relax on some of the most beautiful beaches in Costa Rica, or go dolphin watching, kayaking or biking. There's great surfing here, too. The vibrant little village of Cahuita is a good place to chill for a couple of days, enjoying the free-spirited vibe and filling up on the spicy food, full of zesty flavours. Inland, it's easy to see monkeys, sloths, iguanas and tropical birds.
Puerto Viejo de Talamanca
This laid-back village down the Caribbean coast from Cahuita has some of the best surf in the country. You can hire a bike and cycle to secluded beaches for a spot of sunbathing, too, and from here visit the Jaguar Rescue Center, where species native to Costa Rica are rescued, rehabilitated and released back into the wild. The town itself has two sides. The main street has a party vibe, featuring dancehall and reggaeton bars and modern restaurants, but you don't need to venture far to find great surf beaches, rainforest fruit farms and family homes. The area is home to a mix of Afrocaribbean, European and indigenous populations.
Tortuguero National Park
This national park is home to 13 of Costa Rica's 16 endangered mammals, but is most known for its green turtles, which come ashore between July and October to lay their eggs on the beaches. Lesser numbers of the critically endangered hawksbill turtle, plus loggerheads and huge leatherback turtles also nest within the park at different times of year. Once you've admired them, explore inland. Tortuguero's canals and rivers are a study in rainforest, freshwater and marine ecology – Costa Rica's version of the Amazon.
Our top Costa Rica Vacation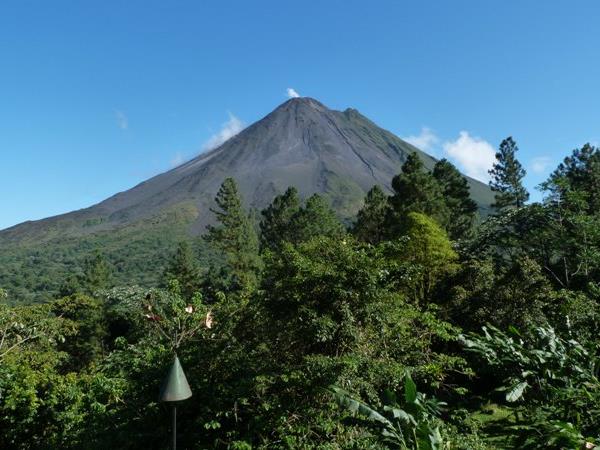 Short highlight itinerary covering city, forests and beach.
From
£

1995
13 days
ex flights
Tailor made:
Everything is tweak-able, giving you the freedom to build a unique and personal trip for your chosen date. Upgrade your accommodation for all - or just part - of your trip, slow down the pace with few extra nights here and there or add a few more active adventures along the way.
If you'd like to chat about Costa Rica or need help finding a vacation to suit you we're very happy to help.

Manuel Antonio National Park
Manuel Antonio National Park protects coastal forest, mangroves, beach and ocean. It's one of Costa Rica's most diverse parks, but also one of its most visited, with many people heading here for the white sand beaches and turquoise seas rather than the wildlife. It's still possible to find quiet spots though. Hike to peaceful Playa Biesanz to the north, which sits within a sheltered cove, or make for the long, sandy strips extending around the headland of Punta Catedral, which are wonderfully secluded and set against an evergreen forest backdrop that grows right up to the high-tide line. Just offshore, there are 12 small islands and you can sometimes see migrating whales.
Caño Island
The majority of Caño Island is off limits, and daily visitor numbers are restricted, but its main beach, San Josecito is one of the most beautiful in Costa Rica. Relax with a picnic here and, if you're lucky, you'll be joined by curious capuchin monkeys, coatimundi and scarlet macaws. Bring your snorkelling gear, too. The island's two snorkelling areas offer incredibly clear water and a huge variety of marine life, including hawksbill and olive ridley turtles, manta rays and white-tipped reef sharks. To get here, it's a 45-minute boat ride from Drake Bay, during which you might see playful dolphins and migrating whales – orcas from December to April and humpback whales July to November.
Nicoya Peninsula
Costa Rica's driest region is also home to some of its most beautiful beaches. Its extensive coastline has tranquil sands for relaxation, but also wind and waves to keep surfers, sailors and windsurfers happy. You can kayak, body board and scuba dive here, too. The village of Samara makes a lovely base, with a long, often deserted sandy beach, complete with palm trees, and no big resort hotels. Just offshore is Isla Chora – kayak out to its uninhabited white sand beach, the perfect spot for snorkelling. Wildlife fans should spend a couple of nights in Ostional, too, where thousands of olive ridley turtles arrive between August and December, just before the new moon, to bury their eggs in the black volcanic sand.
Osa Peninsula
Wild and remote, the beaches of the Osa peninsula can be tricky to reach. Drake Bay, for instance, is only accessible via a boat ride through the mangroves from Sierpe or a 4WD-only road. It's backed by a jungle full of exotic wildlife and lapped by beautifully clear water; from here, a 17km coastal trail leads to the entrance of Corcovado National Park, which covers around a third of the peninsula. It's Costa Rica's largest park, but receives far fewer visitors than the others and has a sprawling 39km of golden shoreline. Over on the east of the peninsula, Playa Platanares is excellent for swimming and sunning, just 5km from Puerto Jimenez.
Tamarindo
This town has beautiful white-sand beaches that are easy to access, including Playa Tamarindo and Playa Langosta, and is a favourite with surfers and windsurfers. Take surfing lessons here (the beaches are perfect for novices) or body board, scuba dive, kayak or sail. This region's popular with tourists, but with so many activities on offer, people tend to spread out, rather than crowd into one place, so the vibe is relaxed. To the north, Playa Grande is part of Las Baulas National Marine Park and a major nesting site for massive leatherback turtles.