Cycling in Cyprus travel guide
Day breaks over Cyprus and road cyclists are already saddled up for Troodos Mountain cols and cooler temps away from the flatter, sandier stretches around the coast. Mountain bikers head to Paphos for forest floors or opt for the mule paths interconnecting the Besparmak and Kyrenia mountains. A steep ascent to the top of Mt Olympus promises legendary views; whereas the ridge running along the wonderfully wild and unkempt Akamas Peninsula encourages off road antics overlooking Lara Beach and the Baths of Aphrodite.

Expand Mediterranean horizons on free flowing pine forest trails, deserted tarmac roads and gnarly gravel MTB tracks – ideal for those who like to mix things up on and off road.

Cycling in spring or autumn is certainly best advice although, in summer, if you don't mind an early start followed by a swim and a little lie down after a meze lunch; who are we to judge? Cyprus suits cyclists seeking seclusion with bike hire, maps, pre-programmed GPS routes, luggage transfers between B&B's, and emergency support, all included on a tailor made vacation.
IS A CYPRUS CYCLING HOLIDAY FOR YOU?
GO ON A CYPRUS CYCLING HOLIDAY IF…
... self guided cycling is your thing. Our Cyprus cycling vacations include route guides and GPS units as well as mountain bike hire or electric bikes, in some cases.
… you're not planning on pedalling too far. Cyprus has a real variety of trails many of which switch between off road and tarmac. Daily distances are up to you but 30-50km is usually the norm.
… you prefer cycling outside of summer. Cyprus can get very hot in July and August. It's still possible to cycle in the summer although early starts are required to avoid overheating.
… breakfast is your most important meal of the day. Cypriot yoghurt, nuts and honey followed by freshly grilled halloumi, sesame bread, tomatoes, cucumber, olives and good strong coffee.
Don't go on a cycling vacation if...
… you only like tyres on tarmac. Several of our cycling routes, especially around the Akamas Peninsula, will take you off road via some rough and rugged coastal tracks or up and over ridges. … you're up for Agia Napa. We think cycling to Latchi harbour for a cool bottle of Keo or a glass of dry white at the Vasilikon winery is much more rewarding than the clubs and bars of southeast Cyprus. … you want to be part of a peloton. These are not competitive trips. Racing to the finishing line is not only out of keeping with the Mediterranean vibe, it's also unpleasant in the Cypriot weather. Take your time, and make the most of the scenery, food and culture.
Our top Cyprus cycling Vacation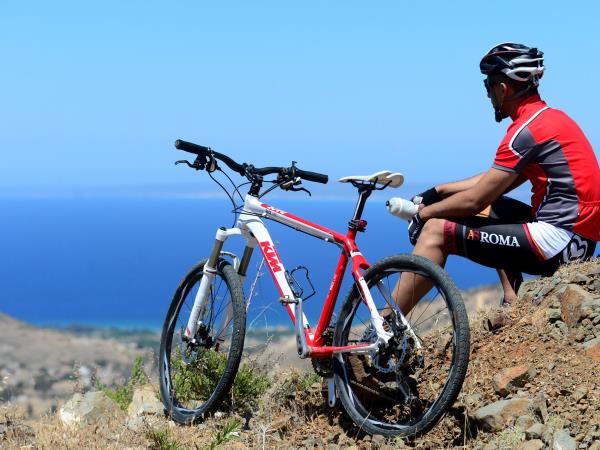 Self-guided cycling & cultural vacation in Troodos
From
€

1120

to

€

1700
8 days
ex flights
Tailor made:
This trip can be tailor made throughout the year to suit your requirements
If you'd like to chat about Cyprus cycling or need help finding a vacation to suit you we're very happy to help.

WHAT DO CYPRUS CYCLING HOLIDAYS ENTAIL?
Self guided cycling vacations are the way to go in Cyprus. Routes have been tried and tested and bikes are fitted with pre-programmed GPS units to complement route info cards. You'll have the chance to rest whenever you wish and find a pace that suits you without worrying about keeping up with the rest of the pack. The added security of luggage transfers and emergency support lets you pedal with confidence as part of your very own tailor made itinerary. Some vacation companies offer a lift to the start of a trailhead, often the highest point, before explaining the way down and leaving you to it.
What can I expect?
Cyprus has enough variety to suit all types of cyclist. You'll find hundreds of kilometres of vehicle width gravel trails and rocky mule paths, as well as smooth dirt roads running through forests and up into the mountains. The Troodos Mountains, in particular, offer some technical rides and steep single track climbs, especially if you want to head to the top of Mount Olympus – ideal for MTBs. Paved roads away from busy ancient sites and resort towns are quiet and almost car free, especially outside of summer. Flat coastal paths and roads take you between secluded beaches and seaside villages. The Akamas Peninsula, in the northwest, and the Karpasia Peninsula, in the northeast, are the wildest stretches of coastline; they're great for secluded sandy cycling on paths and roads with off road options, too.
Daily distances vary but won't usually be greater than 30km. Many of the routes have a 50/50 split between off road and on. Quality mountain bikes, not hybrids, have been chosen to suit this combination, even if only riding off road for a short section. Road bikes can also be hired and trips can be tailored to include only tarmac. If you're cycling from Nicosia to the Akamas Peninsula (200km), electric bikes are ideal for easing around narrow rural roads and villages. Of course, you can bring your own bike if you wish, although hire bikes are really rather good, if you like to travel light.
Who's best suited to a Cyprus vacation?
Who's best suited to a Cyprus vacation?
If you're planning on sticking to roads then there will be plenty of hill climbing involved, which can be a challenge; Team GB used Cyprus as their winter training base for the 2004 Olympics. Alternatively, steep off road gravel tracks and long and winding forest paths will put MTB lovers through their paces. For those that prefer a blend of both, Cyprus excels. Being tailor made, these cycling vacations allow you to choose the distance and the routes to suit your own preferences. Lazy days around the coast; cooler inland climbs for sensational scenic views; short distances between villages or picnic spots – that sort of thing.
Point to point or center based?
Point to point or center based?
Our Cyprus cycling vacations include two or three B&Bs that you'll cycle around over the course of a week. These small, locally owned accommodations are situated in the northwest, around the Akamas Peninsula, which has loads of lovely villages along the route from Nicosia to Akamas. Luggage is transferred by vehicle, and you can get a lift if you fancy a rest from pedalling.
It's also possible to stay at one hotel for the whole vacation, which saves on packing and unpacking; Northern Cyprus is great for this. You'll still get to see plenty of the coastline, and sections of the Five Finger Mountains, thanks to daily drives to different trail heads.
BEST TIME TO GO ON A CYCLING HOLIDAY IN CYPRUS

Cycle either side of summer in Cyprus or stick to shaded forest trails, early starts, and cooler temps around the top of the Troodos, especially the summit of Mt Olympus.

Spring is the best time to go on a cycling vacation in Cyprus, when the Akamas Peninsula succumbs to scents of wild rosemary and almond blossom carried in on sea breezes. Although you might experience sunshine and showers, the sight of the countryside in full bloom really takes your breath away. Sea temps are starting to rise and in May-Jun it would be rude not to take a dip. It's too hot in Jul-Aug for cycling although an early start will counteract the heat. Sept, Oct, and early Nov are still warm especially around the coast, and are lovely for cycling.
WHEN TO CYCLE IN CYPRUS & WHEN NOT TO
January and February are still slightly wet in Cyprus. If you can withstand cooler evenings and panniers packed for all eventualities you'll be treated to almond trees in full bloom, citrus groves buoyant with fruit and intermittent bursts of brilliant sunshine.
By March and April, temperatures are starting to rise. Spring is peak cycling season and you'll discover roadsides fringed with wild flowers and herbs, perfect for perfumed picnics.
May and June in Cyprus are starting to really heat up so take care if cycling in the midday sunshine. The sea will also be getting warmer so consider cycling to the coast for a dip followed by lunch before disappearing for a mid-afternoon siesta.
If you're interested in a nocturnal excursion during May, June and July, this is nesting season for green and loggerhead turtles on the beaches of northern Cyprus. Baby turtles then hatch and scamper to the sea around 50 days later. This is an amazing spectacle and only to be observed in the company of experts who have the turtles' best interests at heart.
Summers in Cyprus – July and August - are frying pan hot but if you're up for a mega early start you'll find empty roads and deserted trails accompanied by the dawn chorus. Be aware that coastal roads will also get a lot busier during the summer which can be frustrating when added to the extra heat.
September and October can still be a little hot but head into the Troodos Mountains or onto a shaded trail through Pathos Forest and you won't go far wrong.
Although November and December might well feature the odd downpour, the end of the year in Cyprus is still a good time for cycling. Evenings will get cooler as the sun sets just after 4pm. Roads are really quiet in the winter which is why the pros head to Cyprus to kick start their training.
For more information on the best time to visit Cyprus check out our Cyprus guide.
More about Cyprus cycling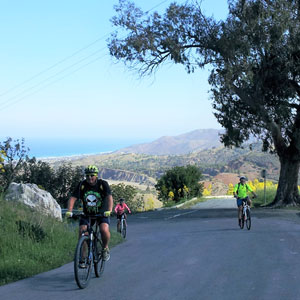 Our Cyprus cycling routes showcase the island's rugged mountains and sandy coastline as well as the UNESCO sites in between Nicosia and Akamas...