The word safari stems from the Arabic safara, to travel. And that's exactly what you do on a husky safari in Finland – you travel, fast and almost silently across the snow, with a team of huskies pulling your sled through the frozen landscape.

If that sounds exciting, it is! Expect the dogs to be barking frantically and bouncing about just before you set off, but once happily running, things become almost silent. The only sound is the dogs' paws padding against the snow and the sled runners skimming across it. This is an experience that manages to be both adrenalised fun and incredibly peaceful, and the surge of excitement you feel as you head away from the husky farm and into the wilds is unbeatable.
A husky safari in Finland is also your unique and exhilarating ticket into some of the world's last true wildernesses. Lapland in the Finnish far north is the best destination for husky safaris, where the snow falls heavily each year and mile upon mile of pristine, untouched winter wonderland is waiting to be explored. This is a landscape that is difficult to access any other way. Thanks to the odd wilderness cabin dotted here and there, it's also a landscape you can live in for a night or two – the most immersive husky safaris last several days and head deep into the wilds, through snowy forests and across frozen lakes and plains.
Our Husky safari Vacations
What does a husky safari in Finland entail?
Husky safaris crop up on lots of Finland winter vacation itineraries, but they vary in duration, distance and makeup. A taster husky safari might be included in a short break or multi activity vacation. This might fill an afternoon, lasting about four hours and taking you around 20km. You'll have full instruction on how to drive the dogs, and a chance to learn about them, too, before setting off.

If you're after something more immersive, with more time in the wilderness and more canine interaction, then choose an overnight husky safari. On this kind of trip, you drive your husky sled all day and stay in the wilderness in a cabin by night, and you'll be responsible for your own team of four or six dogs – preparing their meals (usually frozen reindeer meat), settling them down at night and giving them breakfast in the morning.
You'll quickly build up a relationship with the dogs, getting to know their different personalities, and discover just how friendly, tough and beautiful these huskies are. The experience of working with and encouraging your dog team is really special and saying goodbye to your trusted canine chums at the end of your trip can be emotional. If you love nature, love active adventure and love dogs, look no further – this is pretty much your dream trip.
Immersive husky safaris can last two days or up to five, traveling through Christmas-card scenes of snowy forests and frozen lakes. Each day, you'll typically cover around 25-40km, depending on weather conditions and the ability of the group. This is an active trip, with wake up often around 7am and bed around 10pm, and you'll be involved in setting up camp as well as caring for the dogs – think wood chopping, loading and unloading the sleds, helping with cooking.
You'll cook over open fires, using local ingredients, and then snuggle up under reindeer blankets in a cabin at night. The Northern Lights might flicker across the night sky, and the absolute stillness of the forest is your silent lullaby. Throughout, you'll be accompanied by qualified and experienced wilderness instructors, and these local guides will have stories to tell, myths to share and secret paths to reveal.
David Rampersad took a husky safari with Responsible Travel to Finnish Lapland and has this memory:

"Driving the sled out first thing in the morning at -20° in the sunlight. There was hoarfrost on the trees which made them look like Christmas trees as they sparkled in the sun. There were ice crystals in the air which looked like glitter. It was extremely beautiful."
Both small group and tailor made husky safaris run in Finland, with tailor made trips giving you flexibility over departure dates. Trips run December to late March, sometimes April. If the husky safari is part of multi activity trip, you might also visit a reindeer farm, and try snowshoeing and cross country skiing. In Lapland, you can also visit the Siida Sámi Museum in Inari, and the Sámi parliament – both excellent ways to learn about the local culture, language and traditions, and the eight seasons of the north. Look out for the Northern Lights, which may or may not appear. Star gazing is also fabulous when the clouds part, since there's no light pollution this far north.
Our top Husky safari Vacation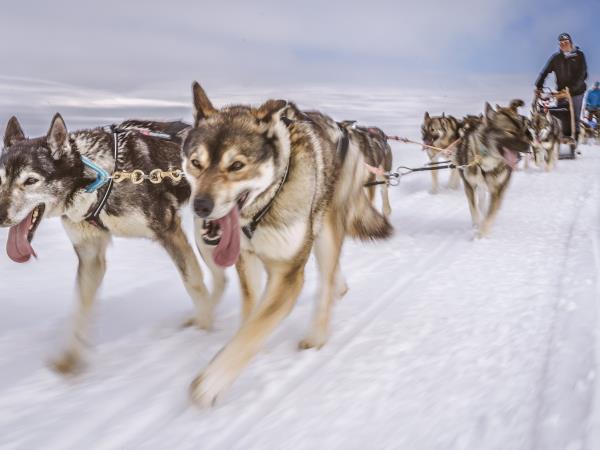 Sled with huskies through spectacular Finnish scenery
From
£

2945

to

£

3488
8 days
inc UK flights
Small group travel:
2023: 16 Dec, 23 Dec, 30 Dec
2024: 7 Jan, 14 Jan, 21 Jan, 28 Jan, 4 Feb, 11 Feb, 18 Feb, 25 Feb, 3 Mar, 10 Mar, 17 Mar, 24 Mar
If you'd like to chat about Husky safari or need help finding a vacation to suit you we're very happy to help.

Do I need any experience?
Other than a love of dogs and a willingness to get stuck in, you don't need any experience to join an overnight husky safari. You'll be trained and supported by experienced local guides, who will take you through all aspects of the husky safari, outlining safety issues and giving advice on how best to work with and guide your dogs. There is sometimes a short, trial run before heading out into the wilderness, too. Expect to be taken out of your comfort zone a little – and to fall off a few times – but it won't take long for you to become a competent musher. The dogs are highly trained and intuitive and will understand your commands.
You do need to have a reasonable level of fitness. You'll be busy all day. Driving the sled takes some strength, and helping around camp is physical. Chopping frozen reindeer meat for the dogs, and lugging wood and water to the wilderness cabins is hard work in deep snow. The cold itself can tire you out, so you'll need extra calories. Happily, the catering on husky safaris is usually delicious and generous.
What about the cold?
Cold weather gear is always included on these trips, typically a very warm set of overalls and some suitable shoes for the snow, but it's a good idea to bring plenty of layers. Hand and foot warmers are also really helpful for keeping your extremities toasty. The temperatures in and around Lapland can drop to -30°C. Your clothes don't need to be waterproof though, because at those temperatures you won't get wet.
Can you take kids?
You can certainly experience a husky safari on a family vacation to Finland, but full on husky safaris, which involve driving your own sled, carry age restrictions. Young children simply aren't strong enough to handle a husky team, so the minimum age is often 18. On a family trip, husky safaris of around 17km are possible, kept reasonably short so there's no risk of little ones getting cold. Typically, you travel in pairs with children in the guide's sled and the adults sharing one dog team between two.

You can also enjoy a husky ride during the summer, riding on a 'Husky Mercedes', which is a specially adapted cart with wheels, pulled by huskies around a circuit. Adults can try driving whilst the children sit safely in the cart.
Is a husky safari responsible?
Husky safaris are not a traditional means of transport in Finland (they began in the 1960s) but they are a brilliant way to explore the wilderness. Rest assured that the dogs are adored and valued by the safari operators. Dogs are not shouted at or coerced and the humans are being led by the dogs, not the other way around. Expect to see the dogs tied up when not in the sled, but this is to stop them running away – running is what drives them, after all – and attacking livestock.
Husky safaris in Finland are operated along strict, responsible lines, but obviously do ask your tour operator about their environmental stance. Generally, the guides leading husky safaris see working in the national parks of Finland as a real privilege and have huge respect for the environment. There will be a strict 'leave no trace' policy in operation, which everyone adheres to, with litter disposed of responsibly and recycled where possible. Meals are cooked using local ingredients and the wood for stoves and campfires is sustainably sourced. Usually, established campfire areas are used, too.
Obviously, dog sledding itself is pretty low impact and requires no fossil fuels. Routes are typically well maintained set trails and due to the low temperatures and permafrost, there is little trace of any of these routes come the summer months. Taking a dog sledding safari in Finnish Lapland also provides valuable income to local people, with tourism now the main source of employment here. To ensure that your money really does flow directly to local people, make sure you stay in locally owned hotels and use local suppliers.
Best time to go on a husky safari in Finland
As you'd expect, the best time to go on a husky safari in Finland is during the winter, when the snow is thick and ready for the sleds to scoot across it. Late January to the end of March is perhaps the best time, as December days are very short, and Christmas can be busy with mass Santa hysteria! January has clear skies. March is also prime time for the Northern Lights.