Land based tours of the Galápagos
Think 'Galápagos vacations' and what springs to mind: island hopping on cruise ships? Sailing schedules? Nights at sea, at the mercy of the waves? In the past this was certainly the case, but these days, Galápagos land tours offer travelers a much more affordable opportunity to go beyond the boats and into the landscapes of one of the world's most exciting, animal-filled archipelagos.

Land tours in Galapagos put tourist funds where they're needed most: into the pockets of local people, the Galapagueños. Staying on land gives visitors a fuller understanding of the islands' natural habitats as well as delving deeper into the cultural history and the day to day lives of around 30,000 human inhabitants. Land based tours encourage travelers to make the most of the inhabited islands of San Cristóbal, Floreana, Isabela and Santa Cruz, staying in locally owned hotels and guesthouses where you'll experience the marketplaces, cafes and coastal village restaurants.
Although you're based on dry land there are still plenty of opportunities to sail to uninhabited islands, such as North Seymour and Bartolomé, where you can seek out spots for snorkelling, sea kayaking or swimming with sea lions and turtles. You might not get as far from the main islands as you would on a liveaboard boat; however, you will experience local Galapagueño culture as well as having the freedom to explore with a guide long after the cruise ship tourists have packed up and headed back to sea.
Daniel Pawlyn, from our Galápagos land based vacation supplier, Intrepid Travel: "Being land based, we got a good chance to absorb the different atmosphere and observe the way of life on the islands. We visited Santa Cruz's fish market early in the morning, watched pelicans beg for scraps, ate wonderful seafood in local restaurants and bumped into sea lions on the way home from the pub… experiences that you might not get on a liveaboard. All the islands we stayed on were inhabited and we stayed in the 'main towns', often with sandy streets and a sleepy feel."
What are the benefits of a Galápagos land based vacation?
If you're not keen on spending too much time at sea, the benefits of a land based tour are quite apparent. For instance, you don't have to worry as much about sea conditions – which tend to be rougher from June to November. Land based tours are also highly recommended for families, as they alleviate the pressure of being cooped up on a boat. There are also no rigid sailing itineraries, and plenty more freedom for children to run around and explore in their own time. Staying on dry land, as a family, can also make things feel a whole lot more familiar too and settle children, and parents, who may feel they have to keep an eye on younger kids while they are up on deck.
By staying in hotels, land based tours of the Galápagos dramatically cut the cost of a vacation. And while boats are fine for children, by giving them space to run around safely you can make the experience much more enjoyable for them, and relaxing for everyone. On land-based tours they have a bit more freedom to go wild.
One more perk: although there are plenty of Ecuadorian-owned boats and local crews, there's nothing like staying at a locally owned guesthouse or eating out at a neighbourhood restaurant to ensure your hard-earned vacation funds go directly into the pockets of those who should benefit the most.
Our top Ecuador Vacation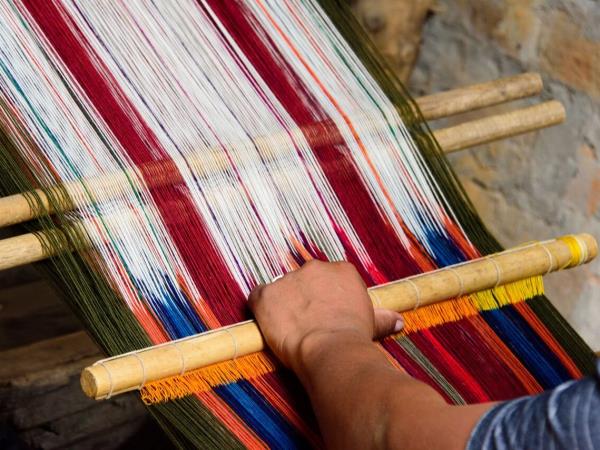 Private in-depth tour of Ecuador and The Galapagos
From
£

6800

to

£

7900
22 days
ex flights
Tailor made:
This trip can be tailor made throughout the year to suit your requirements
If you'd like to chat about Ecuador or need help finding a vacation to suit you we're very happy to help.

When is the best time to go on a Galápagos land based tour?
Seasons are split into cool and dry (June – November) and warm and wet (December – June). Wildlife in the Galápagos doesn't actually disappear at any point during the year; however, warmer sea temperatures and clearer underwater visibility make any time between December and June the best time to go on a land based vacation, despite the threat of rain.

The majority of animals breed and nest during February, March and April, to coincide with spring flowers and insects, perfect for hiking trips, whereas giant tortoises hatch during November and December. Rougher sea conditions, including strong currents, from June to November, often cause sailing ships to batten down their hatches however, for land based travelers, cooler temperatures and a lack of rain signal a good time to go to the Galápagos without the crowds and without the humidity.
Fausto Sarango, General Manager for Ecuador and the Galápagos at our partner Intrepid Travel, recommends the best time for a Galápagos land tour:
"Land based trips on the Galápagos are run throughout the year however, I'd advise avoiding July and August if you're not good with rougher and colder seas. Although it's a land based trip we travel between islands on speed boats which can bump around on heavy seas. There is no 'best time' for wildlife – you can see everything throughout the year."