Best time to go to El Salvador

Looking to surf in El Salvador? Travel there from April to October. Just be sure to bring a brolly so you don't get soaked once back on 'dry' land…

El verano – summer – in El Salvador is from Nov-Mar. This is the best time to go to El Salvador, as it's the driest time, and you'll avoid the worst of the heat in March and April, before the rains hit in May, lasting through to Oct. However, overall the temperatures vary little throughout the year; and you'll find greater shifts in heat depending on the altitude than the season. The coast and lowlands are consistently hot, while the mountains are much cooler, with the highest regions sometimes dropping almost to freezing.
When to visit El Salvador month by month guide
In December , the weather is dry, but the landscapes are still lush and green following the recent rains. However, this is peak season in El Salvador; book well in advance and expect higher prices. December is also the coolest month; expect near freezing temperatures overnight if staying in the mountains. March and April , too, are particularly busy months thanks to Easter holy week, or Semana Santa. Expect international tourists as well as plenty of vacationing Salvadorians; book well in advance. January to February promise sunny days, lower humidity and slightly cooler temperatures. They still fall within peak season, but without the peak crowds of Christmas and Easter. Remember, though, that this is the tropics; sudden downpours can occur at any time, so come prepared. The end of November is also a great time to visit El Salvador, as it's much quieter – and without peak season prices – but the rains have eased off. By late April into May , things start hotting up – and the rainy season arrives. The downpours last through to early November , and some national parks, such as Montecristo, may close at this time. June , July and August are very wet, with precipitation peaking in September. Hurricanes are very rare, as the country is on Central America's Pacific coast, rather than the Caribbean. Confusingly, Salvadorians refer to this hot, wet season as invierno – winter. Verano – summer – is from November to April . August is particularly busy in El Salvador despite the rains, as some of the biggest festivals take place during this month. These include Fiestas Agostinas in San Salvador, with parades, marching bands and food stalls, as well as the 'Balls of Fire' festival in Nejapa, during which fire throwers commemorate the eruption of a nearby volcano – with quite alarming results. Sea turtles nest from May to September, with the hatchlings emerging around eight weeks later. The idyllic Jiquilisco Bay is one of the best areas to witness them on the beach.
El Salvador Weather Chart
What to do in El Salvador
Things to do in El Salvador……
El Salvador's Pacific coastline will delight wildlife fans, twitchers, surfers and anyone who likes to watch the sunset while sipping from a coconut. Jiquilisco Bay is a labyrinth of islands, mangroves and channels, where you can kayak out to spot rare birds, and see hawksbill turtles nesting from May to September. Surfers should head to El Tunco, a popular spot for urban Salvadorians to get away from it all. The black sand beach is lined with caves and curious rock formations and you can rent a board to tackle the surf. The Gulf of Fonseca, meanwhile, is bordered by El Salvador, Honduras and Nicaragua; small boat cruises reveal volcano views, small fishing villages and perhaps the odd dolphin. For a gorgeous tour-within-a-tour, head to the Ruta de las Flores – the Route of Flowers – a 36km route which passes through quiet, traditional villages and weekly markets, all lined with colourful wildflowers in the dry months. Juayúa's food market is a real highlight. Each Sunday, the streets are shaded beneath tarpaulin, and filled with plastic tables and chairs; you may be able to sample various specialities before choosing a plate to tuck into. Many colonial towns are also leaping off points for waterfall treks and crater lakes, as well as coffee plantations; visit the farmers and learn how to prepare coffee from bean to cup.
Things not to do in El Salvador……
Ignore the history. While El Salvador's past should certainly not deter you from visiting, we strongly recommend learning as much as you can about recent events. The 1979-1992 civil war feels all too recent for many Salvadorans, whose loved ones were killed, injured or disappeared. Follow the Ruta de la Paz through a former opposition stronghold to learn about how the war unfolded, and visit El Mozote, a farming village where 800-1,000 civilians were massacred, to meet local residents. At the Museum of the Revolution, your guide might be a former guerrilla. Avoid the capital. Central America's cities don't have the best reputations, but that's all the more reason to explore San Salvador, a pretty colonial city whose wide boulevards and leafy plazas are safe to stroll around – a rarity in the region. Discover Mayan and indigenous Pipil history in the Museum of Anthropology, and more recent history in the Military Museum, which displays the 1992 Peace Accords. There is plenty of unusual architecture, too, with Art Deco mansions, and the almost German castle-style Castillo Venturoso. Miss out on the food. El Salvador is famed for its pupusas– corn tortillas stuffed with pork, cheese, beans and/or veg. They're the perfect street food: delicious, ubiquitous, filling and dirt cheap! Otherwise, expect the usual heavy yet tasty Latino fare, from corn tamaleswrapped in leaves and fried pasties (pastels) filled with meat, to fried belly pork, cassava fries and coriander-infused beef soup.
Our top trip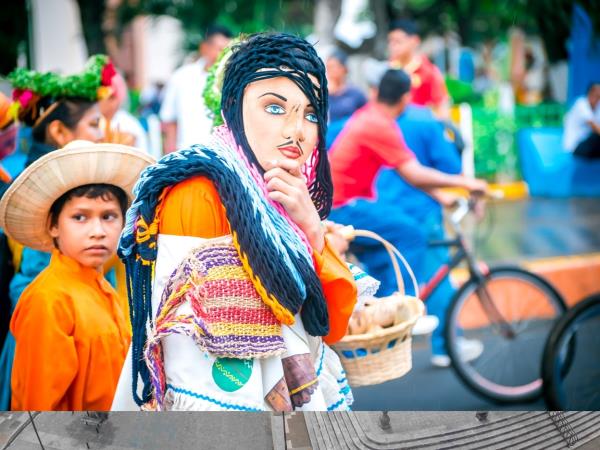 A Central American adventure, away from the tourist trail
From
£

3599

to

£

3799
19 days
ex flights
Small group travel:
2024: 23 Nov
2025: 22 Nov
If you'd like to chat about El Salvador or need help finding a vacation to suit you we're very happy to help.

El Salvador travel advice
Why visit El Salvador?
Carmel Hendry, from our leading supplier of El Salvador vacations, Explore, shared with us her top El Salvador travel advice:
"El Salvador has much fewer safety concerns than Honduras, for example, and loads of really cool things to do. In such a small country, there's plenty to see and it's easy to travel around – it has volcanoes, beaches (great surfing and diving), nesting turtles, jungles, waterfalls, small time charm and delicious food. They have their own weird version of 'Pompeii' – the Joya de Cerén, just outside San Salvador. It was a small town, and about 565AD a volcano eruption covered the entire town in ash and essentially buried and preserved it. It was only rediscovered in 1978."
Tips on visiting Suchitoto
Tips on visiting Suchitoto
"Suchitoto is a small sleepy place with very friendly and welcoming locals. It has great colonial architecture and a sort of sleepy vibe, so it's a great place to chill out. It's on the shore of Lake Suchitlán which is really cool – we did a boat trip and saw sloths, monkeys and iguanas, as well as loads of birds."
Why join a small group tour?
Why join a small group tour?
"We're with the driver and Central American tour leader, and we have made links with local excursion providers so that we know who to use in each location. Border crossings can be a bit of a nightmare in many countries, sometimes quite intimidating and always long and laborious. This is much easier if you're traveling with a tour leader so that you don't have to think about it!"
What to eat in El Salvador
What to eat in El Salvador
"El Salvador is famous for pupusas, which are not found anywhere else in Central America! They are classic tortillas, but stuffed with a mix of cheese, mince meat, veg (carrots and cabbage mainly) and spicy sauce. You see them on the streets everywhere, with ladies doing a sort of 'clapping' motion – they've stuffed the dough, and then clap to flatten it out before putting it on the hot plate. Really good. Otherwise the food is pretty classic Central American fare: tortillas, rice, beans, lots of seafood on the coast, pork and chicken too. It's all really fresh and tasty."
More El Salvador articles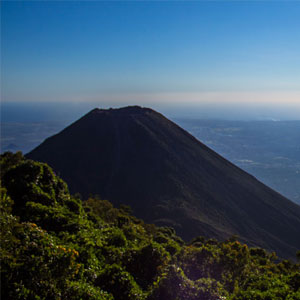 El Salvador is one of Central America's tiniest and most overlooked nations, yet it has far more to offer than you may think.