Cycling on the Isle of Wight
Situated off the Hampshire coast, the Isle of Wight can seem at times like a time capsule from a less frantic past. Roads are far quieter than on the mainland and the island's beaches and towns have escaped the development of much of England's south coast. Sandy and shingle beaches are backed by art deco beach houses and Victorian bandstands, while the Island Line train carries passengers aboard carriages that once traversed London's Bakerloo Line. Almost half the island has been safeguarded as an Area of Outstanding Natural Beauty and from the salt marshes and creeks around Newtown to the crab and lobster shacks overlooking the estuarine harbour of Bembridge, nature loving cyclists in particular will be in their element.

This doesn't mean it isn't popular. School summer vacations are peak season for the island, while Cowes Week – the annual sailing regatta towards the end of July and beginning of August – takes the island to fever pitch and you'll find accommodation booked up months in advance.

Leave the car at home however and the summer queues cease to be such a problem. Whether you're bringing your own bike on the ferry or hiring a mountain, hybrid or electric from one of the island's independent stockists, there's no better way to get around the Isle of Wight than on two wheels.
Tailor made cycling vacations on the Isle of Wight
give you the confidence to explore, safe in the knowledge that your luggage has been transferred to the next locally owned B&B or small hotel. You'll also benefit from the wealth of islander knowledge that has gone into creating each cycling itinerary. These routes take you down narrow, traffic-free rural roads, up and over swooping hillsides, and around an untouched coastline where secret bays and beaches tempt you to swap saddles for swimsuits.
Infamous shipwrecks, Victorian heritage and World War I and II sites combine with maritime history to ensure your brain gets just as good a work out as your leg muscles. And once you're done for the day, you'll find harbour walls offering ample opportunities to sample the freshest crab and lobster rolls. The towns of Ryde, Cowes and Yarmouth provide plenty of pubs for post ride refreshments.
Why cycle on the Isle of Wight?
Cyclists will find an excellent network of quiet roads flanked by hedges leading in-between villages and seaside towns. Historic sites such as Quarr Abbey, between Binstead and Fishbourne, and St. Mildred's Church in Whippingham, can be found on a day's cycle from Ryde to Yarmouth, for example, alongside the island's largest historic attraction, the former residence of Queen Victoria, Osborne House.

"The Isle of Wight is very accessible and offers cyclists a real opportunity to discover what's right on their doorstep rather than having to travel further afield" explains Gordon Steer, the UK Manager for our self guided cycling experts World Expeditions. "Our self guided itineraries take you along small country lanes or coastal bike tracks and we always encourage our cyclists to stick to recommended routes so as to avoid eroding fragile countryside."

Daily distances are never that difficult to accomplish and allow you to build plenty of free time into a cycle ride so you can really get to know a place, on and off the bike. Self guided cycling vacations on the Isle of Wight mean that you can stay in a different location each night while your luggage is transferred ahead. For instance, you could stay in the larger towns of Ryde and Yarmouth before cycling to the tiny village of Chale, close to Blackgang Chine – the UK's oldest, and most precariously placed, amusement park.
What is cycling on the Isle of Wight like?
The Isle of Wight provides a fairly easy-going and gentle approach to cycling. Recommended routes tend to gradually undulate and although there are a few challenging chalk hills there's nothing too tricky. The Tennyson Trail is rated as one of the UK's best chalk trails and is great for mountain biking. If you prefer smoother surfaces, there's a 99km road route that takes you around the entire island. The route is signed with blue and white markers and makes for a cracking circular as part of a vacation itinerary.

You can also follow an abandoned railway track for 5km from the seaside town of Yarmouth to Freshwater Bay. From here it's possible to cycle to the Needles, where you can sit on the headland and stare out over one of the island's most iconic natural features. You're never going to be too far from a really interesting or naturally beautiful place from which to pause your pedalling for a few moments.
Our top England cycling Vacation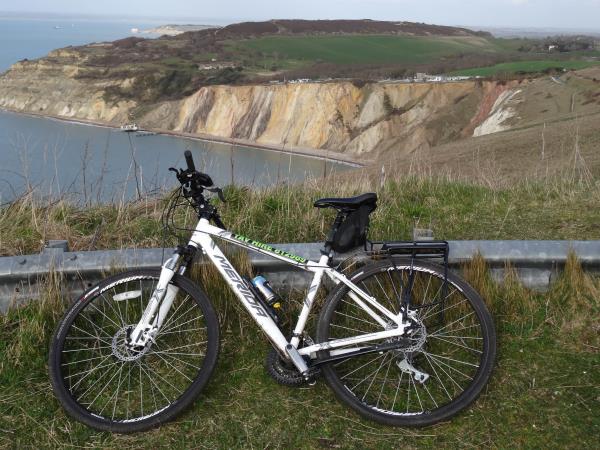 Short UK cycling break with plenty of sightseeing
From
US $

690
5 days
ex flights
Tailor made:
The trip can be booked betwen April and mid October
If you'd like to chat about England cycling or need help finding a vacation to suit you we're very happy to help.

The variety of smooth tarmac and chalk tracks that you'll find on the Isle of Wight makes hybrid bikes ideal for safely tackling each and every trail. The hire of hybrid, mountain or road bikes and safety gear will be included as part of a tailor made cycling vacation. You'll be matched with a bike that suits your size and experience. Alternatively, you can bring your own bike and gear over on the ferry.
Electric bikes are also available to hire: "E-bikes are a great way to take the effort out of cycling and we work with a great locally owned bike hire company on the island" explains Gordon Steer.
Find out more in our
electric bikes travel guide
.
Best time to cycle on the Isle of Wight
"The best time to go cycling on the Isle of Wight would be from March to October" explains Gordon, "although it's probably best to miss Cowes Week at the end of July and early August, as the island gets very busy and accommodation can be hard to come by."

It can get very busy on the Isle of Wight during the summer, and not just during the sailing regatta. The school vacations in July and August, especially, are extremely popular times to visit the island with long queues at the ferry terminals in Yarmouth, East Cowes and Fishbourne. The great thing about bringing your bike over on the ferry is that you can bypass the summer traffic jams and pedal off from the moment they lower the gangplank. Spring and autumn present a much less touristy side to the island and can also be great times to cycle if you don't mind a bit of wild weather – pack your waterproofs.
More about England cycling