Places to go on expedition cruises
---
Make the most of your time
It's the expedition, not the cruising part of these vacations, that's significant. The places to go on expedition cruises are remote and often only accessible by water. Expedition vessels cross the choppy Drake Passage to Antarctica, or take the long route through New Zealand's Subantarctic Islands to its eastern shore. Arctic cruises explore Svalbard, Baffin Island, Greenland and Canada. Cruises to the Russian Far East run in the summer, when the tundra is ablaze with wildflowers, and to Melanesia when it's warmed by October sun. Factor in the long flight to reach your boat, too – all part of the expedition!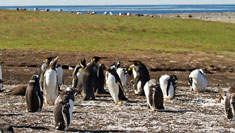 Antarctica
Long cruises leave New Zealand to visit eastern Antarctica, but the most popular destination for expedition cruises is the Antarctic Peninsula, the continent's most northerly point and a relatively convenient 1,000km from Tierra del Fuego. Stop at the Falkland Islands and South Georgia on the way, before arriving in a landscape of icebergs, glaciers, penguins and seals to explore via rib, kayak and on foot.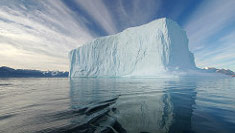 Greenland
Northeast Greenland is the world's largest national park, where fjords are edged by lofty mountains and turquoise glaciers splinter into the 100m-high 'bergs of 'iceberg alley'. In the west, the Jakobshayn Glacier calves icebergs into Disko Bay – a whale watching hotspot. There is rich history and living culture to explore in tiny Ittoqqortoormiit, Kangaamiut – a traditional craft hub – and Nuuk, the pint-sized capital.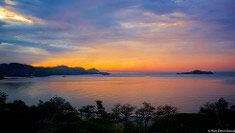 Melanesia
Cruising around Melanesia takes you to exceptionally remote islands and atolls. Find pristine beaches and unexplored reefs and meet local residents, learning how these isolated communities maintain traditional lifestyles. Long cruises set out from Papua New Guinea and drop south, through the Solomon Islands and to New Zealand. Others follow the coast and visit New Britain and the Trobriand Islands.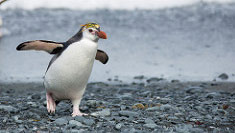 NZ Sub Antarctic Islands
Squint at the map to find these remote isles, far below New Zealand. Including the Snares, Auckland, Campbell and Macquarie Island, they are all UNESCO World Heritage Sites. Their nickname, the 'Galapagos of the Southern Ocean', is a clue to their unique biodiversity, including surreal megaherbs. As the only dry land for miles, they provide crucial feeding grounds for seabirds, seals, sea lions and penguins.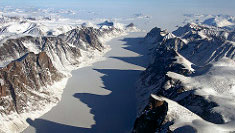 Northwest passage
Finding this route around the top of the world obsessed explorers for centuries and was painfully-won, and the history of early Arctic exploration runs through any trip along the Northwest Passage. Expect spectacular icebergs, deep fjords, polar bears and narwhals. For a fully rounded Arctic experience, combine the eastern reaches of the Passage with wild Baffin Island, where Inuit culture is strong.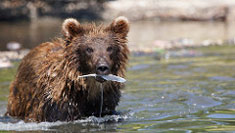 Russian Far East
Remote and wild, the Russian Far East could have been designed for expedition cruises! The vast Chukotka Autonomous Region has a population of just 50,000 people, living alongside brown bears, reindeer and Arctic foxes, while polar bears raise cubs on nearby Wrangel Island, believed to be the last home of the woolly mammoth. Kamchatka, further south, is a land of brown bears, reindeer and puffing volcanoes.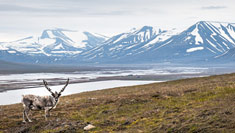 Svalbard
Far beyond the Arctic Circle, this archipelago is home to walruses, auks, reindeer, bearded seals and foxes. Travelers come for the 3,000 polar bears that inhabit the snowy shores and mountains, surrounded much of the year by pack ice. Offshore, eerie, white beluga whales surface. Spitsbergen, the main island, has glaciers and fjords to explore. Trek across flowering, windswept tundra, and visit the polar research station.


Expedition cruising travel advice
---
Tips from our friends on deck
Cassia Jackson, from our supplier Heritage Expeditions, shares her insights and advice on expedition cruises:
What's unique about an expedition cruise?
---
"The experience of our expedition team means that although nothing is ever guaranteed, we know where we can find the wildlife we hope to encounter. Our guides are just as eager as you are to see that special animal or plant. Our small ship is designed to get you to areas that may be otherwise inaccessible to larger ships, plus having just 50 passengers aboard means that we have extra flexibility to our program. We're not afraid to run a Zodiac cruise before breakfast if that's when the weather will be best, or to push back dinner to allow our expeditioners to enjoy a landing to all of its potential."
What to pack for Sub Antarctic cruises
---
"There is a variety of weather conditions from intense sunshine to driving rain and wind, and occasionally even light snowfall, so we strongly encourage our expeditioners to bring layers of clothing, including waterproof outer layers (both a jacket and trousers). The secret to keeping warm is wearing several light layers of clothing instead of one heavy layer. This also gives the flexibility to take something off when it's getting too warm or vice versa. Merino tops and leggings are good under-layers. The ship is heated, so make sure that you bring clothes that are comfortable to wear inside the ship as well as outside. Sun block is essential as well as sunglasses, lip balm with an SPF and a hat as the sun can be very strong. We recommend hiking boots for walking on the islands and a pair of gumboots or Wellingtons for wet landings. Waterproof gloves are recommended to save your hands getting wet on Zodiac cruises. There are places to purchase boots in Invercargill, to save bringing them from overseas, or we do have a limited supply onboard."
Reassurance for anyone nervous about a sea voyage with strangers...
---
"It's perfectly normal to have a case of nerves before embarking. In my experience it is common for lifelong friendships to be made onboard. The night before most expeditions, we meet for dinner at our hotel. This is a great way to get to know the other passengers, as well as some of the expedition team. The small, intimate nature of the ship means that it is easy to get to know your other travelers; however you can always find an unoccupied area on deck or in your cabin if you are craving some alone time. You'll generally be with likeminded travelers with similar interests so there is always someone interesting to talk to. We often have a number of solo travelers per expedition. They can choose to have a room to themselves at additional cost, or we can match them up with another traveler of the same sex. It is also not uncommon for people to meet on one expedition, keep in touch and then travel again to another destination with us together."

Charlotte Caffrey is a marine scientist and the co-founder of our supplier Aqua-Firma. She shares her expedition cruise travel advice:
Understanding the itinerary
---
"This is an expedition; it's not a normal vacation with a fixed itinerary. Out there, what will be, will be. What nature will reveal, she will reveal. You have to go with the flow and take the opportunities as you see them. Itineraries are there as a snapshot of what may be and we change them all the time to make the most of opportunities. If there's a whale carcass that has been located then we might bypass what we were going to see to visit the carcass, as there may be polar bears feeding on it. There is ice and weather and everything else to consider too; you really do have to have an open mind."
ADVICE ON CHOOSING YOUR BOAT
---
"Speak to an operator who's been on all of the ships and they'll tell you the differences between them. Some might have bunk beds; others have bigger cabins with their own flat screen TV. But on all of them the focus is outward looking – really being exposed and enveloped by the environment that you're in, rather than inward looking. We do offer luxury boats with a Jacuzzi on board, three course meals, a wine list – things like that. But it still holds that you're out twice a day, being guided by experts in their field, and that's the main priority. The experience that you get of going out twice a day every day with polar experts – that will remain the same. The frills of the ship are just an added bonus if you want that sort of thing."
Expedition cruising travel advice
---
Tips From Our Travelers
At Responsible Travel, we think the best people to advise our travelers are often... other travelers. They always return from our tours with packing tips, weather reports, ideas about what to do – and opinions about what not to.

We have selected some of the most useful expedition cruising tips that our guests have provided over the years to help you make the very most of your vacation – and the space inside your suitcase.
"Take lots of layers! (Though it wasn't as cold as I expected.) And remember seasickness tablets, even in calm waters they're a good idea!" – Rebecca Allen in Antarctica

"Participate in every activity, including the Polar Plunge! You do not need to pack as many clothes as you think you do. With proper gear you will be comfortable at all times... This goes for all trips. Bring proper technical boots that you can attach crampons to if you want to go ice climbing. Don't buy the internet on the ship; rather, enjoy time making friends, eating great food, and enjoying being in Antarctica!" – Jack Clancy

"TAKE THE TRIP TO ANTARCTICA! It is unforgettable. Be sure to bring the right clothing. Being out on the water or a hill is COLD with the wrong clothes. Spend as much time on the bridge of the ship as possible. Go to all of the lectures. Meet new people." – Stephen Kohn

"Make sure you have enough camera memory space and batteries because you will be taking non-stop photographs (I bought another 2GB memory card in Ushaia and I am so glad I did, I arrived home with 1,217 amazing pictures and have looked through again and again)." – Stacy Valentine in Antarctica

"Don't go if you want 5* luxury, but you won't be disappointed. Do be able to negotiate steps. Take the best lenses and binoculars you can afford. Prepare to mix it with like-minded people." – Roy Joffe in Svalbard

"Only go if you are truly interested in all sorts of wildlife and nature. Don't expect a great variety of plants and animals – but what there is, is spectacular." – David Rumsey in Spitsbergen

Inside of the boat you can be relatively warm – have layers for going out on deck where it can be cooler, but you can watch the midnight sun or enjoy the on-deck BBQ. If you want good photographs make sure you have a camera with long range focus as you are often at a distance from the wildlife so as not to disturb them. Take your swimming gear as you do get the opportunity to swim in Arctic waters – everyone that did, did survive! Remember that this is an extreme part of the world where nature rules and that anything can happen and sometimes it does." – Susie Barrett in Spitsbergen