Where to go in Finland in summer
---
Finland map & highlights
Although the majority of Finns live in the south, often in and around the capital Helsinki, it's the north of the country that holds the most interest during the summer. The national parks north of Oulu province, in particular, are full of well marked trails leading around lakes and rivers, with flights into Oulu, in the northwest, or Kuusamo, in the northeast, opening up easy access to Rokua and Hossa National Parks, respectively. Head to Oulanka National Park, just an hour's drive north of Kuusamo, and you're in Lapland. Here, the largest city, Rovaniemi, creates a year round Christmas ambience just 6km south of the Arctic Circle.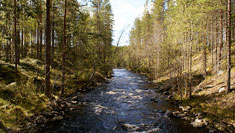 Hossa National Park
Featuring the prehistoric Värikallio rock paintings as well as no end of well marked walking and cycling tracks, Hossa National Park is always a big draw during the summer. It's home to lots of lakes and rivers where you can take out canoes and paddle past pines and the occasional reindeer. Lakeside accommodation, including obligatory saunas, combines wonderfully well with surrounding esker scenery.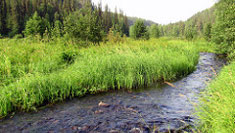 Korouoma Nature Reserve
The entire area surrounding Korouoma Canyon is a designated nature reserve. Several outdoor fire pits provide a place for hikers to rest, against a backdrop of meltwater streams cascading over cliffs which feed fast moving rivers and lush green meadows. Follow the River Korojoki upstream for fabulous views over glass clear lakes and old growth forests.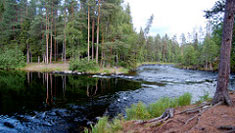 Oulanka National Park
Fall in love with
Finnish Lapland
as you venture into an untouched world of boreal forests and pine covered river valleys. Foraging for wild berries, herbs and mushrooms, spotting butterflies and orchids, and white water rafting on the Kiutaköngäs rapids make Oulanka National Park in the summer an immensely satisfying experience. Walking trails and log cabins abound close to the Arctic Circle.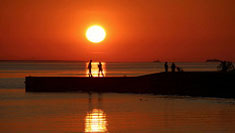 Oulu
Situated around 90km from the old growth pine forests of Rokua National Park, Oulu is an ideal base for exploring the north of Finland with numerous parks, including Mannerheim and Hupisaaret Islands proving to be popular summer hang outs. Take a bus or the Potnapekka train to the seaside setting of Nallikari and act like a Finn enjoying the warmer weather.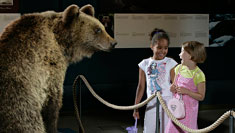 Rovaniemi
Every day is Christmas Day in the capital of Lapland, sort of, and if you're looking for an excuse to head to within touching distance of the Arctic Circle (just 6km away), Rovaniemi's the place to be. Aside from the ubiquitous presence of Santa, even in the summer, Rovaniemi promises insight into the cultural heritage of northern Finland with the Arktikum science center and museum especially interesting.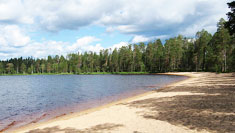 Tiilikkajärvi & Hiddenportti
Nowhere beats the sandy lakeside beaches and easy going walking routes of Tiilikkajärvi National Park during the summer with no end of birds (and mozzies) making the most of the park's bogs and pine fringed swamps. If you fancy something a bit more rugged then nearby Hiidenportti National Park is also worth a visit, with gorge scenery offering challenging trails for healthy hikers.
FINLAND SUMMER HOLIDAYS ADVICE
---
TIPS FROM OUR FRIENDS IN FINLAND

Aki Käräjäoja, from our Finnish tour operator Routa Travel, shares his passion for Finnish summers:
Summer traditions
---
"Finns love to spend their summer vacations on cottages by a lake shore. Most families have a summer cottage so cities tend to be quite silent in summer time. There are also plenty of music festivals and crazy sporting events (wife carrying, swamp soccer, etc.) to look out for."
How to deal with mozzies
---
"Some years we have quite a lot of mosquitoes so it is best to be prepared. During the summer local shops have a wide selection of mosquito repellents and anti-itch products. My method to avoid itchy bites is to wear loose, natural clothing with long sleeves. Mosquitoes tend to seek areas that are not protected with clothing. For that reason it is good to wear clothes that are a bit loose and don't stick on your skin; leggings are not the best option. Even when we have a lot of mosquitoes they are not everywhere. By avoiding boggy areas, river banks and moist places you also avoid mosquitoes. Conversely, wherever there's wind, mosquitoes aren't much trouble."
Things to do
---
"My two favourite ways to spend free time in the summer is canoeing on small sheltered lakes and trail running in beautiful scenery. Tiilikkajärvi and Hossa National Parks, here in the east, offer great opportunities for both activities. Tiilikkajärvi is a good destination for a weekend visit whilst Hossa has enough trails and lakes for a whole week. On top of these I really enjoy exploring smaller, low profile protected areas that do not have national park status. These are not so well known and thus usually uncrowded. Late night runs through beautiful forests under the midnight sun give me a lot of energy for darker autumn and winter months. Whatever is your favourite thing to do, I advise to twist the daily rhythm a bit and stay active through the early hours to witness the light filled nights."
Reindeers up ahead
---

Urpo Heikkinen, from our Finnish supplier Upitrek, extols the virtues of self drive vacations in Finland:
"The benefit of hiring a car in Finland is that roads are rather quiet, there's not much traffic, and they're in good condition. Signs, however, are only in Finnish but quite straightforward to follow. Distances can be long, especially in northern Finland, but you can easily achieve 100km over the course of an hour, most of the time. One final thing about self driving – watch out for reindeers in Lapland!"
FINLAND SUMMER HOLIDAYS ADVICE
---
TIPS FROM OUR TRAVELLERS
At Responsible Travel, we think the best people to advise our travelers are often... other travelers. They always return from our tours with packing tips, weather reports, ideas about what to do – and opinions about what not to.

We have selected some of the most useful Finland summer vacation tips that our guests have provided over the years to help you make the very most of your vacation – and the space inside your suitcase.
"We all loved our self-drive vacation to northern Finland. The driving parts were no more than 3 hours a day and mostly about 60-90 minutes. Accommodation was of a very good standard throughout and meals were excellent. Activities and trips were all fantastic, including the Angry Birds Kids theme park, husky sledding, meeting Santa Claus, feeding reindeers, riding the trams in Helsinki and saunas - every day." – Richard Mayneord

"On one night in Kovavaara there was no running water so we had to wash ourselves in the sauna. It was a great experience. The trip, overall, was brilliant. It exceeded our expectations and we can't recommend it enough. If you are not into luxury and appreciate simple things, this is definitely the tour for you. However, bring two bottles of insect repellent, you'll need them!" – Loli Rodriguez

"One of our favourite aspects of this vacation was meeting so many local people and learning about their lives. The cottages we stayed in were mostly all locally owned and managed so the local people benefited directly." – Robert Bagley

"We saw bears at Arola Farm! They appeared straight-away and were very close. Also, Finland is full of trees. Don't expect to see too much else unless you are at the coast or booking animal viewing sessions in the hides. The summer season in Finland is short and we were the only visitors in some places. Although we saw bears and wolverines, we didn't see wolves. Helsinki was good with broad streets and plenty of green spaces. Finland is good for seekers of solitude." – Richard Tabony

"Aki and Suvi were very welcoming and couldn't make us feel more at home. The dogs were all amazing, so friendly and the personalities all so unique and lovely. Everything from the location, to the walks and food was perfect and we would really love to go every year. We found it very relaxing and a home from home for the whole time. Switch off your phones and enjoy the freedom and relaxation of hiking with huskies." – Martyn Kilbryde

"I would recommend staying with Suvi and Aki at the husky farm to get a proper Finnish experience. We learnt so much from them as well as having access to the traditional Finnish sauna and helping to care for the animals. My highlights included: meeting the huskies for the first time, canoeing on the private lake in warm sunshine and trekking in ancient forests with the dogs." – Gemma Copestake

"The scenery was fantastic - pristine pine forests dotted with lakes but the most enjoyable part was getting to know our guide, Aki, and of course the dogs! We each had a dog on a harness that pulled us along - power assisted hiking! Our launch spot was lovely, as were the pancakes we cooked and ate with wild berries (blueberries) from the forest. We loved our day out with the dogs almost as much as they did!" – Justin Francis