Ivory Coast travel guide
---
2 MINUTE SUMMARY
With reports of coups, civil wars and long term instability, travelers have long bypassed Ivory Coast; but the good news is that the country has emerged from its painful past and intrepid souls are once again discovering its charms. And the country is charming indeed: there are pristine tropical beaches backed by crumbling colonial relics; cool highlands home to waterfalls and untrammelled walking trails; and deep, dark forests where monkeys chatter and mysterious woven bridges appear overnight.
It is the culture that will really knock you off your feet, though. French-speaking Ivory Coast – Côte d'Ivoire – is a nation of artists and throughout the country talented craftspeople perfect their wares using methods unchanged for centuries, and villagers from different ethnic groups perform vibrant dances, not only to celebrate but also to mourn. In the high flying metropolis of Abidjan, meanwhile, the air throngs with reggae, jazz, Afrobeat and innovative coupé-decalé, a style and music movement that evolved during the long civil war.
Ivory Coast is...
a cultural journey
; full of dance, art, food and community interaction.
Ivory Coast isn't...
a war zone
. No longer unstable, the country is ripe for adventurous visitors.
Ivory Coast map & highlights
---
make the most of your time
Ivory Coast sits on the West African coast, overlooking the Gulf of Guinea, and shares a border with five nations. The south and the center of the country are flat and lush, home to plantations, forests and national parks. To the west are the mountains, the highland town of Man and Mount Nimba, the country's highest peak at 1,750m. Further north, as you approach Mali and Burkina Faso, the landscape turns into arid savannah. Other than a few main highways, roads outside urban centers tend to be poor and can be impassable in the rainy season. Guided, small group tours keep things simple as you'll be driven in a private vehicle and visit communities without disrupting local life.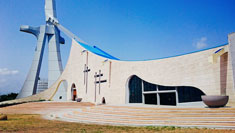 Abidjan
Ivory Coast's beating heart, Abidjan is New York City with a tropical West African flavour: a seemingly endless sprawl across islands, peninsulas and lagoons, crowned by glittering skyscrapers. It may appear chaotic but dig deep and you'll find excellent galleries and markets, a fine national museum and some of the best music in West Africa. Not to mention restaurants serving food with the kind of panache you'd expect in Paris.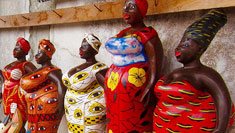 Bouaké
Set in the Vallée du Bandama, at a crossroads between the arid north and the more verdant south, Ivory Coast's sleepy second city is the historical home of the Baoulé people, who are related to the Ashanti of Ghana. There's plenty of opportunity to see their dancing, weaving, ceramic and sculptural traditions, both in the city and in the surrounding villages.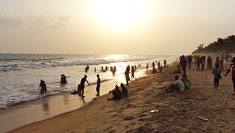 Grand Bassam
Yes, it's less than an hour from Abidjan, but this elegantly ageing grande dame is a far more laidback affair. Once a colonial trading post and the capital of French Côte d'Ivoire, Grand Bassam was named a UNESCO site in 2012 and is a popular beach break for metropolitan Ivorians and tourists alike, thanks to its gorgeous blonde beaches, faded 19th century architecture and terrace restaurants overlooking the sea.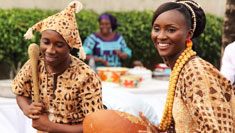 Korhogo
Surrounded by dry bush, savannah and mud caked roads, Korhogo, the capital of the Senufo people, dates back to the 13th century. It saw fighting during the 2002-7 and 2011 civil wars, but it's regaining its reputation as a cultural hub. In nearby villages, weavers, painters, metalworkers and wood carvers practice their craft, many using pre-modern techniques. Look out for a Boloy, or panther dance, performed by initiated young men.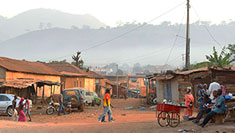 Man
Snuggled next to the vivid green peaks of the Toura Mountains and surrounded by farms and cocoa plantations, this relaxed mountain town entices visitors to come and hike in the crisp mountain air, visit the tumbling La Cascade waterfall or explore the surrounding rainforest: a green world home to sacred monkeys and mysterious liana bridges, built secretly in only one night by young men being initiated into the Dan tribe.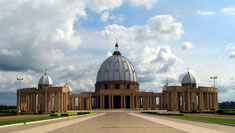 Yamoussoukro
Abidjan might feel like the capital, but it is in fact sedate "Yamkro" that takes that particular political prize. The birthplace of the country's first president, Félix Houphouët-Boigny, it was built on the site of his ancestral village and is home to a surprising number of massive buildings, including the presidential palace and the imposing Basilica, even bigger than the Vatican's St Peter's Basilica by which it was allegedly inspired.