JORDAN FAMILY HOLIDAY HIGHLIGHTS
Jordan is so not just about ancient sites. It promises adventures in wadis, in the water and in the wilderness. From camel safaris and camping under the stars with the Bedouin in a remote spot of Wadi Rum to floating in the Dead Sea, or exploring under the Red one, Jordan is very much alive and kicking. Petra is, of course, ancient but also exquisite, and the culture of the Bedouin people who lived here and still do in the adjoining village of Umm Sayhoon is what really rocks for young visitors. This is a unique opportunity to gain insight into an ancient but still very much living heritage.
1. Aqaba
From red rocks to Red Sea, Jordan is just hot when it comes to adventures. And although it only has 27km of coastline, the coral reefs and diving depths feel as if they go on forever. Aqaba is the aqua hub of Jordan, so depending on the age ranges and swimming experience of your family there is no shortage of snorkelling, sailing, scuba diving and sailing trips.
2. Dana Reserve
Jordan's largest nature reserve is located on the edge of the Great Rift Valley with magnificent views. From peaks all the way down to canyons, take a guided walk in this beautiful terrain that spans three eco zones. No wonder there is a fantastic eco lodge to stay at here as well as small accommodations in Dana village, a fascinating place in itself with plenty of artisan workshops.
3. Dead Sea
Red or Dead? Both usually on a family vacation with the floating magic of the latter always a sure hit with young and old. Cover yourself with its healing mud, visit mineral rich beaches and healing spas. The Dead Sea is also both geographically and politically fascinating, with the border running down the middle of it following 1994 Peace Treaty with Israel. It's controversial, though, as the Sea lies in Occupied Territories.
4. Jerash
The ruins of Jerash are thought to be one of the best preserved provincial Roman cities in the world, thanks to the surrounding sands. Explore a world of temples, Roman baths, a hippodrome, fountains and a large oval forum. Children clamber, wander and wonder at the colossal impact of it all. They also love the re-enactment of Roman chariot races and gladiatorial contests. It was where Ben Hur was shot after all. Ben who, Mum?
5. Petra
Even if ancient sites aren't usually your young folks' idea of fun, Petra will blow their minds. No one fails to be impressed by the iconic Rose City carved into the sandstone mountain. It's like a scene from a movie and features in many, including Indiana Jones. You can explore the ruins and caves for hours, learn about it with a Bedouin guide as this was once the Bedouin's home, and also see it by candlelight.
6. Wadi Rum
You will feel like one 'far out' family in this, southern Jordan's mountainous desert scattered with sick sculpted rocks and sicker sand dunes. Enjoy a 4X4 jeep trip of a lifetime, camel safari, clambering on the pink sandstone structures and taking in the explosion of stars under Bedouin canvas. The Bedouin coffee, camaraderie and night time stories will stay with you forever.
FAMILY HOLIDAYS IN JORDAN TRAVEL ADVICE
Why go to Jordan as a family?
Why go to Jordan as a family?
Dan Jackson, from our supplier Exodus and father of twins, offers his top advice for Jordan family vacations:

"Camping at Wadi rum, going out in the dunes and star gazing at night around a roaring camp fire – it's all very exciting for young kids. Plus, Jordanians are incredibly friendly and hospitality is part of their culture – this is really important to mention. Children will be spoilt and looked after extremely well!"
Liddy Pleasants from our leading tailor made family vacations supplier, Stubborn Mule:
"The things that bring the biggest smile to young people's faces in Jordan are racing down sand dunes and climbing over rock bridges in Wadi Rum, covering their parents in thick gloopy mud on the banks of the Dead Sea, toasting flat breads over a tiny fire and brewing a pot of fresh mint tea during a break in a Wadi Feynan hike. Jordan isn't for you if beach is a big priority, though – despite having beaches along the Red Sea coast, these are underwhelming and not usually somewhere to linger too long."
Andrew Appleyard from our supplier, Exodus:
"Children love the chance to be Indiana Jones for a few days in Petra is obviously a highlight as is the chariot racing at Jerash."
When to go to Jordan
Liddy Pleasants from our supplier, Stubborn Mule:
"Be prepared for variations in the weather, it can get VERY cold in the mountains around Petra from November to February… it has been known to snow."
Dan Jackson, from our supplier Exodus:
"The climate is fantastic, so for October half term and Easter the weather is perfect – something you can't guarantee in Europe."
Food tips
Liddy Pleasants from our supplier, Stubborn Mule:
"Try mansaf at least once on your trip – a big steaming mound of fragrant rice and cubes of freshly cooked lamb and a yoghurt sauce. Or if you are veggie, gorge yourself on piping hot falafel and hummus."
Our Jordan family Vacations
If you'd like to chat about Jordan family or need help finding a vacation to suit you we're very happy to help.

TIPS FROM OUR JORDAN FAMILY HOLIDAY REVIEWS
At Responsible Travel, we think the best people to advise our travelers are often... other travelers. They always return from our tours with packing tips, weather reports, ideas about what to do – and opinions about what not to.
We have selected some of the most useful Jordan family vacations tips that our guests have provided over the years to help you make the very most of your vacation – and the space inside your suitcase.

For Petra by night, take a torch - the path can be very uneven

"Be flexible, open minded and be up for the challenge! Our personal highlights…. Hannah (11) loved swimming in the Dead Sea, Ciaran (15) loved climbing, the cycle ride and the history in Jerash, Little Petra and Petra, Luke (51) loved the camel journey, Jo (50) loved sitting round the fire with the Bedouins and trading gifts and tea with the Bedouin women in their tents. … we packed so much into a week! Jordan is a fantastic country and the people are warm and friendly. It is an excellent place to go with children." – Jo Tunmer
"Take mosquito spray for the desert and put it on when you arrive. Don't know when they bit us but gosh did they bite… Please don't worry about there being any trouble, we all felt very safe. The Jordanians are so friendly and warm and there is no feeling of any tension in the country."– Kirsten Lynch
"Pack light and don't be afraid to re-wear your dusty clothes from the day before. Any clean clothes you put on the next morning will be just as dusty by the end of the day. Then simply relax and enjoy! For Petra by night, take a torch - the path can be very uneven - and maybe something you can sit on - even just a folded up fleece which you don't mind sitting on top of on the ground! For Wadi Rum, take a map of the star constellations so you can see how many you can identify in the wonderful desert sky, unspoiled by light pollution. No mobile phone / wifi so you need to plan / download ahead - you can't google this one." – Gill Shepherd

If you are not constrained to go in the summer, spring time is probably better for less-hot weather

"If you can afford the time, try to have some extra days in Jordan before or (better) after the organised tour, to see some other things, especially country areas and nature reserves, not possible to fit into the 1-week tour. If you are not constrained to go in the summer, spring time is probably better for less-hot weather and more greenery and flowers; or failing that, autumn." – Colin McCullough
"Do a bit of background reading regarding the historical sites you will be visiting and the customs and culture of the country; this will allow you to get more out of your vacation experience." – Jeremy Coates
"This was the first time we've been with a guide over a 9/10 day vacation and it was made enjoyable as all the logistics, research etc that I would normally do for this sort of trip was taken out. It meant that we did more without having our energy used on the organisational stuff." – Kulbir Natt
Visiting Petra with children
Petra is a wonderful place to visit with children. For one thing, there's the sheer 'Wow!' factor – a whole city carved out of the rock, the fact that it was forgotten about for centuries until it was rediscovered, and that first glimpse of the Treasury as you approach is unforgettable.
For another, you can get the kids excited about it with a pre-vacation viewing of Indiana Jones and the Last Crusade, in which Petra features prominently.
And lastly, Petra is just such a fascinating site to explore for a day. These vast, spectacular ruins hold so many interesting stories for a child, that can be brought to life by the best guides – which is exactly what you can expect on our
Petra family vacations
.
A couple of points worth noting for visiting Petra with kids:
Most tours here will spend six to eight hours wandering around. If you think your kids would struggle with that, consider either a tailor made trip or a vacation designed expressly with families in mind. Petra is reached through the Siq, which is a deep, narrow canyon. It takes around 40 minutes on foot to walk it, but allow a good hour to walk it with kids. While you're in Petra there is the option to hire camels or donkeys to get around the (265 square kilometres) site. Kids, obviously, often love this idea, but do try and make sure you're renting animals that look as though they're well-treated as sadly, not all of them are. There are plenty of restaurants around and near Petra. Snacks and water are also sold at the entrance to the Siq if you require them. Make sure you keep an eye on younger children at all times. There are not many safety restrictions around Petra, and there are a few steep drops in places.
More about Jordan family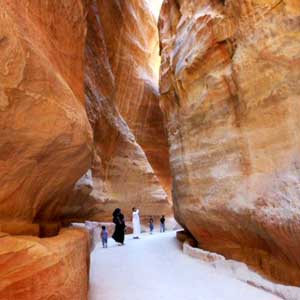 This Jordan family vacations guide gives an insight into why we think it's a fantastic place for families of all age ranges. Especially if you have a great sense of adventure. You can see a lot in a week long school vacation although two weeks will allow you to fully immerse yourself in this wonderfully welcoming country.