Where to go in Laos
---
Make the most of your time
Where to go in Laos is defined by road and river; it's slow and you'll need to do as the Laotians do and be laid back. There isn't a great deal of long distance travel involved, but 150km will take you 6 hours by road, so it's less about distance than time. You'll see so much more of the country's spectacular scenery and local riverside life by boat than you will by road and wherever possible your guide will interchange the two; besides, journeying around Laos, with the water lapping below you and the blue sky bright above, is half of the adventure.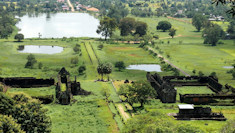 Champasak
Once a bustling royal kingdom, today Champasak stands like Miss Haversham's house, an oddly romantic nod to a bygone era seemingly frozen in time: sleepy streets lined with gently decaying colonial piles share space with traditional wooden Laos houses; it is impossible for the living death of its fading glory not to grip you. Top trump? Wat Phou, a deeply symbolic pilgrimage site.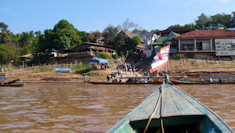 Chiang Khong
A riverside town, Chiang Khong is actually in Thailand, but is a bustling traveler gateway into Laos and one of few places from where it's possible to cross into the country, so it has an exciting buzz about. It sits on a steep bank high above the Mekong River, so you can waste any waiting time watching the colourful cruisers and rickety fishing boats vying for space in the river traffic.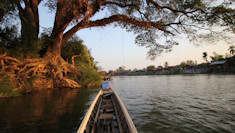 Don Khong
Don Khong is the largest island in an area of southern Laos known as Si Phan Don, or 4,000 Islands. It measures 18km by 8km at its widest point and is best explored by bike along the road that loops the island encircling a perfect snapshot of local riverside life. It's known for little more than freshly cooked river fish and being very laid back: stroll around and soak it up or read a book by the river.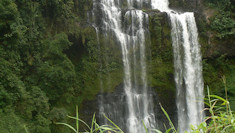 Dong Hua Sao NBCA
The Dong Hua Sao NBCA is part of Laos's Bolaven Plateau, a fertile area of southern Laos that the French planted with coffee, tea and fragrant cardamom. The park is a thriving natural hotspot of undisturbed jungle where monkeys live alongside tropical hornbill birds and half of its 1,100sqkm area is mountainous with steep slopes that drop dramatically into streaming waterfalls.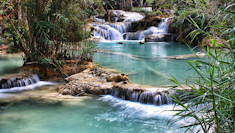 Kuang Si Waterfall
The road that leads to the phenomenal Kuang Si waterfall, a paved route through verdant jungle that screams vibrancy and life at every turn, is a thing of beauty anyway, but the waterfall itself, a three-tier cascade of tumbling turquoise water that collects in numerous jade-coloured pools as it flows downstream is quite possibly one of the most spectacular and serene natural settings in the world.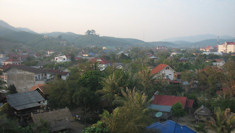 Lunag Namtha
Luang Namtha is the main city in Laos's far north and it only has a population of 50,000, so has retained a quiet local charm not yet usurped by traveler's cafes. It's incredibly natural: accommodation is rustic and perfectly suited to the city's ethereal backdrop of wilderness shrouded in mist. In Luang Namtha, you live the life of a Laotian instead of them fitting their lives around you.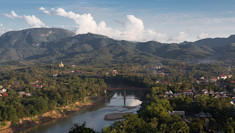 Luang Prabang
Luang Prabang is not Laos's capital, but it is the jewel in the country's crown, a heady mix of burnt orange colonial houses flanked in frangipani, enrobed monks chanting in the morning mist, and a UNESCO-worthy collection of delicate French-Indochinese architecture. The whole city is a World Heritage Site and has a modest air of grandeur unparalleled across the country.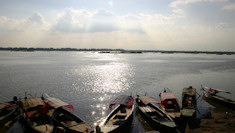 Mekong River
Laos's lifeline, the Mekong, is a mammoth river that winds its way 4,909km through six countries. Cruising the Mekong gives you little choice but to shelve any impatience and surrender to your surroundings, a rolling scenery of forested hillsides, plots of papaya and swirling whirlpools created by granite outcroppings that punctuate the water like rocks in a Japanese Zen garden.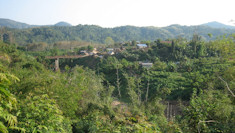 Nam Ha NBCA
A whopping 1,470sqkm of protected national parkland, the Nam Ha National Biodiversity Conservation Area is a hugely important habitat for mammals, birds and 25 hill tribe villages. A sort of Old MacDonald's Farm gone mad, hiking through these villages you'll find pigs mixing with ducks and chickens; locals spinning, bashing or building something; and a few stilted 'love huts' too.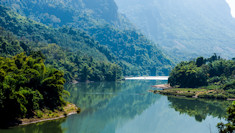 Nam Ou River
The Nam Ou River begins its journey in the southern mountains that separate Laos and Yunnan in China and meets the Mekong above Luang Prabang. The river won't get you anywhere fast and is instead an opportunity to travel long sections of wonderfully calm water interspersed with dramatic karst formations, forested hillsides and the smiles and waves of village children playing at its edge.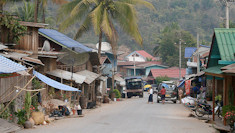 Pakbeng
You don't go to Laos for modern convenience, you go to step back in time and Pakbeng, a busy river port half way along the Mekong to Luang Prabang is proper backcountry: a shabby settlement of mismatched wood, corrugated metal and hand-painted signage. But that's all part of its northern charm; soak up the laid-back atmosphere en route to more cultivated pastures.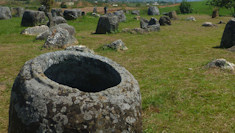 Phonsavan
Phonsavan itself is a pretty uninspiring modern recreation of the original town that blitzed by bombs during Vietnam, but its back roads and traditional villages are a nod to its cultural past. The ace in its pack is the Plain of Jars, a fascinating series of giant stone jars perched on hills over hundreds of sqkm around the town, the ancient origin of which is entirely unknown.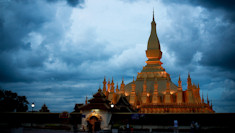 Vientiane
Unlike the frenetic push for power and profit that characterises other Asian capitals, Vientiane is relatively quaint. Inevitable and welcome change since the collapse of the Soviet Union in 1991 has brought about growth, but it has a small town feel and a host of beautiful sights. That Luang is the country's national symbol, a Buddhist stupa topped with gold that glows warmly at sundown.
Laos itineraries
---

Thailand & Southern Laos (13 days)

Bangkok – Chiang Rai – Chiang Khong – Huang Xai – Mekong River –Pakbeng – Pak Ou – Luang Prabang – Kuang Si Falls – Phonsavan – Plain of Jars – (fly) Vientiane – (fly) Pakse – Dong Hua Sao – Pakxong – Mekong River – Champasak – Don Khong Island – Don Det – Pha Paeng Falls – Pakse
Thailand and northern Laos adventure (21 days)

Bangkok – Ayutthaya – Chiang Mai – Mekong River – Nam Tha – Luang Namtha – Nong Khiaw – Luang Prabang – Kuang Si Waterfall – Vang Vieng – Nam Lik – Vientiane – Bangkok

Indochina overland vacation (30 days)

Bangkok – Golden triangle – (Laos) Luang Prabang – Vang Vieng – Vientiane – (Vietnam) Hanoi – Halong Bay – Hanoi – Hue – Hai Van Pass – Hoi An – Saigon – Cu Chi tunnels – Mekong Delta – (Cambodia) Phnom Penh – Siem Reap – Angkor - London

Travel times in Laos
---

The following times give you a rough idea of the travel times between the main attractions in Laos.

Pakbeng – Luang Prabang: 3hrs 30min (river)

Luang Prabang – Phonsavan: 10hrs (by road)

Pakse – Champasak: 35min (by road)

Champasak – Don Khong: 3hrs (by road)

Luang Namtha – Nong Khiaw: 5hrs (by road)

Nong Khiaw – Luang Prabang: 3hrs (by road)

Lunag Prabang – Vientiane: 9hrs (by road)