Latvia travel guide
---
2 MINUTE SUMMARY
The collapse of Communism and being lumped in with neighbouring Baltic States, Lithuania and Estonia, kick started Latvia's search for a national identity with several cultural differences still evident from one region to the next. Whether one sole identity is to be found foraging for mushrooms and berries amongst pine and spruce forests or perhaps along the wild sandy coastline that stretches for some 500km, who knows, but one thing is for sure: Latvia certainly needs to be investigated further. Riga, the capital, is a good place to start and you'll discover a cosmopolitan and contemporary city that is often considered culturally and architecturally wealthier than Vilnius and Tallinn. Outside of the capital, Rundāle Palace and Jurmala promise a couple of great day trip options with the town of Cēsis or the trails around Sigulda, in Gauja National Park, unlocking a little part of Latvia to call your very own. Find out more in our Latvia travel guide.
Latvia is...
perfectly positioned to accept travelers
from either side of Baltic borders.
Latvia isn't...
hilly
but does boast an inordinate amount of forests and soft sand coastline; perfect for walking and cycling without the gradient.
Latvia map & itineraries
---
Make the most of your time
The Daugava River splits Latvia from the Belarus border to the Gulf of Riga via one of the country's most decorated cultural and historic regions, Vidzeme. The town of Cēsis, which overlooks the Gauja River, is one such Vidzeme location that's brimming over with churches, castles and Livonian heritage and if you're looking for a few more, head eastwards to Sigulda and onto the capital city of Riga, and you won't be disappointed. As much of Latvia was under lockdown during the Soviet era, rural landscapes remained relatively untouched with Gauja National Park exemplifying Latvia's pine and spruce forests which thrive alongside sandstone river valleys all the way to the hard sand beaches along the shoreline.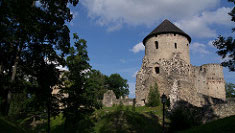 Cēsis
Built overlooking the wooded banks of the Gauja River, the walled town of Cēsis is best known for one of the Baltics' most impressive ruined castles which features not only a lake adorned park and great views from the Western Tower, but also Latvia's oldest brewery. A tour unravels further Livonian threads with St John's Church and the Square of Roses adding to the natural beauty of the Vidzeme region.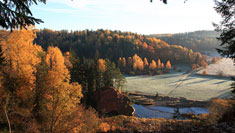 Gauja National Park
Nowhere exemplifies the Gauja River's historic valley setting bettr than Gauja National Park which is decorated in sandstone cliffs and outcrops as well as over 500 historic and cultural monuments, including castles, churches and ancient windmills encircled by fields of flowers. This is hiking heaven with river boating and several cycle tracks, particularly near Sigulda, offering a great excuse to get out and explore.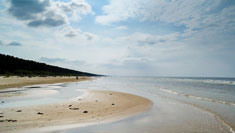 Jurmala
On the north coast, there's around 30km of crystal white sand that has long been the preserve of politicians, poets and pretty much anyone else looking to make the most of sunshine and shallows. The spa town of Jurmala is the largest of several Latvian seaside resorts with cafes, mud baths, wooden summer cottages and cycle paths adding to the attraction of kite surfing and blue eco-flag beaches.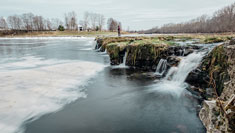 Kuldīga
Come for the waterfall, the widest in Europe, and stay for the riverside ambience of an old fashioned Latvian town steeped in 17th and 18th century heritage and pedestrianised streets aligned with well preserved wooden buildings. Kuldīga is also famed for a late 19th century bridge, the longest of its kind in Europe, and an ornate former synagogue, but it's the riverside in springtime that steals the show.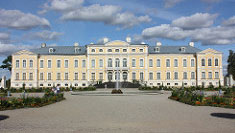 Rundāle Palace
Set within an expansive, French style garden, the gold and white rococo façade of Rundāle captures the imagination and is especially worthwhile when accompanied by a local historian or tour guide. The museum and exhibition hall are packed full of fine art and Latvian heritage with opulent interiors and stunning Italian frescoes decorating rooms and ceilings that once served both Russian nobility and Soviet soldiers.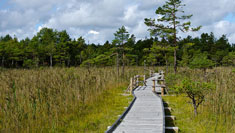 Slītere National Park
This is the site of one of the Baltics' oldest nature reserves where thousands of birds cross forest covered hillsides, sand dunes and Baltic coastline on their annual autumn or spring migration. Aside from the birdwatching, Slītere boasts an untouched shoreline where grey seals, light houses, lookout towers and fishing villages can all be found via cycle routes and nature trails leading to smoked fish on Cape Kolka.