Baltics vacations flow into one seamless sojourn with Tallinn, Riga and Vilnius offering an assortment of cultural treats captured within three UNESCO-listed old towns. Although churches, castles and candlelit alleyways can be fun, the Baltics also boast an inordinately lengthy coastline with locations like Lahemaa and Curonian Spit National Parks, and the seaside resorts of Jurmala and Klaipeda, opening up drifting dunes, bird watching hot spots and sandy pine forest trails.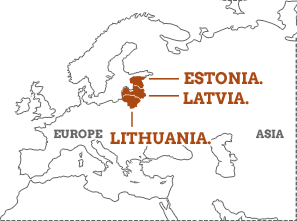 Enjoy an overview of Estonia, Latvia and Lithuania on a Baltics vacation and you'll experience a much more satisfying bite than if you simply nibble one piece at a time.

As you'll discover in our Baltics vacations travel guide, Estonia, Latvia and Lithuania are great to visit as part of a small group vacation. Guides take the stress out of queuing for tickets, gambling with accommodation and getting to grips with languages, although it's still fun to dip your oar in and learn under your own steam – especially if you value free time to explore just as much as three countries in one tour.
The Baltics are...
not quite as affordable as some travelers may have been led to believe.
The Baltics aren't…
ex-Soviet relics. They're quite sophisticated, actually, and also boast some of northern Europe's best Blue Flag beaches.
THE BALTICS MAP & ITINERARIES
Baltics tours take travelers from top to tail starting in
Estonia's
north coast capital, Tallinn, and completing in the
Lithuanian
equivalent, Vilnius, 600kms south. Two-week tours turn to Tartu from Tallinn, via Lahemaa National Park, before heading south into
Latvia
where Cesis and Gauja National Park are worth visiting prior to Riga and Jurmala, on the coast. Last but not least Klaipeda and the Curonian Spit, on Lithuania's westerly shores, make for a sandy prelude to Kaunas and Trakai, further east, before you reach your final destination, Vilnius, 30km from Belarus. Transfers between destinations are usually quite short and a private coach provides a comfortable ride on reasonable roads, ignoring the occasional pot hole.
1. Curonian Spit
Take the lagoon ferry from the port of Klaipeda and you'll find yourself on Europe's largest drifting sand dunes, the UNESCO protected Curonian Spit. Wetlands and forests, on this Lithuanian stretch of coastline, lure migratory birds, in much the same way as the seaside village of Nida - located slap bang on the Spit - appeals to travelers searching for Blue Flag beaches and ornate wood carvings.
2. Lahemaa National Park
Estonia's largest national park promises manor houses, fishing villages and some of the best darn bog walking boardwalks this side of Belarus. There are some really wonderful swathes of sandy Baltic coastline in Lahemaa and easy access to Tartu, Estonia's second largest city, make it a must for travelers seeking cascading waterfalls and moss-covered pines.
3. Riga
Wind your way around Latvia's elegant capital, Riga, and you'll by treated to unparalleled examples of Art Nouveau architecture, especially in the Central Market, as well as fab panoramas from the top of St Peter's Church. Riga exemplifies Latvia's search for a national identity and is definitely worth a day or two in between visits to Turaida Castle, in Gauja National Park, and the beaches of Jurmala.
4. Rundale Palace
If you're looking for an indication as to just how much emphasis the Baltic states place on architectural opulence then a guided tour of Rundale Palace, built in the 18th century for the Duchy of Courland, tends to sum things up rather nicely. The gardens alone are an amazing sight and provide a perfect place to take in the outstanding Baroque exteriors prior to disappearing into palatially lavish Latvian interiors.
5. Tallinn
Estonia's capital is a captivatingly characterful starting point for a tour of the Baltics with Toompea Palace, Alexander Nevsky Cathedral and St. Nicholas Church providing just some of the attractions on a guided tour. Twilight in Tallinn, as flickering wall torches cast shadows over secret stone stairwells and hanging craftsmen guild signs, is a joy for lovers of getting lost.
6. Vilnius
Completing a tour in Vilnius makes sense as not only is this the Baltics' southern capital, complete with international airport, but it's Lithuania's cultural centerpiece where the medieval Old Town, Antakalnis Cemetery and the KGB Museum help to put the final pieces of the Baltic jigsaw into place. Negotiate narrow streets leading to hidden courtyards, open gardens and ecclesiastical architecture.
If you'd like to chat about Baltics or need help finding a vacation to suit you we're very happy to help.

THINGS TO DO IN THE BALTICS
Things to do in the Baltics…
Well maintained trails, vehicle support and mainly level ground will appeal to cyclists who like to pootle for around 50km a day rather than sweat it out on steep ascents. Cycling vacations in the Baltics cover a fair distance, balanced out with vehicle transfers. Sandy coastal tracks, shaded forest paths and lesser used backroads stretch between Tallinn and Riga, and onto less well known locations such as Estonia's fishing villages and the Lithuanian seaside town of Palanga.
Intriguing politics. Since the end of Soviet occupation in the 1990s, each Baltic state has done its best to embrace European leaning ideologies as well as searching for their own unique cultural identities. This makes for a fascinating backstory, one that's well worth researching before you go. The Cold War Museum in Lithuania's Plokstine forest and the Occupation Museum in Riga providing a couple of points of interest for any travelers with a passing interest in politics, Euro history, and the wider world.
Although thoughts of breaking the ice may spring to mind when contemplating a day at a Baltic beach, what you'll actually find, in summer, are seaside towns scattered between some of northern Europe's finest selections of sand. Latvia boasts six Blue Flag beaches in Jurmala, while Nida, in Lithuania, offers an escape for artists, and nudists, amongst a sea of drifting sand dunes commonly known as the Curonian Spit. Go on, it's fine once you're in.
Things not to do in the Baltics…
Boardwalks over bogs, medieval stone stairs and sandy forest trails will all be part and parcel of a Baltics vacation, so don't underestimate the importance of sensible footwear. Quality trainers or walking boots will put much more of a spring in your step and while trips are leisurely, there's still going to be a fair amount of walking, so a reasonable level of fitness will always be an advantage.
Forgo a tour guide. Group guides give you a much better understanding of each Baltic nation from a historical and sociological perspective. Guides can answer questions in an instant, act as a translator, and point you in the direction of real, local experiences, rather than typical tourist traps. Although it can be tempting to simply get lost in Lithuania or ease organically into Estonia, there's so much to be said for joining a small, guided group that we can't recommend the experience highly enough.
Assume you have to go in summer. Although temperatures and endless sunlight attract plenty of travelers to Baltic beaches between July and August, opting for autumnal alternatives, in places like Lahemaa National Park in Estonia or Latvia's Gauja National Park, can be just as enjoyable. Bird watchers should also take note as the Baltics are bang on the flight path from Scandinavia to Southern Europe. This sees the coast, lakes and floodplains festooned with feathers; just pack a mac with the binocs.