Baltic cycling vacations guide

Borrow a bicycle in the Baltics for a small group tour that will have you pedalling from Tallinn to Riga to Vilnius as well as through forests, fields and beside the seaside.

The lack of hills – unless you count sand dunes – is just one reason why cycling in the Baltics will prove tempting to those who love nothing better than a pootle. Traditional local dishes, such as buckwheat porridge and dense black bread, are great slow release energy providers so cyclists can keep going all day – which can be a pretty long time if you're taking a tour during June. Braving the Baltic Sea is also possible if you're cycling in summer with smoked fish, in seaside villages, ideal fodder for cycling along the rest of the Curonian Spit.
IS A BALTICS CYCLING HOLIDAY FOR YOU?
Go on a Baltics cycling vacation if…
… cycling at a conversational pace, past sand dunes and through pine forests, sounds about right. … you're happy to cycle as part of a peloton accompanied by a support vehicle carrying luggage and a cycle guide leading the way. … you don't mind unpacking and packing in a series of different, and sometimes remote, locations. … you want an active vacation that also features a fair amount of cultural sightseeing and lots of local food.
Don't go on a Baltics cycling vacation if…
…you're looking for challenging cols and daily distances over 60km. The Baltic nations aren't known for their undulations, especially close to the coast. …you prefer to wind down at a 5-star sports hotel. Locally run accommodation will be of a good standard but tends to fall on the side of warm and welcoming rather than anonymous high-tech mega gyms. …you're looking to avoid towns and cities at all costs. Tallinn, Riga and Vilnius will all feature on a cycling vacation in the Baltics as they're pretty much unmissable.
TOP BALTICS CYCLING ROUTES
Although cycling across three countries may seem like quite a slog, the route from Tallinn to Vilnius via Riga is fairly easy going and achievable in 11 days. Average daily distances of 50km invite cyclists to pedal at a conversational pace. Road surfaces will be 80 percent tarmac and 20 percent gravel, with pine forests, beaches, marshlands, lakes and meadows setting the scene. Otepaa, for instance, may be Estonia's version of Switzerland but don't expect gradients over seven percent. Seaside resorts offer good excuses for a swim, while inland towns and villages like Kuresaare, Trakai and Ainazi offer insight into history and local life, best experienced out of the saddle, as well as on.
CURONIAN SPIT NATIONAL PARK
Curonian Spit national park
Klaipeda is the gateway to the UNESCO listed sand dunes of Curonian Spit National Park and an ideal departure point for pedalling in southwest Lithuania. Although narrow in places, the Curonian Spit is one of the Baltics' most scenic coastlines with ample chances to cycle over 50km. Lots of little fishing villages, including the artists' retreat of Nida, provide places to pause, soak up the sea breeze, and sample smoked fish.
Pärnu-Ainazi
The seaside and spa city of Pärnu, in southwest Estonia, is the perfect place to get your bearings ahead of cycling 70km south to Ainazi, just over the border in Latvia. The majority of this easygoing route follows the old coast road as it meanders through fishing villages, coastal meadows and shallow, saltwater lagoons. Keep your eyes peeled for migratory birds, including thousands of geese, if cycling in spring.
Riga – Jurmala
There's no better way to escape the city streets of Riga than cycling to the coast. Jurmala – around 30km from the Latvian capital – provides ample excuses to swap Lycra shorts for swim suits as you unwind on sandy beaches and spa resorts. This cycle route follows train tracks from Riga's old town, past wooden houses and Soviet style city suburbs, and out into forests and meadows before finally reaching the sea.
Lahemma National Park
Boasting some of the Baltics' wildest coastal regions, Lahemaa covers more than 700km2 of dense woodlands, bogs and lakes to make it one of the largest national parks in Europe. There's a great 55km circular cycling route starting from Palmse manor house which combines coast with forests and pastures, via the seaside villages of Altja, Vosu and Kasmu. Cycling here is easy going and extremely peaceful.
Otepaa
Although the luscious slopes and pine forested banks surrounding the town of Otepaa aren't exactly Alps standard – don't expect gradients over seven percent – you can still look forward to cycling in one of Estonia's greenest and most pleasant landscapes. Pedal past picturesque Puhajarve Lake, cycle to Sangaste Castle for great views over the surrounding countryside, and complete a 55km ride from Otepaa to the town of Valga.
Saaremaa Island
Stay on a farm on Saaremaa Island to experience real Estonian hospitality, including a hearty bowl of buckwheat porridge at breakfast, which is just the super food you need to set you up for an 80km cycle to and from the island's main town, Kuresaare. Life on Saaremaa is slow and road cycling is incredibly easy going and quiet. Think Norfolk with more windmills, lighthouses, spas and meteorite craters.
Our top Baltics Vacation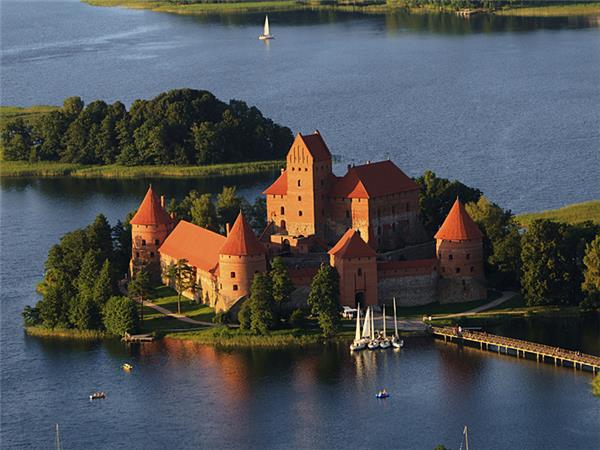 Discover historical cities crossing Estonia, Latvia and Lithuania
From
US $

2379

to

US $

2549
11 days
ex flights
Small group travel:
2023: 10 Jun, 17 Jun, 24 Jun, 28 Jun, 8 Jul, 15 Jul, 9 Aug, 12 Aug, 26 Aug, 2 Sep, 9 Sep
2024: 18 May, 25 May, 22 Jun, 29 Jun, 6 Jul, 13 Jul, 20 Jul, 27 Jul, 7 Aug, 10 Aug, 17 Aug, 24 Aug, 31 Aug, 7 Sep, 14 Sep
If you'd like to chat about Baltics or need help finding a vacation to suit you we're very happy to help.

WHEN TO GO CYCLING IN THE BALTICS
The best time to cycle in the Baltics is May to September with the promise of midnight sun, comfortable temperatures, and the occasional shower, creating a cool ride, in every sense.
Cyclists will find the Baltics' cooler conditions and often erratic weather both a blessing and a curse. Wind and rain can really impact on a day's ride, so good quality waterproofs are essential, especially when riding alongside the coast. Thin layers, to whip on and whip off, are key. Mid-May to mid-Sept is the best time to cycle in the Baltics. Summers can be much cooler than the rest of Europe but still provide enough warmth for a dip in the Baltic Sea. Days will be very long, especially in Estonia,; take an eye mask if cycling in June to get some rest from the midnight sun.
BALTICS CYCLING HOLIDAYS ADVICE
Baltics cycling practicalities
Baltics cycling practicalities
Kristijan Svajnzger from our small group tour operator, Intrepid Travel, shares his knowledge of cycling in the Baltics:
"The majority of rides in the Baltics are on asphalt. Sareemaa Island in Estonia is kind of the exception with a few more gravel tracks. Cyclists won't experience anything too technical and all three countries are pretty flat; the biggest climb has an elevation of just 50m. Daily distances aren't too long and range from 35km on the shortest day to 65km on the longest. Saaremaa Island in Estonia and Vente in Lithuania have the best bike routes for watching wildlife, especially birds."
Will the weather be 'Baltic'?
Will the weather be 'Baltic'?
"Cyclists always underestimate the Baltic weather. It can be windy and rainy even in the summer, so we really recommend packing good quality waterproofs that can be stowed away in panniers. The Baltics are usually colder than the rest of Europe; however, weather patterns are changing so pack for all eventualities and you won't go far wrong. Accommodation in the capital cities, especially in the summer, can be expensive. The cost of eating out is pretty much comparable to Croatia and Greece. You get much better rates and value for money before June, especially in the most visited places like Klaipeda."
Where to cycle in the Baltics
"We cycle to some really remote regions of the Baltics where facilities are few but the natural surroundings and opportunities to spot wildlife and meet local people are abundant. Smaller places provide good options for picnics and bonfire nights. In summer, because of the long days, many places have outside seating and they stay open long into the night."
Baltic food
"All the Baltic nations are big fans of superfoods, which is good news for cyclists. Latvia has some excellent and really good quality cuisine with locally made dark bread, cottage cheese and dill –mainstays at every picnic. Estonia's breakfast porridge and very good local chocolate for a cycling snack are always favourites. Lithuania, on the other hand, specialises in cepelinai which is a stuffed dumplings/ravioli type dish – an ideal pick-me-up after a chilly day in the saddle."