Lithuania travel guide
---
2 MINUTE SUMMARY
Lithuania doesn't really do street food but if it did you could bet potatoes, dumplings and dill would be in there somewhere. Big cities like Vilnius, Kaunas and Klaipėda, are too cosmopolitan for that sort of thing and you're more likely to find chic café culture on Parisian style boulevards as opposed to the stereotypically dull delights of the Soviet era. Outside of the cities, thick pine forests, inhabited by elk, boar and mushrooms, fringe vast lakes and lost villages, where wooden churches and water mills are safely situated within the confides of Lithuania's five national parks: Aukštaitija, Dzükija, Žemaitija, Trakai and Curonian Spit. Crossing into Latvia and Estonia brings the entire Baltics into being with multi-country tours offering a unique glimpse at life over the borders. If the weather's fine, head to the Lithuanian coast for 100km of sand-whipped shore with dunes forming protected picnic spots and waterfront restaurants promising bulviniai blynai (potato pancakes), kibinai (pasties), marinated herring and potato dumplings, with dill, of course. Find out more in our Lithuania travel guide.
Lithuania map & highlights
---
MAKE THE MOST OF YOUR TIME
Although Lithuania has long rid itself of overbearing Mother Russia, the seaport city of Kaliningrad, which is boxed between the Curonian Spit and Poland, still presents a potential problem. But let's forget about that for now and concentrate on the rest of the shoreline that features, not only, the Lithuanian half of the Curonian Spit, but also, 100km of white sand beach that stretches all the way to Latvia. The seaside resorts of Nida, Klaipėda and Šventoji, are all popular when the sun's out although inland national parks, such as Aukstaitija and Dzükija, are excellent alternatives. The capital, Vilnius, exemplifies the country's confidence and offers easy access to the towns of Trakai and Kaunas, both located nearby. Finally, trips over borders into Belarus, Poland and Latvia always add to the excitement of exploring eastern Europe.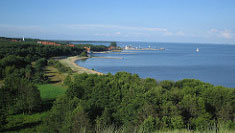 Curonian Spit National Park
Curonian Spit is shared territory with the northern half belonging to Lithuania and the rest to Russia. This is some serious sand and after a short ferry ride over the lagoon you'll be treated to over 50km of drifting dunes, wetlands, forests and seaside villages, such as Nida, which have long been the preserve of artists and soul searching types, as well as migratory birds taking a rest from the East Atlantic Flyway.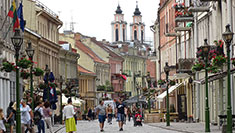 Kaunas
Follow Eastern Europe's longest pedestrianised boulevard and you'll understand why Kaunas is just as well known for its ambience as it is for its museums and churches. A blend of Gothic, Baroque and Renaissance make up the majority of the Old Town buildings, with Vytautas' Church, the Church of St. Francis Xavier and Pazaislis Monastery, all stand out highlights amongst the open air bars and cafes.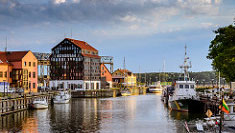 Klaipėda
Sandwiched in the middle of seaside resorts Palanga and Nida, Klaipėda is Lithuania's third largest city and the east coast Baltic's number one (usually) ice-free port. Klaipėda's unique Old Town features rows of timber-framed buildings that make for an interesting interlude between time spent in the sculpture parks, botanical gardens and the whispering pine forests bordering the beach.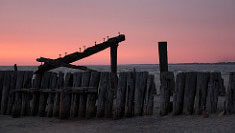 Šventoji
On the northwest coast, bordering Latvia, the seaside town of Šventoji makes for an extremely pleasant escape from city sightseeing with plenty of places to eat or work up an appetite amongst sand dunes and Baltic shallows. Šventoji Beach is one of Lithuania's most secluded stretches of coast and makes for an excellent start point if you fancy cycling to the historic city of Klaipėda, just over 40km south.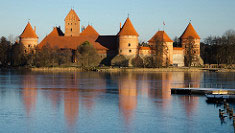 Trakai
Picture conical red turrets bordered by forests and reflected in the ripples of tranquil waters and you're getting close to Trakai Island Castle that's set within its historical national park, just 25km west of Vilnius. Over 200 lakes, Trakai Peninsula Castle and several wooden, triple-windowed buildings, attributed to the Karaim community, can also be found here, as well as a selection of crusty kybyn pastries.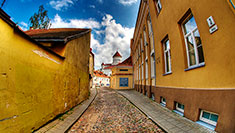 Vilnius
There's a tile in Vilnius that marks where a 650km human chain linked to Tallinn in protest against Soviet occupation. Although the tile's whereabouts is a secret, it's one of many expressions of freedom dotted throughout the narrow streets and public parks. Antakalnis Cemetery, the UNESCO Old Town and the street art surrounding a bust of Frank Zappa are all reminders of a dynamic city in touch with its past.