Things to see & do in Tallinn, Estonia
We won't say it's fairy-tale, as that would be too much of a cliché, but the red-roofed, pastel-coloured houses and shops selling marzipan in Tallinn's Old Town are ridiculously picturesque. The streets are winding and cobbled, without so much as a glimpse of a modern building poking through, and it's all wrapped up by remarkably intact medieval walls dotted with turreted towers. Estonia's capital was wholly untouched by the wars that raged through Europe in the 20th century, in physical terms at least. Tallinn's Jewish inhabitants faced the onslaught of the Holocaust full force, while the Cold War brought shady KGB espionage and chilling Soviet surveillance to its sweet streets.

Couple Tallinn's dramatic recent history with a strongly Nordic influence – it's sat just a short hop across the Baltic Sea from Helsinki – and you have a cornucopia of culture to explore in both the Old Town and the modern part of Tallinn, that is fast becoming a digital powerhouse. Here, glass skyscrapers of Europe's answer to Silicone Valley are the birthplace of the now ubiquitous Skype and home to NATO's cyber defence center, among other IT giants.
Old Town
Tallinn's UNESCO-listed old town has two distinct personalities: Toompea, or the Upper Town, set on an oblong hill, and All-linn the walled Lower Town, one of the best-preserved Hanseatic towns in Europe. Medieval Toompea Castle and its sugar-pink Baroque and Neoclassical 18th century additions, and the onion-like domes of the Russian Orthodox Alexander Nevsky Cathedral dominate Toompea. In the Lower Town painted, gabled houses line winding cobbled streets. Duck into Europe's oldest continually operating pharmacy (it's been here since 1422), sip a coffee in an open-air café, or climb one of the Old Town wall's towers for a glorious view across the rooftops. You can also explore the Bastion Tunnels underneath it all. These 17th century defences became air raid shelters during the Second World War and Cold War.
Culture
Most small group tours will include some free time in Tallinn so you can choose whether you prefer to simply wander and soak up the city's atmosphere, or venture into some of its 60 or so museums and galleries. The foreign art collection at the sublimely elaborate Dutch-style Kadriorg Palace is perhaps one of the city's most beautiful offerings, while the Contemporary Art Museum of Estonia (EKKM) is one of its most modern.

Away from its art, the darker side of Tallinn's cultural offerings originate in the Cold War, when its strategic position on the Baltic Sea, inside the USSR but a stone's throw from the West, brought intense surveillance and an undercurrent of espionage. For a chilling insight you'll want to head to the museum at the Hotel Viru, where the 'non-existent' 23rd floor housed KGB agents round-the-clock, listening into bugged conversations and monitoring the hidden cameras installed in every single guest room.
Marzipan
Marzipan has been made in Tallinn for so long that the city stakes its claim to being this sweet treat's inventor, although so does Lübeck in northern Germany, as well as the French, and the Italians for that matter. Anyway, the general confusion over its origins doesn't diminish its tastiness in Tallinn. Head to the Kalev Chocolate Factory's Marzipan Museum Room on Pikk Street for hundreds of intricate marzipan figurines and an insight into the treat's medicinal beginnings, or the Marzipan Gallery, also on Pikk Street, which showcases Tallinn's major sights, in marzipan miniature form.
Estonian cuisine
With the Baltic Sea lapping at the gates of the city center, Tallinn's heritage as a fishing port has a heavy influence on its distinctive local food. For a truly symbolic Tallinn dish try vürtsikilu, spicy sprats pickled in pepper, allspice and cloves. Or go one better with kiluvõileib, a rye-bread open sandwich topped with vürtsikilu as well as boiled egg, mayonnaise and herbs. Alternatively put your feet up in the main square with a verivorsti, a blood sausage hot dog topped with lingonberry jam.

Estonian restaurants abound in the city, serving up menus filled with heavily seasonal goodies that reveal Estonia's foraging traditions, such as wild mushrooms and berries, as well as a plethora of pickles, traditionally used to keep vegetables edible throughout the long winter months.
Our top Baltics Vacation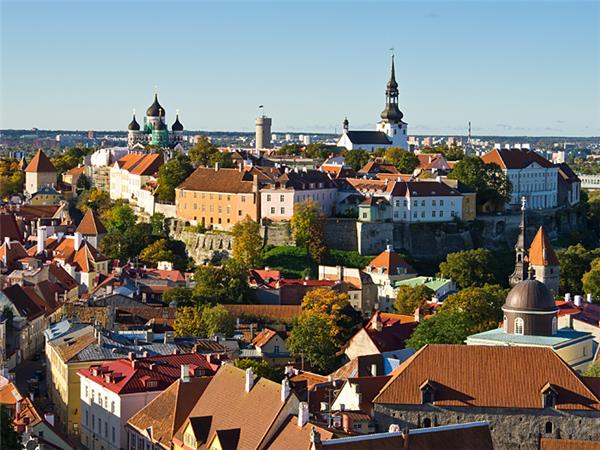 Journey through Estonia, Latvia and Lithuania in 12 days
From
US $

2099

to

US $

2449
12 days
ex flights
Small group travel:
2023: 14 Jun, 18 Jun, 19 Jul, 26 Jul, 9 Aug, 16 Aug, 23 Aug, 3 Sep, 6 Sep, 20 Sep
2024: 17 Apr, 5 May, 15 May, 23 May, 6 Jun, 12 Jun, 26 Jun, 10 Jul, 17 Jul, 24 Jul, 28 Jul, 4 Aug, 7 Aug, 21 Aug, 1 Sep, 4 Sep, 18 Sep
If you'd like to chat about Baltics or need help finding a vacation to suit you we're very happy to help.

Linguistically and economically Estonia's closest ties are with Finland, which is unsurprising given its proximity to Scandinavia and more recently that ferry services from Helsinki to Tallinn are quick and efficient. As a result, the Estonian language comes from a completely different family to Latvian and Lithuanian, which you'll notice if you're on a tour of all three Baltic countries. You'll need to learn three lots of 'thank yous' – aitäh in Tallinn – to be polite in the Baltics.

Tallinn's compact Old Town is easily explored on foot, with plenty of cafes, bars, galleries and ornately decorated churches on hand to give you a chance to rest weary feet. Most tours will include walking tours of the city as well as free time for you to explore at your leisure.
Best time to visit Tallinn
Summer in Tallinn is short but spectacular, with long summer days and short 'white nights' in June, when the sun barely dips below the horizon. Temperatures peak around 20-22°C in July, when the Baltic Sea beaches are a popular escape from city life and outdoor cafes bustle in the Old Town center.

To avoid the peak sightseeing crowds consider traveling in May or September, the former is still warm while the autumn sunshine of the latter casts a warm golden glow over the red-tiled roofs of the Old Town. Be warned, it gets cold quickly in September, so you'll need to pack warm layers. Departures of most small group tours to Tallinn (and the other Baltic capitals) fall into the warmer May to September window, with the odd Christmas trip as well.

In winter you can expect some snow – and cross-country skiing becomes a popular pastime in the city – with a selection of tracks around the city to explore. If you can cope with the cold, and it is often below freezing, then Christmas can be magical, with markets lining the snow-dusted cobbled streets.