BEST TIME TO GO TO THE BALTICS

Bird watchers are bound to get in a flap on the East Atlantic Flyway in spring and autumn.

As you can imagine, winters in this part of the world are blimmin' Baltic, and you'd be much better off visiting in Jul and Aug when beaches, bogs and boulevards are bathed in 24-hour daylight. However, if you're able to visit either side of summer, in May or Sept, conditions are still relatively favourable and the crowds will have disappeared – just pack waterproofs and plenty of layers to be on the safe side. In general, the best time to go to the Baltics is any time outside of Oct to Apr.
WHEN TO VISIT THE BALTICS, & WHEN NOT TO
January and February, are freezing in the Baltics and not the best time to visit unless you're a fan of short days, cold weather and thermal underwear. March and April are still very cold although well wrapped bird watchers will reap rewards: early springtime signals the start of swans, ducks and geese moving into the wetlands and shallow bays along the Baltic coastline. Temperatures are certainly on the turn during May and June; this is the best time to take a small group tour of the Baltics before crowds congregate on the coast to coincide with the longer days and warmer weather of July and August. Mozzie spray is essential in the summer if you're exploring amongst the pines or strolling over boardwalk-covered bogs. September and early October are also the best time to visit the Baltics if you're looking for a less-crowded experience, but do pack woolly jumpers and quality waterproofs if you've got plans to enjoy deserted coastlines and fiery forest foliage. It's lights out in the Baltics during November and December as birds depart for warmer climes and seaside resorts batten down the hatches in readiness for Baltic conditions.
Meet your guide to the Baltics
Meet your guide to the Baltics
Bob Matthews, from our supplier Exodus, shares top tips for small group vacations in the Baltics:

"On a tour of the Baltics you'll have one guide who covers the whole trip. The guide we had was Lithuanian, she was really good and had a great command of English and knew the details and the history of everywhere we visited. In some cases you might also have local guides who get deeper into the history of certain places, for instance – visits to the Cold War Museum, the Art Nouveau architecture tour in Riga and trips to Rundāle Palace."
Traveling conditions
"Distances between locations are usually quite short. You can get the occasional long trip but this is usually due to road works or low speed limits increasing journey time. Roads are in good condition overall, maybe a few potholes here and there. On our trip we travelled in a good standard 28-seater bus which comfortably accommodated a group of 20 passengers."
Food & souvenir advice
"Food is really good across all three states and there's more choice than one would expect. There is a lot of influence from the European countries nearest to the borders of each nation. The Baltics are not cheap, which may come as a surprise. As for souvenirs, Russian dolls are everywhere although artwork and paintings are common too."
Simon Clifford, also from Exodus, shares a key Estonian ingredient:

"The main square in Tallinn is a great place to sit with a verivorsti (blood sausage) hot dog covered in lingonberry jam and a glass of Saku, the local Estonian beer."
Our top Baltics Vacation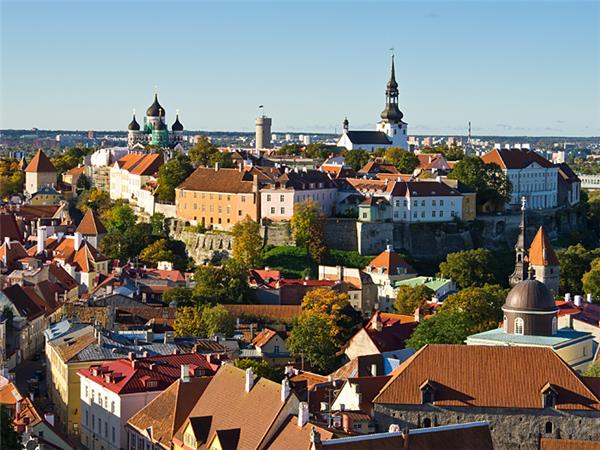 Journey through Estonia, Latvia and Lithuania in 12 days
From US $1745 to US $1905 12 days ex flights
Small group travel:
2019: 30 May, 5 Jun, 26 Jun, 10 Jul, 31 Jul, 11 Aug, 14 Aug, 21 Aug, 28 Aug, 8 Sep, 11 Sep, 25 Sep
If you'd like to chat about Baltics or need help finding a vacation to suit you we're very happy to help.
What to expect in Estonia
What to expect in Estonia
Simon Clifford:

"The production of peat in Estonia used to be a big industry. However, these days, it is peat bog walking that's better known. Basically, you walk over peat bogs in footwear akin to snow shoes. It's a great activity if you're looking for a unique way to explore Estonia's beautiful national parks."
Where to go in Latvia
Bob Mathews:

"Jurmala has a nice beach area (left is active; right side, non-active) and an excellent open air concert hall – check who's playing before you visit. The gardens at Rundāle Palace are exceptional, as are the palace rooms which were featured in the BBC's adaptation of War and Peace. The Old Town district of Cesis is small but quaint, and the castle grounds have re-enactments during the summer with traditional medieval food, music and dressing up."
Languages in Lithuania
Simon Clifford, from our supplier Exodus, shares his Lithuania travel advice:

"If you get lost or you need assistance in Lithuania, ask a younger person for help. The majority speak English as a second language, whereas older Lithuanians tend to favour Russian."
Tips from our vacation reviews
At Responsible Travel, we think the best people to advise our travelers are often... other travelers. They always return from our tours with packing tips, weather reports, ideas about what to do – and opinions about what not to.

We have selected some of the most useful Baltics vacation tips that our guests have provided over the years to help you make the very most of your vacation – and the space inside your suitcase.

Remember to take rain gear with you!

"Expect a few long days but also a well managed and very interesting historical and sociological overview of the countries visited. Remember to take rain gear wherever you go!" – Nel Pickette

"Everything was memorable but the Cold War Museum in an abandoned Soviet missile launch site and the Occupation Museum in Riga are two things that made the biggest impression on me. Just do a bit of research on how to use free time in Tallinn, Riga and Vilnius – there is a lot to see. The tour made good use of the available time and took us to places that we never would have seen on our own. Our tour guide Lolita was excellent and our fellow travelers all interesting and pleasant people from three other nations. The total number on the tour was 11, an ideal size for a group tour." - James Fairbanks

I learned so much about these Baltic countries and their people.

"Be prepared for a fascinating time, and take good walking shoes as you may cover a lot of ground. Really fantastic. I learned so much about these Baltic countries and their people and environment." – Fiona Bell

"An average of about 50kms a day, on mainly flat routes, made for easy cycling and should appeal to almost any cyclist who likes a potter, but might frustrate those looking for something more challenging. We found the Baltics, in general, easy countries to enjoy on vacation and things essentially worked really well. Do take mosquito repellent though as although most places are fine, occasionally you really need it." - Edward Milford

"What made our vacation really memorable was the excellence of our tour guide, Vaida, as well as the standard and quality of the hotels and bikes. The overall organization of the whole trip was terrific." - Margaret Sheridan
More about Baltics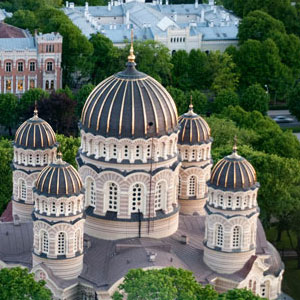 Experience all three of the Baltic states, Estonia, Latvia and Lithuania, as part of the same vacation and discover a wide range of cultural contrasts and natural highlights whilst exploring as part of a small group from Tallinn to Vilnius via the largest city in the Baltics, Riga.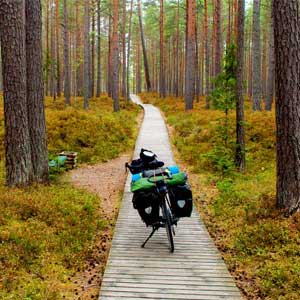 If you're unsure whether a cycling tour of all three Baltic countries is for you then check out our Baltics cycling vacations guide before you push off. We've included the highlights and the lowlights – it's very flat – to allow you to make up your mind as you make the most of your time.
Convert currencies