Cycling in Madagascar travel guide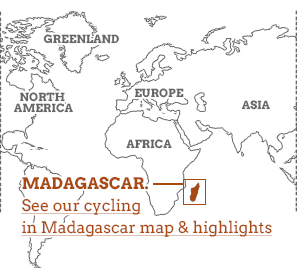 "The thing about cycling in Madagascar is that the people really respect the fact that you're making an effort, that you're not just a tourist sitting behind a window," says John Etherington from our cycling vacation experts Escape Adventures. "I often refer to it as being like Tanzania 20 or 30 years ago. Most people don't have a car so they are traveling on foot or by bus and they take the time to stop and talk to you; it feels really real."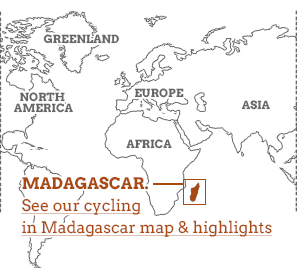 A cycling vacation is a fantastic way to immerse yourself in Madagascar's nature and culture, from tracks through remote villages to viewing lemurs in the rainforest.

Madagascar's landscapes and wildlife are legendary, but it's this connection with local life that makes cycling vacations so memorable. Coffee, for example, is an intrinsic part of Madagascan life, and taking a break from the saddle to perch at a makeshift stall is a regular highlight. "If you see a little coffee stand by the side of a road near a village, pull over and have a coffee and a chat," says John Etherington. "They grow their own, and they roast it and they grind it and they brew it right there in the village, so you can buy a little cup of coffee and a donut for 20 cents and it tastes fantastic."
Cycling tours
aren't just a great way to meet the locals, they're also easy on the environment. Nights are spent in small guest houses rather than multinational resorts, and off-road tracks take you past banana plantations and towering baobab trees, though endemic forests where lemurs cling to the trees and out to tropical coastline, without doing damage to your surroundings. This is especially important in a country where around 90 percent of the unique flora and fauna has been destroyed by deforestation, and where illegal logging continues to be a major problem, affecting not only the environment but also the tourist industry and the communities who rely on it to earn a living.
Cycling in Madagascar is...
a rewarding and low-impact way to explore the country's wild landscapes.
Cycling in Madagascar isn't...
for the inexperienced. While tours aren't hardcore, there are some long hours in the saddle involved, so get some prep in before you head out.
What cycling vacations in Madagascar entail
Who will I travel with?
All our cycling trips in Madagascar are small group vacations, with a maximum of 12 riders per group. "The kind of people who come on our trips are people who want a real adventure and not some glossed over experience," says Mandy Richards from our cycling vacation experts Escape Adventures. "We try to keep it as open as possible because we love having a mixture of nationalities and a mixture of ages on our trips. The more diverse the group the more fun it is. But a lot of our bikers are in the age group where their kids have just left home, so people in their fifties and sixties."
You'll also be accompanied by an experienced tour leader, who will either be Madagascan or will have plenty of in-country experience, both of traveling in Madagascar and of remote biking and trekking. There'll also be a Malagasy mechanic, driver and perhaps an additional guide, who'll be able to give you the inside info on Madagascar's culture.
How tough are the tours?
Open minds are as essential as good gear. The weather and terrain are changeable – combine this with the occasional dodgy tum and no matter how well planned your trip may be, flexibility has to be built in. These are remote landscapes, and the privilege of exploring them will always come with a certain level of unpredictability.

Cycling in Madagascar isn't for newbies and you'll need to reasonably fit and used to cycling at home – either that or put in some serious prep before you leave. Depending on the tour you choose, you'll cycle anything between 15km and 100km a day, on a mixture of dirt and tarmac roads and with some hilly climbs, especially if cycling through the highlands. "There's definitely some challenging terrain here," says John Etherington. "There's hills and there's sand and we go to areas that are very remote. But we have a support vehicle as well, so it's challenging at times, but you're not trying to pump out the kilometres."

Tours will also avoid the main roads as much as possible. "They're quite narrow and they're quite busy with trucks, so avoiding those is better for enjoying your cycling. You need to get off them and head out," says Mandy Richards. "There are a lot of tarmac or paved roads that are quiet. Most people once you get out of the cities don't own a car. So, in the more rural areas you'll just see a few buses and vans and the occasional truck but not lots of traffic. And then you have the dirt roads, which can be pretty rough."

Cycle tours aren't a race and you'll have time to stop off, to go on walks, explore national parks, or to canoe or boat down little-explored river systems. "Our cycle tours are not for people who want to do huge distances or get somewhere as fast as possible," says Mandy Richards. "They're designed for people who want to be active while also experiencing the country as it really is. If you see a bullock cart coming along the road or someone heading into the fields, there's always time to stop and have a chat."
Sleeping & eating
Madagascar's resort island Nosy Be, situated off the northwest coast, might offer high-end accommodation with plush rooms and managed beachfront tranquillity, but they aren't the best option for getting a taste of daily life. Cycle tours offer stays in simple, local-style hotels and guest houses, which are low on polish but high on local character and charm. "We believe that people will have a more authentic and more genuine experience if they stay in small, locally owned properties," says Mandy Richards. "A lot of them don't usually host overseas tourists, they're more likely to host local travelers. It's really special because they value our visits so much, so we get to interact with them and we get home-cooked meals sometimes, which our bikers love."

"The food is amazing," she adds, "especially comparing it to East Africa where I've travelled a lot and where we also run tours. You only need to try ugali (maize porridge) once or twice… but in Madagascar they have a real food culture, with a strong Indian and French influence. They'll just cook up what they've got and it'll be amazing… They'll do rice and they'll give you a choice of chicken, fish or beef, and it'll be with a nice delicate sauce." It's not just in the city that you get great food, but in remote rural areas too, she says. "You'll find amazing restaurants in tiny towns in the middle of nowhere, and you'll wonder, 'What's this doing here?'"
Wildlife watching
With 80 percent of its species found nowhere else on earth – including birds, more than half the world's chameleons, several different species of lemur and the Malagasy giant rat, which can jump three feet into the air – it's Madagascar's wildlife that draws many tourists here, but don't expect to see it everywhere you go. While you may be lucky enough to encounter wildlife along remote riverbanks or in the forests, it's in the more popular national parks, included in all our cycling itineraries, where you are most likely to encounter Madagascar's charismatic creatures. "In the areas we go to you don't see much wildlife when you're cycling around," says John Etherington. "We do go and visit wildlife reserves as we go along, where the lemurs are, for example, so we build that in. Madagascar has had a lot of deforestation and the downside of that is that the wildlife tends to be in the parks, though if you know where to look you can see things like chameleons on the road."
Our Madagascar cycling Vacations
If you'd like to chat about Madagascar cycling or need help finding a vacation to suit you we're very happy to help.

Best time to go on a cycling vacation in Madagascar
Madagascar has an equatorial, tropical climate – for the most part hot, wet and humid. The best time for a Madagascar cycling vacation is between April and December before the heavy rains appear. Late December to March is the rainy season, with cyclones likely around February, and from November onwards temperatures get sticky hot. Arrive between October and December for your best chance to see cute baby lemurs, and between June and September to see humpback whales off the east coast. July and August, the middle of the Madagascar winter, are the peak months for travel.
Bear in mind that it's colder and wetter the highlands than you might think, despite Madagascar being a hot country, so you will want to layer clothing and keep waterproofs near handy.
Antananarivo & highlands Weather Chart
More about Madagascar cycling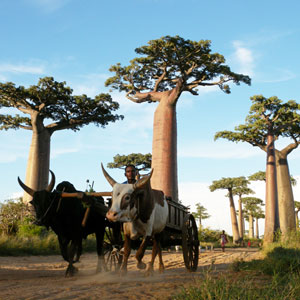 On cycling vacations in Madagascar you'll reach the parts that walkers and drivers simply can't.