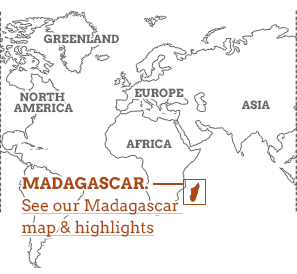 Having parted ways with mainland Africa over 160 million years ago, most of Madagascar's flora and fauna is found nowhere else on earth, including several species of baobabs, most of its 1,000 orchids and – of course – the much-loved lemurs.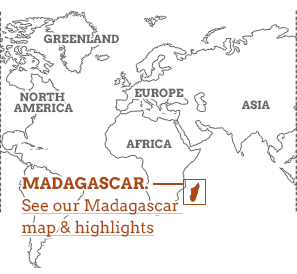 Even the Malagasy people – descended from seafarers from Borneo and Polynesia as well as East Africans – are one of a kind, a distinction that is evident in their phenomenal, French-influenced food, infectious music, and deep respect for their ancestors. But uniqueness comes at a cost. Over 90 percent of the island has been deforested to make way for rice fields and livestock, resulting in landslides, flooding, and the extinction of megafauna, including several giant lemurs. Political instability has resulted in this impoverished nation becoming even poorer in recent years, and ever more dependent on the diminishing forests for survival.

All destinations are unique, but Madagascar is more unique than most

However, everyone who enjoys a Madagascar vacation is said to leave a piece of themselves there, having fallen in love with the landscapes, the wildlife and the warmth of the Malagasy culture. It's well worth a visit – especially now that well-managed tourism is one of the keys to the future of Madagascar's wildlife – and its people.
Madagascar is...
... full of cultural taboos which have protected its lemurs for centuries.
Madagascar isn't...
... like going to the zoo. You need to work for your wildlife here!
What we rate & what we don't
The ultimate fusion food
The Polynesian, African and French influences have created a taste explosion. A zebu steak tops even the best organic beef, while the subtle flavours of coconut, groundnut, vanilla, ginger and local greens add depth to an enormous variety of sauces which accompany rice at every meal. Don't miss the fruit based sweet treats and exotic juices.
Culture
To describe Madagascar as a wildlife vacation destination is to dismiss one of its greatest assets: its people.
Malagasy culture
revolves largely around ancestor worship, and local taboos, called 'fady'. Fady vary from village to village, and may forbid pointing at tombs, hunting certain animals, sitting in doorways during the rice sprouting season, and singing at mealtimes.
Giving something back
Visitors often wonder what they can do to help during their Madagascar vacation. Many fantastic charities operate here volunteers can work in community development, construction and reforestation, for example. Alternatively, donate money or necessary items. Shop at local cafes, craft stalls and markets to support the economy directly – you'll get so much more out of your trip, and so will the community.
River expeditions
Much of Madagascar can only be accessed by river; there are no roads, but you can
canoe along the waterways
for several days, camping in remote spots. Hundreds of small communities live along the banks, and you'll see people going about their business and greeting you – this is one of the most relaxing ways to really discover Malagasy life.
Lemurs
Everybody loves lemurs. They are believed to have floated across to the island some 60 million years ago, and have now evolved into over 100 species, all unique to Madagascar. Favourites include the panda faced ring tailed lemur, the "dancing" sifaka and the metre long indri, which "sings" like a whale.
Getting around on foot
A vacation in Madagascar offers world-class scenery: towering limestone pinnacles, waterfalls and natural pools, rainforest, highlands and semi desert. Leaving your vehicle behind allows you to really experience these otherworldly scenes, and
walking vacations
offering multi day treks will really take you off the tourist track, into true, deserted wildernesses.
Paddling your way around
The shallow, turquoise and jade seas off Madagascar's north coast make for idyllic kayaking experiences, particularly around Nosy Be, and Masaola Peninsula in the northeast. You can paddle from place to place, trailed by a dhow, take guided tours; cruise along mangrove swamps; and spot fantastic sea life, including dolphins and whales.
Tsingy de Bemaraha
Anyone with a well developed sense of adventure will be right at home in the Tsingy – a spectacular "forest" of tall limestone pinnacles which can be trekked through and scrambled over while wearing harnesses. Getting to the Tsingy is an odyssey in itself: an epic drive or short flight to Morondava, followed by a hike through a lemur filled forest.
All-inclusive resorts
In a country as poor as Madagascar, every pound you spend that goes back into the local economy goes much, much further than expected. Foreign owned, all inclusive resorts prevent that money filtering down, so most of what you spend will never benefit the local people at all. You are enjoying a vacation in Madagascar – give something back.
Antananarivo
Your Madagascar vacation is likely to start and end here, and while there are enough markets and palaces to keep you amused for a few hours, "Tana" is really not worth spending more time in than necessary. Tourists can feel hassled, prices are inflated and the characteristic, laid back Malagasy vibe is less evident in the urban sprawl.
"Life-changing" volunteering
Volunteer organisations claiming to "change your life" are missing the point. In a country as desperately poor and undeveloped as Madagascar, the priority must be improving the situation for local people and conserving the rapidly vanishing environment – and this means hard work. Vacations disguised as voluntourism erode trust and can do more harm than good. Do your research.
The Nosy Be "bubble"
Madagascar's vacation "capital" is certainly a beautiful tropical island – but with its international airport, all-inclusive resorts, yacht trips and expensive restaurants, visitors to Nosy Be are likely to never experience anything of Madagascar. Step away from your sun lounger and get to know the people, landscapes and cuisine that make this country so exceptional.
If you'd like to chat about Madagascar or need help finding a vacation to suit you we're very happy to help.

Eating & drinking in Madagascar
Madagascar's diverse, delicious cuisine has Malayo-Polynesian, East African and French influences.
Rice – called vary – is eaten at every meal, with an accompaniment known as laoka. Laoka contains seafood, pork or beef, along with veg such as shredded leaves, sweet potato, nuts or maize.
Highland laoka often has a tomato-based sauce, while coastal laoka uses coconut – seasoned with clove, vanilla, mild curry or ginger.
Zebu cattle are a Malagasy status symbol. They produce a phenomenally tasty steak.
People & language
Greet someone in a rural area: "Salama!"
Although Madagascar's people speak one language and are all known as Malagasy, there are 18 main subcultures and numerous dialects. The Malagasy split broadly into two main groups: the highland people, typically of more Asian descent, and the coastal people, who look more East African. The main highland group is the Merina, who are descendants of Madagascar's monarchs.
Tell your host your meal was delicious: "Matsiro be"
If you hear "Tonga sao!": when entering a village, you are being welcomed.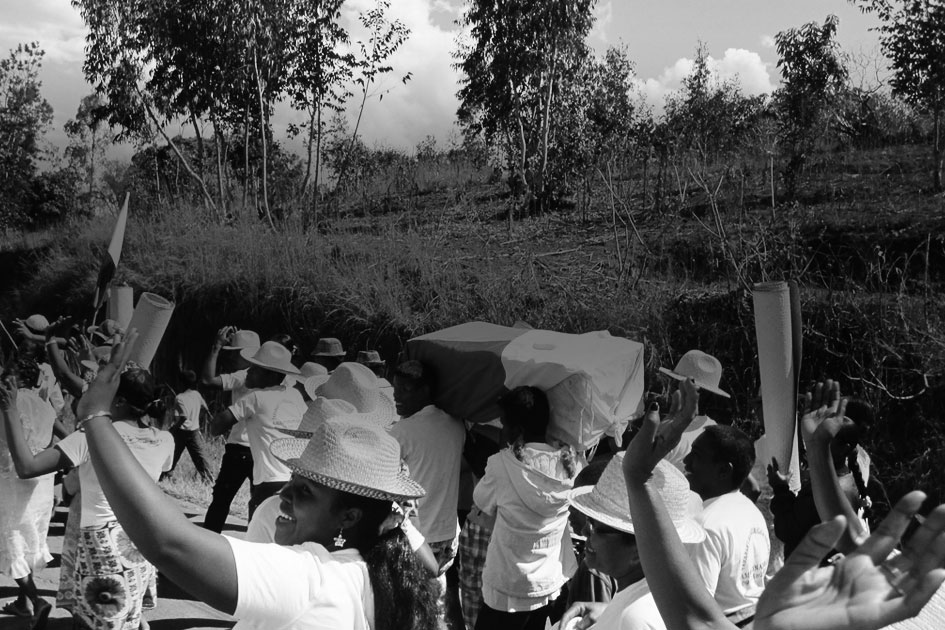 The Malagasy revere their ancestors. People live in simple wooden houses, but are buried in elaborate concrete tombs. Their remains are periodically paraded around the village, and reburied in a "bone turning" ceremony.

Wood carving is highly skilled with regional specialities, including panels, ornaments, trays and furniture. Be sure not to buy illegal hardwoods, such as rosewood and ebony.
Enjoyed the zebu? Buy a bangle, spoon or cup carved from zebu horn as a souvenir.
Raffia is native to Madagascar. It is used throughout the island to weave bags, baskets and mats.
The French encouraged a rich tradition of embroidery, including colourful, intricate tablecloths, cushion covers and purses. Take a look at Stitch Sainte Luce's online shop for examples – the project has trained embroiderers and created employment in some of the poorest communities.

Euros are the most widely exchangeable currency in Madagascar, and higher value notes obtain a better exchange rate.


Bottle of Three Horses Beer: £1.10
Zebu steak in a restaurant: £2.90
Rice dishes on the street: 75p
A brief history of Madagascar
Traditionally ruled by the Merina – highland people of Indonesian descent – Madagascar fell under French rule in the 1880s, leaving a lasting legacy on the island's cuisine, architecture and textiles industry. After decades of discontent and rebellion, Madagascar finally gained independence in 1960. Military rule, a coup d'état, and accusations of rigged elections plagued the island, with the political elite and the army fighting it out at the top as the rest of the nation endured a lack of infrastructure, inadequate healthcare and devastating cyclones which left hundreds of thousands homeless.

Widespread and violent political unrest followed another suspected military coup. The international community imposed sanctions against Madagascar, severing trade agreements and withdrawing aid. The result on the population has been rising food prices, increasing poverty and child mortality, reduced access to education and the clearing of yet more forests, to make more space for growing food. Few outside the main cities are aware of the complexities of political events and international policy – but everyone has been severely affected by them.