Difficulties of traveling around Madagascar
At Responsible Travel, we are not afraid of explaining the negatives of a destination as well as highlighting the positives, helping you to make an informed decision about whether traveling there is right for you. With Madagascar, it's impossible to ignore the fact that, a lot of the time, getting around is difficult. Most roads are in a poor condition, meaning overland travel can often be time consuming, jolting, hot and unpredictable. Outside big cities and towns, tourism infrastructure is very limited, and few people speak French, let alone English. For this reason, joining an organised tour is almost always the only way to go.
So why even travel overland? Because if you don't, you'll miss out on much of what makes Madagascar so blooming special. The random encounters with friendly local people wandering along the roadside; stunning viewpoints tucked away behind the undergrowth; the fun of getting to know your fellow travelers during long journeys, and simply the excitingly unexpected nature of a trip like this, where in the morning your 4x4 might be bogged down in mud and needing a push, and in the afternoon you might be invited for a meal with your guide's family. If you want to experience the unique culture, flora and fauna of these remote places you need to be prepared to hack it.
It's very much a case of taking the journey as it comes. Take off your watch and try to be flexible so that if plans have to change you can go with the flow. The advantages of traveling in either a small group or a tailormade tour here are perfectly clear. You will be accompanied by Malagasy guides, able to interpret, advise and ensure that even while the roads might not be smooth, all the other elements of your trip should be.
On the road in Madagascar
How difficult is overland travel in Madagascar? Well, let's put it this way – in a country that's almost the size of France there are only around 6,000km of paved roads. Rain and the poor quality of materials mean that potholes are quick to develop, and lack of funds means they are very slow to be fixed. Some rural areas become difficult or impossible to access during the rainy season. For this reason many tours will make frequent use of 4x4s, or fly between destinations.
Organised tours will often state driving times for each day, but these can only ever be best estimates and it's important to keep that in mind. Traffic, weather and road conditions can all affect these timings substantially, and there is no official breakdown service either. It can also be hot (daytime temperatures average around 30°C) and not all vehicles have working air con. The situation is slowly improving, and the main highways that spoke out from the capital, Tana, are generally in decent condition, but between these axes it's pot(hole) luck. Given all that, if you want to explore several regions of Madagascar, consider a longer trip so that not every day need involve travel.
Naomi Coleman, from our own Travel Team, lived and worked in Madagascar for several months, and shares her valuable first-hand experience of traveling around the island:
"Years before I went, I watched the Madagascar episode of the BBC's World's Most Dangerous Roads. Perhaps this prepared me a little for what I was going to experience, but it still surprised me how time-consuming road travel was in Madagascar.

The roads are generally terrible and journey times are very unpredictable. As I was traveling with local people, I spent a lot of time at taxi brousse stations waiting for the buses to be loaded with luggage and livestock. Once everything was strapped to the roof we could get on. After leaving the station, it was anyone's guess what time we would arrive at our destination. You definitely have to be patient and prepared for delays as they are inevitable. On a trip from Mahajanga to Antananarivo I was told two hours into the journey that the mini bus would not make it all the way so we had to turn around and go all the way back to where we came from to swap buses!

In Madagascar, the longer the time you have to travel, the better; don't go for a week. Many people underestimate the size of the island. It is over 2,000km from north to south (which is a similar distance from north of France to south of Spain)! It is an incredible country to explore, the best adventure I have ever been on, but you do need to be patient and prepared."
Our top Madagascar Vacation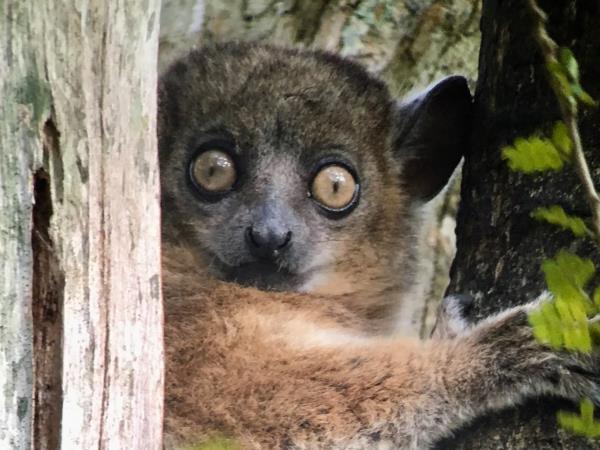 An adventure observing unique wildlife in Madagascar
From
£

3695
20 days
ex flights
Tailor made:
This trip can be tailor made throughout the year to suit your requirements
If you'd like to chat about Madagascar or need help finding a vacation to suit you we're very happy to help.

Accommodation, food & healthcare
Most trips use a combination of hotels, lodges and camps, locally owned and operated where possible, and occasionally spend a night or two in private homes. Naturally these places are often fairly basic – WiFi for instance is sporadic – but they are comfortable enough and what's more they inject much-needed income into the local economy.
In restaurants, vegetarian and even vegan travelers are reasonably well catered for by Malagasy cuisine. Bring plenty of cash as poor internet connectivity and power outages mean credit cards aren't always practical. If you do suffer from allergies, it's better to be safe than sorry, and always carry an EpiPen with you, as you could be a day's journey from the nearest halfway decent healthcare facilities. Comprehensive travel insurance, it goes without saying, is a must.
What do I need to pack?
The most important thing to pack when traveling in Madagascar is your patience, and we'd also suggest a pack of cards, a fully charged e-reader or books, and a cushion. Depending on your itinerary you are likely to spend at least several hours on the road each day, across uneven terrain. Road travel is the best way to experience rural Malagasy culture, with frequent stops along the way, but it's often bumpy and exhausting.

That covers your wants. For your needs, it's safest to assume you'll struggle to find them in Madagascar, so bring plenty of medicine, hygiene products and suncream with you. Wind-up torches are very useful for coping with an unreliable power supply – most villages are completely dark after sundown – and some travelers choose to leave them behind as a gift on departure. A solar power bank is also handy to charge devices.
Insights from our travelers in Madagascar

Be prepared for long drives on the road, but the destinations are worth it

"Be prepared for long drives on the road, but the destinations are worth it. Don't expect luxury in every hotel, some have comedy plumbing systems or limited electricity availability. Bring gaffa tape, bungy cords and tow rope – we used them all! Recognise that the itinerary may not be accurate. In general travel times were longer and the time at destinations therefore shorter than the itinerary suggested."
- Paul Shepherd

"Be realistic in your expectations regarding the country and its facilities (roads / accommodation / service / food etc) and also your physical ability to undertake road travel and walks in extreme heat. While the fantastic guide did his utmost to explain such matters and help people through it was clear that several travelers simply failed to understand what to expect in a third world country and just how difficult travel in particular can be on hopeless roads." - Ross Hamilton

"Take loo paper and a torch and a travel towel and a swimming costume. Get there at least 24 hours early as you'll have a very early start and a very long journey straight away. If you want luxury then this vacation is not for you. The traveling is very slow and tiring. It was good, but it was not a relaxing or a feel-good vacation. It was more of an eye-opening vacation." - Sally Payne

"Be prepared for long drives in 4 x4 vehicles which are punctuated by stop offs all designed to give you the full experience of Madagascar. Take simple items to give away, torches (villagers live in total darkness when night falls) candles, playing cards and small balls for the children." - George Bannister