A country steeped in legend, music and incredible natural beauty, Mali is one of the most rewarding destinations in West Africa. Its lifeblood is the Niger River, which bends and twists from the dramatic escarpments and cliffside villages of Dogon Country, through dynamic capital city Bamako, and on to the parched Sahara Desert in the north, passing ancient Sahelian trading kingdoms and the fabled town of Timbuktu along the way.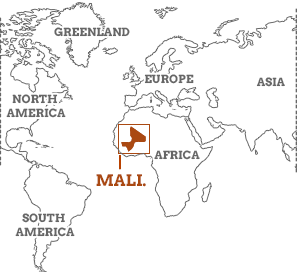 Mali is West Africa's beating heart; a country as rich in history as it is blessed with jaw-dropping landscapes and diverse cultures.

Once the jewel in the crown of West African tourism, Mali's landscapes, monuments and stories were off limits to tourists for several years thanks to political instability, Tuareg rebellion, and the increasing influence of Islamic militants. Now a few intrepid travelers are venturing back to this fascinating place; and finding that, for now, they can enjoy the country's historic highlights and striking beauty with scarcely another tourist in sight.
Mali is...
an incredible cultural experience, with a music scene that's one of the best on the continent.
Mali isn't...
off limits. If you join a guided tour and steer clear of some still-troubled areas, there's no reason why you can't visit.
Historically and geographically, landlocked Mali is West Africa's centerpiece: a bridge between the deserts of the north and the forests of the south. The largest country in West Africa, its butterfly-shape covers some 240,000 sq km and shares a border with seven other nations. To the south are rolling grasslands and dramatic highlands, including the cliffs and escarpments of the Dogon Plateau. Northern and central Mali are made up of Sahel and Sahara, broken up only by the Iforas Massif, a sandstone plateau that's an extension of the mountainous Hoggar region of the Algerian Sahara. The Niger River flows through the interior, functioning as the country's main trading and transport artery.
Our top Mali Vacation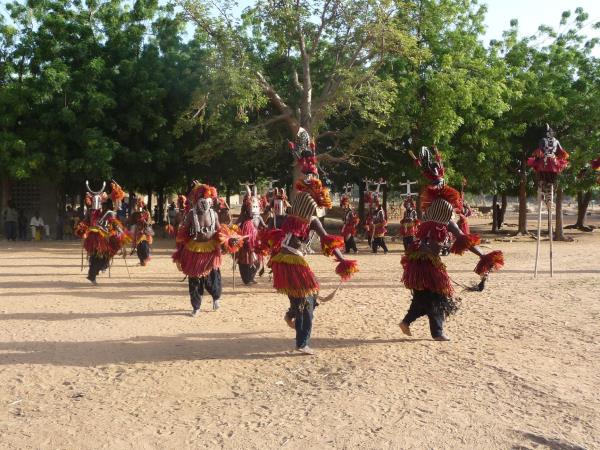 Experience the magic of Mali's landscapes and people
From
€

1940
16 days
ex flights
Tailor made:
Departs every Saturday throughout the year
If you'd like to chat about Mali or need help finding a vacation to suit you we're very happy to help.
1. Bamako
2. Djenné
3. Dogon Country
4. Mopti
5. Ségou
6. Timbuktu

1. Bamako
For many travelers, hot, dusty and crowded Bamako is just a place to rest before moving on to the rest of the country, but those who do take time to explore will quickly be drawn in by the city's dynamic live music scene, sprawling markets and the buzz of motorbikes swarming along the banks of the Niger River.
2. Djenné
Set alongside the Bani River, Djenné is the most beautiful town in the Sahel, and was once an important link in the trans-Saharan gold trade. Cut off by the rising waters of the Niger Delta for several months a year, its smooth buildings are built in the Sudanic style, and include the Grand mosque, whose towers and characteristic protruding beams are beautiful and striking.
3. Dogon Country
A fairy tale of dusky pink villages, wide open skies, sacred crocodiles and sandstone cliffs, Dogon Country, is a rugged and remote area in eastern Mali. Its major feature is the towering Bandiagara Escarpment, a 500m high, 150km long line of cliffs that cuts through the Sahel; and where mud-brick houses cling to the rock faces.
4. Mopti
Built on three islands connected by dykes across the Niger River, Mopti is the country's biggest port and is often called the Venice of Africa thanks to its busy canals. While the town may lack the latter's beauty, it's a fun and engaging destination, teeming with trading activity and colour and home to a vibrant cultural mix of people from across Mali.
5. Ségou
The third largest town in Mali sits alongside the Niger River and is home to a thriving community of artisans, including cotton weavers, potters and rug makers. It also features beautiful examples of traditional Bamana architecture and graceful old colonial buildings. Plus, it's the site of the annual Festival Sur le Niger – a lively music festival in the first week of February.
6. Timbuktu
The UNESCO World Heritage city of Timbuktu has long been a compelling place to outsiders, associated with beauty, learning and wealth. Once the seat of a formidable empire, this city has suffered many ups and downs, most recently the implementation of Sharia law and the destruction of some of its heritage. Ongoing unrest means it is not always possible to visit – so do check
FCO advice
before traveling.
More about Mali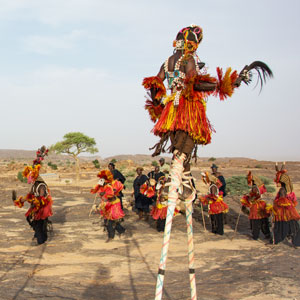 It is tempting to sum up Mali's climate in two words: baking hot.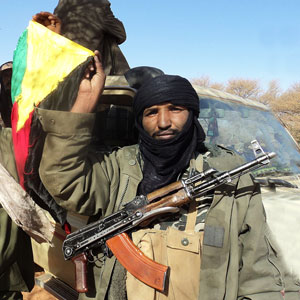 Mali's beautiful desert landscapes and ancient cities have long been a big draw for travelers, but tourism has suffered greatly in recent years due to Islamist insurgency and political instability.
Back to the top
Convert currencies