Panama travel guide
---
2 minute summary
The Panama Canal is one of the world's greatest engineering feats, an achievement which transformed much of the modern world, let alone parts of Panama – bringing construction, cargo and cash. Lots of cash. Perhaps this is why it is so surprising to discover then that for all its glitz and glamour, much of this country remains something of a lost world, clad in still-unexplored rainforest, with empty beaches, mangrove swamps and tribespeople, all undisturbed by the canal and its associated capitalism.
Though barely larger than Ireland, Panama manages to shelter one in 10 of all the world's bird species within its forests and coasts, along with manatees, caiman, spider monkeys and sea turtles. Panama City is a soaring jungle of glass skyscrapers, yet just a couple of hours away live indigenous communities, still traveling by dugout canoe, weaving bags and baskets from forest fibres, fishing for food and speaking one of seven native languages, unique to this country.
Panama is...
… a haven
– but not just for tax dodgers. It shelters 1,000 bird species, including 52 hummingbirds alone.
Panama isn't...
the home of the Panama hat.
They come from Ecuador but were worn by workers on the Canal – hence the name.
Panama map & highlights
---
Make the most of your time
S-shaped Panama actually lies east-west rather than north-south, with the Caribbean on its north coast and the Pacific to its south. The first port of call if entering from Costa Rica will be the archipelago of Bocas del Toro; from here most tours wind their way up into the highlands and cloud forests, zig-zagging between coasts and ending either in Panama City or continuing on from there to the autonomous San Blas Islands. Although Panama is small, the mountain and jungle terrain and poor infrastructure once you leave the Pan-American Highway mean that road journeys can be long and tedious, and internal flights may be needed, even though the distances look short.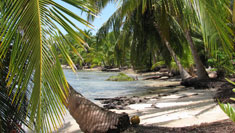 Bocas del Toro
Once you've set foot on these little islands, they never quite leave your heart or mind. The names of Red Frog Beach, Dolphin Bay, Coral Cay and Starfish Beach all give clues as to their enchanting inhabitants, who live alongside indigenous Ngobe-Buglé, Guari-Guari-speaking Afro Caribbeans and Latinos. Snorkel, swim, sunbathe and surf – then salsa the night away in open air bars, perched over the water.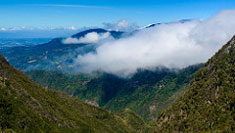 Boquete & Chiriquí Highlands
This is classic Central America; a highland town surrounded by hiking trails which lead into the mountains, through cloud forest, past creeks and around the base of Volcán Barú. Look out for resplendent quetzals and harpy eagles as well as howler monkeys and sloths. Raft the Chiriquí River, zipline through the canopy or mountain bike down the hillsides – then refuel at a local coffee farm.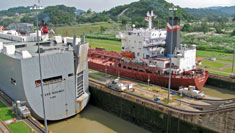 Panama Canal
I say Panama, you say Canal. This incredible engineering feat carves 77km through the country, flooding acres of rainforest and changing the face of international trade. Visit the Miraflores Locks to see enormous cargo ships traveling between the Pacific and Caribbean, discover the macabre history in the nearby museum, or cruise the canal through the locks and the tropical Lake Gatún, for the full experience.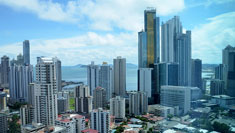 Panama City
There are three distinct sides to Panama City. Start in the glam and glass-filled center, where skyscrapers tower ever higher. Spend a day wandering the Casco Viejo (Old Quarter), with its crumbling colonial mansions, cobbled streets and Spanish convents. Then head further back in time with the ruins of Panama Viejo – dating back to 1519, and the first European settlement on the Pacific coast.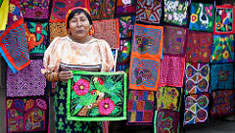 San Blas Islands
The San Blas are the dictionary definition of "desert island." These 365 sandy islets, dripping with coconut palms, and surrounded by bathtub-warm waters, belong to the indigenous Kuna people, who lead largely traditional lifestyles, stitching beautiful mola textiles, and wearing strings of beads around their legs. All tourism here is controlled by the Kuna – it's a fabulously immersive, yet simple experience.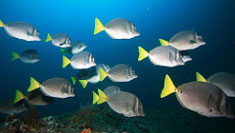 Santa Catalina
Laid back even by Panamanian standards, this little fishing village remains undeveloped and tranquil, with the vibe further enhanced by the surfers who flock here for the country's best waves. Base yourself here for daytrips to nearby Coiba National Marine Park, for super snorkelling and encounters with turtles, rays and tropical fish. Or grab a board and sign up for a surf lesson – no experience needed.